Abstract
The differences on DNA yield and purity of three different DNA extraction protocols were compared with regard to the use for PCR and other molecular analyses. Total DNA was extracted from compost by the three protocols, and then was purified by spin-bind cartridges after being precipitated by PEG8000. The detection performed on a nucleic acid and protein analyzer showed that all three methods produced high DNA yields. The agarose gel electrophoresis showed that the fragments of crude and purified DNA had a length of about 23 kb. A eubacterial 16S rRNA gene-targeted primer pair was used for PCR amplification, and full length 16S rDNAs were amplified from all the purified DNA samples. After being digested by restriction endonucleases, the restriction map of amplified rDNA showed identical genetic diversity. The products of PCR using primer pair GC341F and 907R were also used for denaturing gradient gel electrophoresis analysis. The results indicated that high-quality DNA was extracted from compost by the three protocols, and each of the protocols is adapted to extract microbial genome DNA from compost expediently and cheaply.
This is a preview of subscription content, log in to check access.
Access options
Buy single article
Instant access to the full article PDF.
US$ 39.95
Price includes VAT for USA
Subscribe to journal
Immediate online access to all issues from 2019. Subscription will auto renew annually.
US$ 199
This is the net price. Taxes to be calculated in checkout.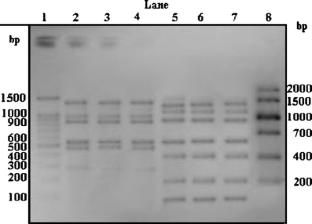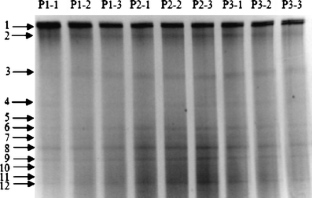 References
Adachi M, Matsubara T, Okamoto R, Nishijima T, Itakura S, Yamaguchi M (2001) Inhibition of cyst formation in the toxic dinoflagellate Alexandrium (Dinophyceae) by bacteria from Hiroshima Bay, Japan. Aquat Microb Ecol 26:223–233

Al-Soud WA, Rådström P (2000) Effects of amplification facilitators on diagnostic PCR in the presence of blood, feces, and meat. Appl Environ M`icrobiol 38:4463–4470

Amann RI, Ludwig W, Schleifer K (1995) Phylogenetic identification and in situ detection of individual microbial cells without cultivation. Microbiol Rev 59:143–169

Beloin RM, Sinclair JL, Ghiorse WC (1988) Distribution and activity of microorganisms in subsurface sediments of a pristine study site in Oklahoma. Microb Ecol 16:85–97

Blanc M, Marilley L, Beffa T, Aragno M (1999) Thermophilic bacterial communities in hot composts as revealed by most probable number counts and molecular (16S rDNA) methods. FEMS Microbiol Ecol 28:141–149

Burtscher C, Wuertz S (2003) Evaluation of the use of PCR and reverse transcriptase PCR for detection of pathogenic bacteria in biosolids from anaerobic digestors and aerobic composters. Appl Environ Microbiol 69:4618–4627

Bürgmann H, Pesaro M, Widmer F, Zeyer J (2001) A strategy for optimizing quality and quantity of DNA extracted from soil. J Microbiol Methods 45:7–20

Cahyani VR, Matsuya K, Asakawa S, Kimura M (2004) Succession and phylogenetic profile of eukaryotic communities in the composting process of rice straw estimated by PCR-DGGE analysis. Biol Fertil Soils 40:334–344

Dees PM, Ghiorse WC (2001) Microbial diversity in hot synthetic compost as revealed by PCR-amplified rRNA sequences from cultivated isolates and extracted DNA. FEMS Microbiol Ecol 35:207–216

Franke-Whittle IH, Klammer SH, Insam H (2005) Design and application of an oligonucleotide microarray for the investigation of compost microbial communities. J Microbiol Methods 62:37–56

Goyal S, Dhull SK, Kapoor KK (2005) Chemical and biological changes during composting of different organic wastes and assessment of compost maturity. Bioresour Technol 96:1584–1591

Hoti SL, Sridhar A, Das PK (2003) Presence of wolbachia endosymbionts in microfilariae of wuchereria bancrofti (Spirurida: Onchocercidae) from different geographical regions in India. Mem Inst Oswaldo Cruz 98:1017–1019

Howeler M, Ghiorse WC, Walker LP (2003) A quantitative analysis of DNA extraction and purification from compost. J Microbiol Methods 54:37–45

Ishii K, Fukui M, Takii S (2000) Microbial succession during a composting process as evaluated by denaturing gradient gel electrophoresis analysis. J Appl Microbiol 89:768–777

Jiang J, Alderisio KA, Singh A, Xiao L (2005) Development of procedures for direct extraction of Cryptosporidium DNA from water concentrates and for relief of PCR inhibitors. Appl Environ Microbiol 71:1135–1141

Krsek M, Wellington EMH (1999) Comparison of different methods for the isolation and purification of total community DNA from soil. J Microbiol Methods 39:1–16

LaMontagne MG, Michel FC Jr, Holden PA, Reddy CA (2002) Evaluation of extraction and purification methods for obtaining PCR-amplifiable DNA from compost for microbial community analysis. J Microbiol Methods 49:255–264

Martin-Laurent F, Philippot L, Hallet S, Chaussod R, Germon JC, Soulas G (2001) DNA extraction from soils: old bias for new microbial diversity analysie methods. Appl Environ Microbiol 67:2354–2359

Miller DN, Bryant EL, Madsen JE, Ghiorse WC (1999) Evaluation and optimization of DNA extraction and purification procedures for extraction of microbial DNA from sediment. Appl Environ Microbiol 65:4715–4724

Moré MI, Herrick JB, Silva MC, Ghiorse WC, Madsen EL (1994) Quantitative cell lysis of indigenous microorganisms and rapid extraction of microbial dna from sediment. Appl Environ Microbiol 60:1572–1580

Muyzer G, Brinkhoff T, Ulrich N, Santegoeds C, Schäfer H, Wawer C (1998) Denaturing gradient gel electrophoresis (DGGE) in microbial ecology[J]. In: Akkermans ADL, van Elsas JD, de Bruijn FJ (eds) Molecular microbial ecology manual. Kluwer, Dordrecht, pp 1–27

Peters S, Koschinsky S, Schwieger F, Tebbe CC (2000) Succession of microbial communities during hot composting as detected by PCR-single-strand-conformation polymorphism-based genetic profiles of small-subunit rRNA genes. Appl Environ Microbiol 66:930–936

Porteous LA, Seidler RJ, Watrud LS (1997) An improved method for purifying DNA from soil for polymerase chain reaction amplification and molecular ecology applications. Mol Ecol 6:787–791

Purdy KJ, Embley TM, Takii S, Nedwell DB (1996) Rapid extraction of DNA and rRNA from sediments by a novel hydroxyapatite spin-column method. Appl Environ Microbiol 62:3905–3907

Schloss PD, Chaves B, Walker LP (2000) The use of the analysis of variance to assess the influence of mixing during composting. Proc Biochem 35:675–684

Schloss PD, Hay AG, Wilson DB, Gossett JM, Walker LP (2005) Quantifying bacterial population dynamics in compost using 16S rRNA gene probes. Appl Microbiol Biotechnol 66:57–463

Stach JEM, Bathe S, Clapp JP, Burn RG (2001) PCR-SSCP comparison of 16S rDNA sequence diversity in soil DNA obtained using different isolation and purification methods. FEMS Microbiol Ecol 36:139–151

Tebbe CC, Vahjen W (1993) Interference of humic acids and DNA extracted directly from soil in detection and transformation of recombinant DNA from bacteria and a yeast. Appl Environ Microbiol 59:2657–2665

Tiquia SM, Ichida JM, Keener HM, Elwell DL, Burtt EH Jr, Michel FC Jr (2005) Bacterial community profiles on feathers during composting as determined by terminal restriction fragment length polymorphism analysis of 16S rDNA genes. Appl Microbiol Biotechnol 67:412–419

Torsvik V, Øvreås L (2002) Microbial diversity and function in soil: from genes to ecosystems. Curr Opin Microbiol 5:240–245

Tsai YL, Olson BH (1991) Rapid method for direct extraction of DNA from soil and sediments. Appl Environ Microbiol 57:1070–1074

von Wintzingerode F, Göbel UB, Stackebrandt E (1997) Determination of microbial diversity in environmental samples: pitfalls of PCR-based rRNA analysis. FEMS Microbiol Rev 21:213–229

Ward DM, Bateson MM, Weller R (1992) Ribosomal RNA analysis of microorganisms as they occur in nature. Adv Microb Ecol 12:219–286

Zhang RF, Cao H, Cui ZHL, Li SHP, Fan B (2003) Extraction and purification of soil microbial total DNA. Acta Microbiol Sin 43:276–282

Zhou J, Bruns MA, Tiedje JM (1996) DNA recovery from soils of diverse composition. Appl Environ Microbiol 62:316–322
Acknowledgements
This study was financially supported by the National Natural Science Foundation of China (50478053), the National 863 High Technology Research Program of China (2004AA649370), and the National Basic Research Program (973) (2005CB724203).
About this article
Cite this article
Yang, Z.H., Xiao, Y., Zeng, G.M. et al. Comparison of methods for total community DNA extraction and purification from compost. Appl Microbiol Biotechnol 74, 918–925 (2007). https://doi.org/10.1007/s00253-006-0704-z
Received:

Revised:

Accepted:

Published:

Issue Date:
Keywords
Molecular ecology

Vegetable waste compost

16S rDNA

DNA extraction

ARDRA

DGGE