Abstract
Branched-chain copolymeric polythioesters (PTE) were formed in good yield (∼87%) by chemoenzymatic reactions including thiyl radical-induced addition of 1,6-hexanedithiol to the >C=C< double bond of dimethyl 1,18-octadec-9-enedioate and transthioesterification of polyfunctional dimethyl 1,18-octadec-9-enedioate with bifunctional 1,6-hexanedithiol catalyzed by immobilized lipase from Rhizomucor miehei. The reactions were performed in vacuo at 80°C without a solvent. PTE was extracted from the reaction mixture using methyl-t-butylether and precipitated from i-hexane. The polymer structure of the i-hexane-insoluble PTE precipitate was elucidated by GPC/SEC showing an average molecular mass (M w) of 1,857 Da corresponding to a molecular weight range of up to 24,000 Da and a maximum degree of polymerization of up to 50 monomer units. Chemical derivatization with TMSH demonstrated the formation of up to ∼58 mol% of a branched-chain thio(S)ether, i.e., dimethyl S-9-(6-mercaptohexylthio)-1,18-octadecanedioate, and small proportions (∼8 mol%) of a dimeric disulfide formed therefrom. The chemical structures of various low-molecular weight (<900 Da) reaction products formed by transthioesterification, addition reaction or disulfide formation of the reactants or reaction intermediates, e.g., 1,18-octadec-9-enedioic acid methyl(O)ester 6′-S-mercaptohexyl thio(S)ester, dimethyl S-9-(6-mercaptohexylthio)-1,18-octadecanedioate, were elucidated by GC–MS. Similarly, dimethyl S-9-(6-S-methylthiohexylthio)-1,18-octadecanedioate and dimethyl 11,18,19,26-tetrathia-10,27-di-(7-carboxymethyl-heptyl)hexatriacontane-1,36-dioate were detected in the reaction mixtures after derivatization with trimethylsulfonium hydroxide.
This is a preview of subscription content, log in to check access.
Access options
Buy single article
Instant access to the full article PDF.
US$ 39.95
Price includes VAT for USA
Subscribe to journal
Immediate online access to all issues from 2019. Subscription will auto renew annually.
US$ 199
This is the net price. Taxes to be calculated in checkout.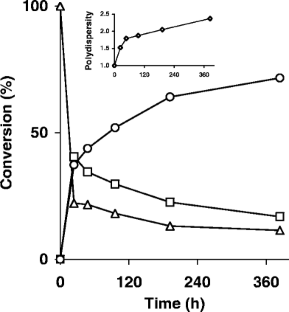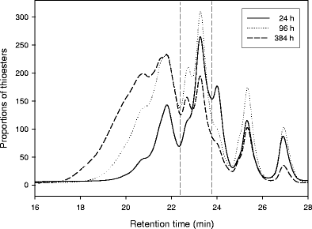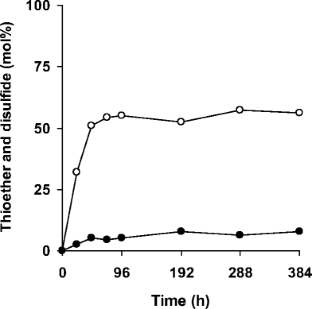 References
Bührer HG, Elias H-G (1970) Polythiolester. II. Polythiolactid. Makromol Chem 140:41–54

Ewering C, Lütke-Eversloh T, Luftmann H, Steinbüchel A (2002) Identification of novel sulfur-containing bacterial polyesters: biosynthesis of poly(3-hydroxy-S-propyl-ω-thioalkanoates) containing thioether linkages in the side chains. Microbiology 148:1397–1406

Griesbaum K (1970) Probleme und Möglichkeiten der radikalischen Addition von Thiolen an ungesättigte Verbindungen. Angew Chem 82:276–290

Iwata S, Toshima K, Matsumura S (2003) Enzyme-catalyzed preparation of aliphatic polyesters containing thioester linkages. Macromol Rapid Commun 24:467–471

Kato M, Toshima K, Matsumura S (2005) Preparation of aliphatic poly(thioester) by the lipase-catalyzed direct polycondensation of 11-mercaptoundecanoic acid. Biomacromolecules 6:2275–2280

Klein E, Weber N (2001) In vitro test for the effectiveness of antioxidants as inhibitors of thiyl radical-induced reactions with unsaturated fatty acids. J Agric Food Chem 49:1224–1227

Kricheldorf HR, Probst N, Schwarz G, Schulz G, Krüger R-P (2000) New polymer syntheses. 107. Aliphatic poly(thio ester)s by ring-opening polycondensation of 2-stanna-1,3-dithiacycloalkanes. J Polym Sci A Polym Chem 38:3656–3664

Lütke-Eversloh T, Bergander K, Luftmann H, Steinbüchel A (2001) Identification of a new class of biopolymer: bacterial synthesis of a sulfur-containing polymer with thioester linkages. Microbiology 147:11–19

Lütke-Eversloh T, Fischer A, Remminghorst U, Kawada J, Marchessault RH, Bögershausen A, Kalwei M, Eckert H, Reichelt R, Liu S-J, Steinbüchel A (2002) Biosynthesis of novel thermoplastic polythioesters by engineered Escherichia coli. Nat Mater 1:236–240

Marvel CS, Kotch A (1951) Polythiolesters. J Am Chem Soc 73:1100–1102

Spiteller G (1966) Massenspektrometrische Strukturanalyse organischer Verbindungen, Verlag Chemie, Weinheim, p 140

Steinbüchel A (2005) Non biodegradable biopolymers from renewable resources: perspectives and impacts. Curr Opin Biotechnol 16:607–613

Uhrich KE (2003) Antibiotic polymers. World Patent WO 03/066053 A1 (14.08.2003)

Vosmann K, Klein E, Weber N (1998) S-Methyl derivatives from thiol compounds by the pyrolytic reaction with trimethylsulfonium hydroxide. Lipids 33:1037–1041

Warwel S, Demes C, Steinke G (2001) Polyesters by lipase-catalyzed polycondensation of unsaturated and epoxidized long-chain a,ω-dicarboxylic acid methyl esters with diols. J Polym Sci A Polym Chem 39:1601–1609

Weber N, Klein E, Mukherjee KD (1999) Long-chain acyl thioesters by solvent-free thioesterification and transthioesterification catalyzed by microbial lipases. Appl Microbiol Biotechnol 51:401–404

Weber N, Klein E, Vosmann K, Mukherjee KD (2000) Antioxidants eliminate stereomutation and thioether formation during lipase-catalyzed thioesterification and transthioesterification for the preparation of uniform cis- and trans-unsaturated thioesters. Chem Phys Lipids 105:215–223

Weber N, Klein E, Vosmann K, Mukherjee KD (2004) Mono-thioesters and di-thioesters by lipase-catalyzed reactions of α,ω-alkanedithiols with palmitic acid or its methyl ester. Appl Microbiol Biotechnol 64:800–805

Weber N, Bergander K, Fehling E, Klein E, Vosmann K, Mukherjee KD (2006) Copolymeric polythioesters by lipase-catalyzed thioesterification and transthioesterification of α,ω-alkanedithiols. Appl Microbiol Biotechnol 70:290–297
Acknowledgements
The authors wish to thank Dr. Kumar D. Mukherjee for valuable discussion.
About this article
Cite this article
Fehling, E., Klein, E., Weber, N. et al. Chemo-enzymatic preparation of copolymeric polythioesters containing branched-chain thioether groups. Appl Microbiol Biotechnol 74, 357–365 (2007). https://doi.org/10.1007/s00253-006-0677-y
Received:

Revised:

Accepted:

Published:

Issue Date:
Keywords
Branched-chain copolymeric polythioesters

Dimethyl 1,18-octadec-9-enedioate

1,6-hexanedithiol

Immobilized lipase from Rhizomucor miehei (Lipozyme RM IM)

Transthioesterification