Abstract
A tetrameric lectin, with hemagglutinating activity toward rabbit erythrocytes and with specificity toward d-mannosamine and d(+)-mannose, was isolated from the ovaries of a teleost, the cobia Rachycentron canadum. The isolation protocol comprised ion exchange chromatography on CM-cellulose and Q-Sepharose, ion exchange chromatography by fast protein liquid chromatography (FPLC) on Mono Q, and finally gel filtration by FPLC on Superose 12. The lectin was adsorbed on all ion exchangers used. It exhibited a molecular mass of 180 kDa in gel filtration on Superose 12 and a single 45-kDa band in sodium dodecyl sulfate-polyacrylamide gel electrophoresis, indicating that it is a tetrameric protein. The hemagglutinating activity of the lectin was stable up to 40°C and between pH 4 and pH 10. All hemagglutinating activity disappeared at 60°C and at pH 1 and pH 13. The hemagglutinating activity was doubled in the presence of 0.1 μM FeCl3. The lectin exerted antibacterial activity against Escherichia coli with 50% inhibition at 250 μg. There was no antifungal activity toward Coprinus comatus, Fusarium oxysporum, Mycosphaerella arachidicola, and Rhizoctonia solani at a dose of 300 μg. The lectin exhibited maximal mitogenic response from mouse splenocytes at a concentration of 14 μM.
This is a preview of subscription content, log in to check access.
Access options
Buy single article
Instant access to the full article PDF.
US$ 39.95
Price includes VAT for USA
Subscribe to journal
Immediate online access to all issues from 2019. Subscription will auto renew annually.
US$ 199
This is the net price. Taxes to be calculated in checkout.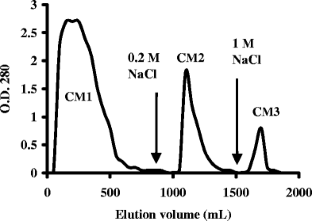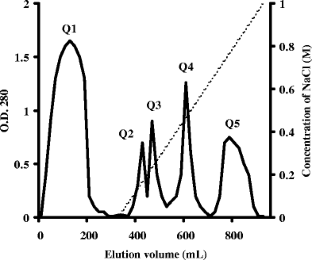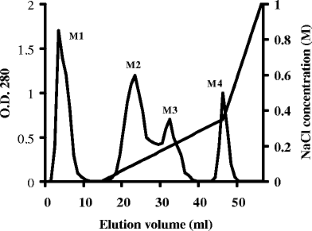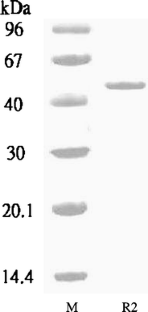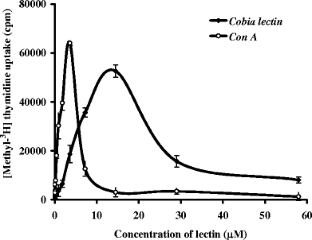 References
Ashwell G, Harford J (1982) Carbohydrate-specific receptors of the liver. Ann Rev Biochem 51:531–534

Cammarata M, Vazzana M, Chinnici C, Parrinello N (2001) A serum fucolectin isolated and characterized from sea bass Dicentrarchus albrax. Biochim Biophys Acta 1528:196–202

Dong CH, Yang ST, Yang ZA, Zhang L, Gui JF (2004) A C-type lectin associated and translocated with cortical granules during oocyte maturation and egg fertilization in fish. Dev Biol 265:341–354

Galliano M, Minchiotti L, Campagnoli M, Sala A, Visai L, Amoresano A, Pucci P, Casbarra A, Cauci M, Perduca M, Monaco HL (2003) Structural and biochemical characterization of a new type of lectin isolated from carp eggs. Biochem J 376:433–440

Hatakeyama T, Suenaga T, Eto S, Niidome T, Aoyagi H (2004) Antibacterial activity of peptides derived from the C-terminal region of a hemolytic lectin, CEL-III, from the marine invertebrate, Cucumaria echinata. J Biochem 135:65–70

Hosono M, Kawauchi H, Nitta K, Takayanagi Y, Shiokowa H, Mineki R, Murayama K (1993a) Purification and characterization of Silurus asotus (catfish) roe lectin. Biol Pharm Bull 16:1–5

Hosono M, Kawauchi H, Nitta K, Takayanagi Y, Shiokawa H, Mineki R, Murayama K (1993b) Three rhamnose-binding lectins from Osmerus eperlanus mordax (olive rainbow smelt) roe. Biol Pharm Bull 16:239–243

Iwasaki M, Inoue S (1985) Studies of O-glycosidically linked carbohydrate units of herring egg sialoglycoprotein. J Biochem 2:1067–1074

Krajhanzl A, Danisova A, Kocourek J, Pancoska P (1985) In: Bog-Hansen TC, Spengler GA (eds) Lectins—biology and biochemistry, and clinical biochemistry, vol 4. de Gruyter, Berlin, pp 397–408

Kudo S, Inoue M (1989) Bacterial action of fertilization envelope extract from eggs of the fish Cyprinus carpio and Plecoglossus altivelis. J Exp Zool 250:219–228

Laemmli UK, Favre M (1973) Maturation of the head of bacteriophage T4. J Mol Biol 80:575–579

Lam YW, Ng TB (2002) Purification and characterization of a rhamnose-binding lectin from grass carp (Ctenopharyngodon idellus) ovaries. Protein Expr Purif 26:378–385

Levi G, Teichberg VI (1981) Isolation and physicochemical characterization of electrolectin, a beta-d-galactoside binding lectin from the electric organ of Electrophorus electricus. J Biol Chem 256:5735–5740

Liao WR, Lin JY, Shieh WY, Jeng WL, Huang R (2003) Antibiotic activity of lectins from marine algae against marine vibrios. J Ind Microbiol Biotech 30:433–439

Manihar SR, Das HR (1990) Isolation and characterization of a new lectin from plasma of fish Channa punctatus. Biochim Biophys Acta 1036:162–165

Mizuno Y, Kozutsumi Y, Kawasaki T, Yamashina I (1981) Isolation and characterization of a mannan-binding protein from rat liver. J Biol Chem 256:4247–4252

Narnaware YK, Kelly SP, Woo NYS (1997) Effect of injected growth hormone on phagocytosis of silver sea bream (Sparus sarba) adapted to hyper- and hypo-osmotic salinities. Fish Shellfish Immunol 7:515–517

Ng TB, Lam YW, Woo NY (2003) The immunostimulatory activity and stability of grass carp (Ctenopharyngodon idellus) roe lectin. Vet Immunol Immunopathol 94(3–4):105–112

Nosek J, Krajhanzl A, Kocourek J (1984) Studies on lectins LVII. Immunofluorescence localization of lectins present in fish ovaries. Histochemistry 79:131–139

Oda Y, Ichida S, Mimura T, Maeda K, Tsujikawa K, Aonuma S (1984) Purification and characterization of a fish lectin from the external mucus of Ophidiidae, Genypterus blacodes. J Pharmacobio-dyn 7:614–623

Okamoto M, Tsutsui S, Tasumi S, Suetake H, Kikuchi K, Suzuki Y (2005) Tandem repeat l-rhamnose-binding lectin from the skin mucus of ponyfish, Leiognathus nuchalis. Biochem Biophys Res Commun 333:463–469

Okutomi T, Nakajima Y, Sakakibar F, Kawauchi H, Yamazaki M (1987) Induction of release of cytotoxin from murine bone marrow cells by an animal lectin. Cancer Res 47:47–50

Sakai M, Kobayashi M, Kawauchi H (1996) In vitro activation of fish phagocytic cells by growth hormone, prolactin and somatolactin. J Endocrinol 151:113–118

Stoolman LM, Tenforde TS, Rosen SD (1984) Phosphomannosyl receptors may participate in the adhesive interaction between lymphocytes and high endothelial venules. J Endocrinol 99:1535–1540

Tasumi S, Ohira T, Kawazoe I, Suetake H, Suzuki Y, Aida K (2002) Primary structure and characteristics of a lectin from skin mucus of the Japanese eel Anguilla japonica. J Biol Chem 277:27305–27311

Tasumi S, Yang WJ, Usami T, Tsutsui S, Ohira T, Kawazoe I, Wilder MN, Aida K, Suzuki Y (2004) Characteristics and primary structure of a galectin in the skin mucus of the Japanese eel, Anguilla japonica. Dev Comp Immunol 28:325–335

Tateno H, Saneyoshi A, Ogawa T, Muramoto K, Kamiya H, Saneyoshi M (1998) Isolation and characterization of rhamnose-binding lectins from eggs of steelhead trout (Oncorhynchus mykiss) homologous to low density lipoprotein receptor superfamily. J Biol Chem 273:19190–19197

Tsutsui S, Tasumi S, Suetake H, Suzuki Y (2003) Lectins homologous to those of monocotyledonous plants in the skin mucus and intestine of pufferfish, Fugu rubripes. J Biol Chem 278:20882–20889

Uhlenbruck G, Prokop O (1967) Incomplete antibodies: a membrane problem. Vox Sang 12:465–466

Vasta GR, Hunt JC, Marchalonis JJ, Fish WW (1986) Galactosyl-binding lectins from the tunicate Didemnum candidum. Purification and physicochemical characterization. J Biol Chem 261:9174–9181

Wang HX, Gao J, Ng TB (2001a) A new lectin with highly potent antihepatoma and antisarcoma activities from the oyster mushroom Pleurotus ostreatus. Biochem Biophys Res Commun 275:810–816

Wang HX, Ye XY, Ng TB (2001b) Purification of chrysancorin, a novel antifungal protein with mitogenic activity from garland chrysanthemum seeds. Biol Chem 382:947–951

Wang SY, Wu JH, Ye XY, Ng TB, Rao PF (2004) A non-specific lipid transfer protein with antifungal and antibacterial activities from the mung bean. Peptides 25:1235–1242

Yamazaki M, Okutomi T, Sakakribara F, Kawauchi H, Mizuno D (1984) Macrophage-mediated tumor lysis induced by local egg lectin. J Leukoc Biol 35:241–250

Ye XY, Ng TB, Tsang PWK, Wang J (2002) Isolation of a homodimeric lectin with antifungal and antiviral activities from red kidney bean (Phaseolus vulgaris) seeds. J Protein Chem 20:367–375
Acknowledgment
Thanks are extended to Miss Fion Yung for her excellent secretarial assistance.
About this article
Cite this article
Ngai, P.H.K., Ng, T.B. A mannose-specific tetrameric lectin with mitogenic and antibacterial activities from the ovary of a teleost, the cobia (Rachycentron canadum). Appl Microbiol Biotechnol 74, 433–438 (2007). https://doi.org/10.1007/s00253-006-0649-2
Received:

Revised:

Accepted:

Published:

Issue Date:
Keyword