Abstract
Fusarium sp. BLB, which produces a strongly fibrinolytic enzyme, was isolated from plant leaf (Hibiscus). Fibrinolytic alkaline protease was purified from a culture filtrate of Fusarium sp. BLB by precipitation with (NH4)2SO4 and column chromatography with CM-Toyopearl 650M and Superdex 75. The purified enzyme was homogeneous on sodium dodecyl sulfate polyacrylamide gel electrophoresis (SDS-PAGE). The molecular weight was 27,000 by SDS-PAGE. Maximum activity of protease was observed at pH 9.5 and 50°C. Purified protease was active between pH 2.5 and 11.5 and was found to be stable up to 50°C. The enzyme derived from Fusarium sp. BLB is useful for thrombolytic therapy because this enzyme showed pH resistance. The activity was inhibited by diisopropylfluorophosphate and phenylmethylsulfonyl fluoride. The N-terminal amino acid sequence of the enzyme showed a similarity to those of proteases from Fusarium sp., Streptomyces griseus, Bos taurus bovine, Katsuwo pelamis digestive tract, and Lumbricus rubellus.
This is a preview of subscription content, log in to check access.
Access options
Buy single article
Instant access to the full article PDF.
US$ 39.95
Price includes VAT for USA
Subscribe to journal
Immediate online access to all issues from 2019. Subscription will auto renew annually.
US$ 199
This is the net price. Taxes to be calculated in checkout.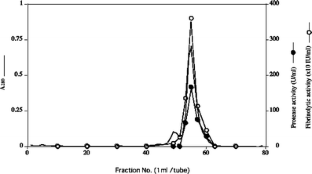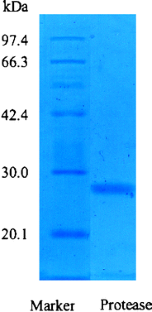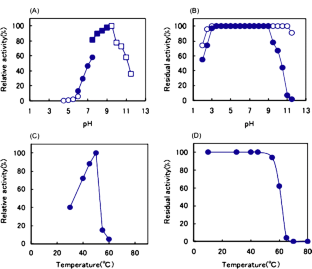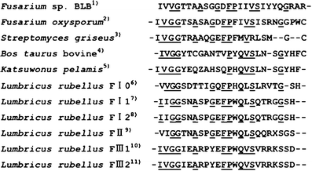 References
Astrup T, Mullertz S (1952) The fibrin plate method for estimating fibrinolytic activity. Arch Biochem Biophys 40:346–351

Blann AD, Landray MJ, Lip GY (2002) An overview of antithrombotic therapy. BMJ 325:762–765

Bode C, Runge M, Smalling RW (1996) The future of thrombolysis in the treatment of acute myocardial infarction. Eur Heart J 17:55–60

Bradford MM (1976) A rapid and sensitive method for the quantification of microgram quantities of proteins utilizing the principle of protein–dye binding. Anal Biochem 72:248–254

Buckley DE, Jeffries L (1981) Studies on a fibrinolytic serine trypsin-like enzyme from Fusarium semitectum. FEMS Microbiol Lett 12:401–404

Cho IIH, Choi ES, Lim HG, Lee HH (2004) Purification and Characterization of six fibrinolytic serine-proteases from earthworm Lumbricus rubellus. J Biochem Mol Biol 37:199–205

Fujita M, Nomura K, Hong K, Ito Y, Asada A, Mishimuro S (1993) Purification and characterization of the strong fibrinolytic enzyme (nattokinase) in the vegetable cheese NATTO, a popular soybean fermented food in Japan. Biochem Biophys Res Commun 197:1340–1347

Kato JY, Chi WJ, Ohnishi Y, Hong SK, Horinouchi S (2005) Transcriptional Control by a-factor of two trypsin genes in Streptomyces griseus. J Bacteriol 187:286–295

Kim W, Choi K, Kim Y (1996) Purification and characterization of a fibrinolytic enzyme produced from Bacillus sp. strain CK 11-4 screened from Chungkook–Jang. Appl Environ Microbiol 62:2482–2488

Kim HK, Kim GT, Choi DK, Park SH, Jeong YK, Kong IS (1997) Purification and characterization of a novel fibrinolytic enzyme from Bacillus sp. KA38 originated from fermented fish. J Ferment Bioeng 84:307–312

Kornerup A, Wanscher JH (1978) Methuen handbook of colour, 3rd edn. Eyre Methuen, London, UK, pp 243

Kwan AH, Mine Y (2004) Novel fibrinolytic enzyme in fermented shrimp paste, a traditional Asian fermented seasoning. J Agric Food Chem 52:980–986

Laemmli UK (1970) Cleavage of structural proteins during the assembly of the head of bacteriophage T4. Nature 227:680–685

Larcher GL, Bouchara JP, Annaix V, Symoens F, Chabasse D, Tronchin G (1992) Purification and characterization of a fibrinogenolytic serine proteinase from Aspergillus fumigatus culture filtrate. FEBS Lett 308(1):65–59

McGrath ME, Sprengeler PA, Hirschbein B, Somoza JR, Lehoux I, Janc JW, Gjerstad E, Graupe M, Estiarte A, Venkataramani C, Liu Y, Yee R, Ho JD, Green MJ, Lee CS, Liu L, Tai V, Spencer J, Sperandio D, Katz BA (2006) Structure-guided design of peptide-based tryptase inhibitors. Biochemistry 45:5964–5973

Mikes O, Holeysovsky V, Tomasek V, Sorm F (1996) Covalent structure of bovine trypsinogen. The position of the remaining amides. Biochem Biophys Res Commun 24:346–352

Nakajima N, Yaya N, Sumi H (1993a) Potent fibrinolytic enzyme from the lysate of Katsuwonus pelamis digestive tract (Shiokara): purification and characterization. Biosci Biotechnol Biochem 57:1604–1605

Nakajima N, Mihara H, Sumi H (1993b) Characterization of potent fibrinolytic enzymes in earthworm, Lumbricus rubellus. Biosci Biotechnol Biochem 57:1726–1730

Noh KA, Kim DH, Choi NS, Kim SH (1999) Isolation of fibrinolytic enzyme producing strains from Kimuchi. Korean J Food Sci Technol 31:219–223

Oda K, Murao S (1974) Purification and some properties of acid proteinase A and B of Scytalidium lignicolum ATCC 24568. Agric Biol Chem 38:2435–2444

O'Donnell K (1993) Fusarium and its near relatives. In: Reynolds DR, Taylor JW (eds) The fungal holomorph: mitotic, meiotic and Pleomorphic speciation in fungal systematics. CAB International Wallingford, UK, pp 225–233

Omura K, Hitosugi M, Zhu X, Ikeda M, Maeda H (2005) A newly derived protein from Bacillus subtilis natto with both antithrombotic and fibrinolytic effects. J Pharmacol Sci 99:247–251

Pekkarinen AI, Jones BL (2002) Trypsin-like proteinase produced by Fusarium culmorum grown on grain proteins. J Agric Food Chem 50:3849–3855

Pekkarinen AI, Jones BL, Niku-Paavola ML (2002) Purification and properties of an alkaline proteinase of Fusarium culmorum. Eur J Biochem 269:798–807

Rypniewski WR, Hastrup S, Betzel Ch, Dauter M, Dauter Z, Papendorf G, Branner S, Wilson KS (1993) The sequence and X-ray structure of the trypsin from Fusarium oxysporum. 6:341–348

Sherry S (1987) Recombinant tissue plasminogen activator (rt-PA): is it the thrombolytic agent of choice for an evolving acute myocardial infarction? Am J Cardiol 59:984–989

Sumi H, Hamada H, Tsushima H, Mihara H, Muraki H (1987) A novel fibrinolytic enzyme (nattokinase) in the vegetable cheese natto; a typical and popular soybean food in the Japanese diet. Experientia 15:1110–1111

Sumi H, Hamada H, Nakanishi K, Hiratani H (1990) Enhancement of the fibrinolytic activity in plasma by oral administration of nattokinase. Acta Haematol 84:139–143

Sumi H, Nakajima N, Mihara H (1992) Fibrinolysis relating substances in marine creatures. Comp Biochem Physiol 102B:163–167

Sumi H, Nakajima N, Yatagai C (1995) A unique strong fibrinolytic enzyme (datsuwokinase) in skipjack "Shiokara", a Japanese traditional fermented food. Comp Biochem Physiol 112B:543–547

Swofford DL (2002) PAUP: phylogenetic analysis using parsimony (and other methods) 4.0 beta. Sinauer, Sunderland, MA

Turpie AG, Chin BS, Lip GY (2002) Venous thromboembolism: treatment strategies. BMJ 325:947–950

White TJT, Bruns SL, Taylor JW (1990) Amplification and direct sequencing of fungal ribosomal RNA genes for phylogenetics. In: Innis MA, Gelfand DH, Sninsky JJ, White TJ (eds) PCR protocols, a guide to methods and applications, Academic, New York, pp 315–322

Wong AHK, Mine Y (2004) Novel fibrinolytic enzyme in fermented shrimp paste, a traditional Asian fermented seasoning. J Agric Food Chem 52:980–986
About this article
Cite this article
Ueda, M., Kubo, T., Miyatake, K. et al. Purification and characterization of fibrinolytic alkaline protease from Fusarium sp. BLB. Appl Microbiol Biotechnol 74, 331–338 (2007). https://doi.org/10.1007/s00253-006-0621-1
Received:

Revised:

Accepted:

Published:

Issue Date:
Keywords
Fibrinolytic activity

Alkaline serine protease

Fusarium sp