Abstract
Lovastatin, an inhibitor of HMG-CoA reductase, was produced by submerged fermentation using Monascus purpureus MTCC 369. Five nutritional parameters screened using Plackett–Burman experimental design were optimized by Box–Behnken factorial design of response surface methodology for lovastatin production in shake flask cultures. Maximum lovastatin production of 351 mg/l were predicted in medium containing 29.59 g/l dextrose, 3.86 g/l NH4Cl, 1.73 g/l KH2PO4, 0.86 g/l MgSO4·7H2O, and 0.19 g/l MnSO4·H2O using response surface plots and point prediction tool of DESIGN EXPERT 7.0 (Statease, USA) software.
This is a preview of subscription content, log in to check access.
Access options
Buy single article
Instant access to the full article PDF.
US$ 39.95
Price includes VAT for USA
Subscribe to journal
Immediate online access to all issues from 2019. Subscription will auto renew annually.
US$ 199
This is the net price. Taxes to be calculated in checkout.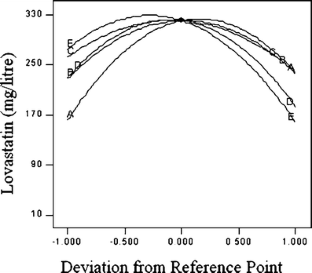 References
Alberts AW, Chen J, Kuron G, Hunt V, Huff J, Hoffman C, Rothrock J, Lopez M, Joshua H, Harris E, Patchett A, Monaghan R, Currie S, Stapley E, Albers-Schonberg G, Hensens O, Hirshfield J, Hoogsteen K, Liesch J, Springer J (1980) Mevinolin: a highly potent competitive inhibitor of hydroxymethyl glutaryl coenzyme A reductase and cholesterol lowering agent. Proc Natl Acad Sci USA 77:3957–3961

Box GEP, Hunter JS (1957) Multifactor experimental design for exploring response surfaces. Ann Math Stat 28:195–241

Chakravarti R, Sahai V (2002) Optimization of compactin production in chemically defined production medium by Penicillium citrinum using statistical methods. Process Biochem 38:481–486

Chang YC, Lee CL, Pan TM (2006) Statistical optimization of medium components for the production of Antrodia cinnamomea AC0623 in submerged cultures. Appl Microbiol Biotechnol (in press). DOI https://doi.org/10.1007/s00253-006-0325-6

Demain AL (1999) Pharmaceutically active secondary metabolites of microorganisms. Appl Microbiol Biotechnol 52:455–463

Hajjaj H, Niedberger P, Duboc P (2001) Lovastatin biosynthesis by Aspergillus terreus in a chemically defined medium. Appl Environ Microbiol 67:2596–2604

Hebert PR, Gaziano JM, Chan KS, Henneken CH (1997) Cholesterol lowering with statin drugs, risk of stroke and total mortality-an overview of randomized trials. J Am Med Assoc 278:313–321

Lewis GA, Mathieu D, Phan-Tan-Luu R (1999) Drug and pharmaceutical sciences—pharmaceutical experimental design, vol. 92. Marcel Dekker, Inc., USA

Manzoni M, Rollini M (2002) Biosynthesis and biotechnological production of statins by filamentous fungi and applications of these cholesterol-lowering drugs. Appl Microbiol Biotechnol 58:555–564

Manzoni M, Bergomi S, Rollini M, Cavazzoni V (1999) Production of statins by filamentous fungi. Biotechnol Lett 21:253–257

Samiee SM, Moazami N, Haghighi S, Mohseni FA, Mirdamadi S, Bakhtiari MR (2003) Screening of lovastatin production by filamentous fungi. Iran Biomed J 7:29–33

Su YC, Wang JJ, Lin TT, Pan TM (2003) Production of secondary metabolites, γ-amino butyric acid and monacolin K by Monascus. J Ind Microbiol Biotechnol 30:41–46

Tobert JA (2003) Lovastatin and beyond: the history of the HMG-CoA reductase inhibitors. Nat Rev Drug Discov 2:517–526

Valera HR, Gomes J, Lakshmi S, Gururaja R, Suryanarayan S, Kumar D (2005) Lovastatin production by SSF using Aspergillus flavipes. Enzyme Microb Techol 37:521–526

Wang JJ, Lee CL, Pan TM (2003) Improvement of monacolin K, γ-amino butyric acid and citrinin production ratio as a function of environmental conditions of Monascus purpureus NTU 601. J Ind Microbiol Biotechnol 30:669–676
About this article
Cite this article
Sayyad, S.A., Panda, B.P., Javed, S. et al. Optimization of nutrient parameters for lovastatin production by Monascus purpureus MTCC 369 under submerged fermentation using response surface methodology. Appl Microbiol Biotechnol 73, 1054–1058 (2007). https://doi.org/10.1007/s00253-006-0577-1
Received:

Revised:

Accepted:

Published:

Issue Date:
Keywords
Lovastatin

Monascus purpureus

Optimization

Response surface methodology