Abstract
We previously found by transcriptome analysis that global induction of amino acid biosynthetic genes occurs in a classically derived industrial l-lysine producer, Corynebacterium glutamicum B-6. Based on this stringent-like transcriptional profile in strain B-6, we analyzed the relevant mutations from among those identified in the genome of the strain, with special attention to the genes that are involved in amino acid biosynthesis and metabolism. Among these mutations, a Gly-456→Asp mutation in the 3-isopropylmalate dehydratase large subunit gene (leuC) was defined as a useful mutation. Introduction of the leuC mutation into a defined l-lysine producer, AHD-2 (hom59 and lysC311), by allelic replacement led to the phenotype of a partial requirement for l-leucine and approximately 14% increased l-lysine production. Transcriptome analysis revealed that many amino acid biosynthetic genes, including lysC-asd operon, were significantly upregulated in the leuC mutant in a rel-independent manner.
This is a preview of subscription content, log in to check access.
Access options
Buy single article
Instant access to the full article PDF.
US$ 39.95
Price includes VAT for USA
Subscribe to journal
Immediate online access to all issues from 2019. Subscription will auto renew annually.
US$ 199
This is the net price. Taxes to be calculated in checkout.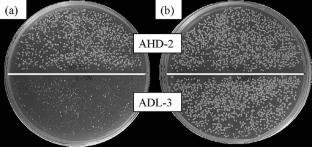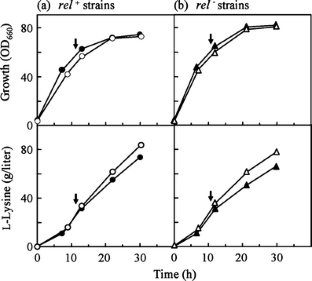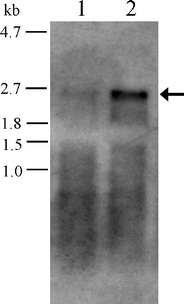 References
Brinkman AB, Ettema TJ, de Vos WM, van der Oost J (2003) The Lrp family of transcriptional regulators. Mol Microbiol 48:287–294

Cashel M, Gentry DR, Hernandez, VJ, Vinella D (1996) The stringent response. In: Neidhardt F (ed) Escherichia coli and Salmonella: cellular and molecular biology. American Society for Microbiology, Washington, DC, pp 1458–1496

Hayashi M, Mizoguchi H, Shiraishi N, Obayashi M, Nakagawa S, Imai J, Watanabe S, Ota T, Ikeda M (2002) Transcriptome analysis of acetate metabolism in Corynebacterium glutamicum using a newly developed metabolic array. Biosci Biotechnol Biochem 66:1337–1344

Hayashi M, Ohnishi J, Mitsuhashi S, Yonetani Y, Hashimoto S, Ikeda M (2006) Transcriptome analysis reveals global expression changes in an industrial l-lysine producer of Corynebacterium glutamicum. Biosci Biotechnol Biochem 70:546–550

Hirao T, Nakano T, Azuma T, Sugimoto M, Nakanishi T (1989) l-Lysine production in continuous culture of an l-lysine hyperproducing mutant of Corynebacterium glutamicum. Appl Microbiol Biotechnol 32:269–273

Ikeda M (2003) Amino acid production processes. In: Faurie R, Thommel J (eds) Microbial production of l-amino acids. Advances in biochemical engineering biotechnology, vol 79. Springer, Berlin Heidelberg New York, pp 1–35

Ikeda M, Ohnishi J, Mitsuhashi S (2005) Genome breeding of an amino acid-producing Corynebacterium glutamicum mutant. In: Barredo JLS (ed) Microbial processes and products. Humana, Totowa, pp 179–189

Ikeda M, Ohnishi J, Hayashi M, Mitsuhashi S (2006) A genome-based approach to create a minimally mutated Corynebacterium glutamicum strain for efficient l-lysine production. J Ind Microbiol Biotechnol 33:610–615

Katsumata R, Ozaki A, Oka T, Furuya A (1984) Protoplast transformation of glutamate-producing bacteria with plasmid DNA. J Bacteriol 159:306–311

Kennerknecht N, Sahm H, Yen MR, Patek M, Saier MH Jr, Eggeling L (2002) Export of l-isoleucine from Corynebacterium glutamicum: a two-gene-encoded member of a new translocator family. J Bacteriol 184:3947–3956

Newman EB, Lin RT, D'ari R (1996) The leucine/Lrp regulon. In: Neidhardt F (ed) Escherichia coli and Salmonella: cellular and molecular biology. American Society for Microbiology, Washington, DC, pp 1513–1525

Ohnishi J, Hayashi M, Mitsuhashi S, Ikeda M (2003) Efficient 40 °C fermentation of l-lysine by a new Corynebacterium glutamicum mutant developed by genome breeding. Appl Microbiol Biotechnol 62:69–75

Ohnishi J, Katahira R, Mitsuhashi S, Kakita S, Ikeda M (2005) A novel gnd mutation leading to increased l-lysine production in Corynebacterium glutamicum. FEMS Microbiol Lett 242:265–274

Ohnishi J, Mitsuhashi S, Hayashi M, Ando S, Yokoi H, Ochiai K, Ikeda M (2002) A novel methodology employing Corynebacterium glutamicum genome information to generate a new l-lysine-producing mutant. Appl Microbiol Biotechnol 58:217–223

Ozaki A, Katsumata R, Oka T, Furuya A (1985) Cloning of the genes concerned in phenylalanine biosynthesis in Corynebacterium glutamicum and its application to breeding of a phenylalanine producing strain. Agric Biol Chem 49:2925–2930

Patek M, Krumbach K, Eggeling L, Sahm H (1994) Leucine synthesis in Corynebacterium glutamicum: enzyme activities, structure of leuA, and effect of leuA inactivation on lysine synthesis. Appl Environ Microbiol 60:133–140

van der Rest ME, Lange C, Molenaar D (1999) A heat shock following electroporation of Corynebacterium glutamicum with xenogenein plasmid DNA. Appl Microbiol Biotechnol 52:541–545

Saito H, Miura K (1963) Preparation of transforming deoxyribonucleic acid by phenol treatment. Biochem Biophys Acta 72:619–629

Sambrook J, Russell DW (2001) Molecular cloning: a laboratory manual, 3rd edn. Cold Spring Harbor Laboratory Press, Cold Spring Harbor

Schrumpf B, Eggeling L, Sahm H (1992) Isolation and prominent characteristics of an l-lysine hyperproducing strain of Corynebacterium glutamicum. Appl Microbiol Biotechnol 37:566–571

Tauch A, Wehmeier L, Gotker S, Pühler A, Kalinowski, J. (2001) Relaxed rrn expression and amino acid requirement of a Corynebacterium glutamicumrel mutant defective in (p)ppGpp metabolism. FEMS Microbiol Lett 201:53–58

Tosaka O, Hirakawa H, Takinami K, Hirose Y (1978) Regulation of lysine biosynthesis by leucine in Brevibacterium lactofermentum. Agric Biol Chem 42:1501–1506

Trötschel C, Deutenberg D, Bathe B, Burkovski A, Krämer R (2005) Characterization of methionine export in Corynebacterium glutamicum. J Bacteriol 187:3786–3794

Wehmeier L, Schäfer A, Burkovski A, Krämer R, Mechold U, Malke H, Pühler A, Kalinowski J (1998) The role of the Corynebacterium glutamicumrel gene in (p)ppGpp metabolism. Microbiology 144:1853–1862

Wehmeier L, Brockmann-Gretza O, Pisabarro A, Tauch A, Pühler A, Martin JF, Kalinowski J (2001) A Corynebacterium glutamicum mutant with a defined deletion within the rplK gene is impaired in (p)ppGpp accumulation upon amino acid starvation. Microbiology 147:691–700
Acknowledgements
The authors thank Drs. S. Teshiba and A. Ozaki for encouraging support of our work, and also T. Abe, Y. Adachi, S. Nakagawa, S. Koizumi, and M. Yagasaki for useful discussions, and A. Yamane and K. Ishimaru for their excellent technical assistance.
About this article
Cite this article
Hayashi, M., Mizoguchi, H., Ohnishi, J. et al. A leuC mutation leading to increased L-lysine production and rel-independent global expression changes in Corynebacterium glutamicum . Appl Microbiol Biotechnol 72, 783–789 (2006). https://doi.org/10.1007/s00253-006-0539-7
Received:

Revised:

Accepted:

Published:

Issue Date:
Keywords
Cornynebacterium glutamicum

l-

lysine

Fermentation

DNA array