Abstract
A chitosanase-producing Bacillus sp. DAU101 was isolated from Korean traditional food. This strain was identified on the basis of phylogenetic analysis of the 16S rDNA sequence, gyrA gene, and phenotypic analysis. The gene encoding chitosanase (csn) was cloned and sequenced. The csn gene consisted of an open reading frame of 837 nucleotides and encodes 279 amino acids with a deduced molecular weight of 31,420 Da. The deduced amino acid sequence of the chitosanase from Bacillus sp. DAU101 exhibits 88 and 30 % similarity to those from Bacillus subtilis and Pseudomonas sp., respectively. The chitosanase was purified by glutathione S-transferase fusion purification system. The molecular weight of purified enzyme was about 27 kDa, which suggests the deletion of a signal peptide by sodium dodecyl sulfate–polyacrylamide gel electrophoresis. The pH and temperature optima of the enzyme were 7.5 and 50 °C, respectively. The enzyme activity was increased by about 1.6-fold by the addition of 5 or 10 mM Ca2+. However, Hg2+ and Ni+ ions strongly inhibited the enzyme. The enzyme produced, GlcN2–4, were the major products from a soluble chitosan.
This is a preview of subscription content, log in to check access.
Access options
Buy single article
Instant access to the full article PDF.
US$ 39.95
Price includes VAT for USA
Subscribe to journal
Immediate online access to all issues from 2019. Subscription will auto renew annually.
US$ 199
This is the net price. Taxes to be calculated in checkout.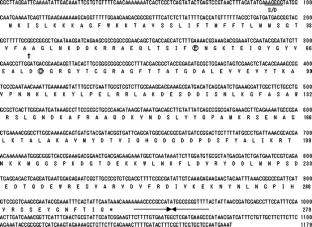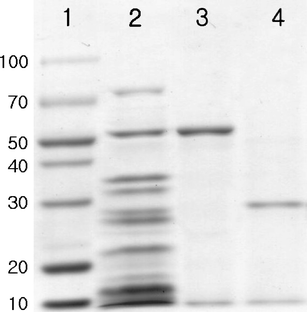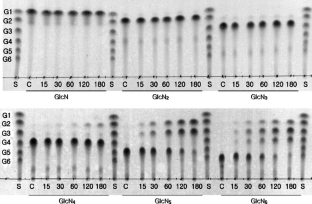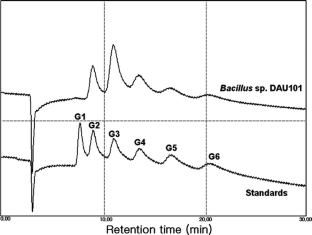 References
Allan GG, Fox JR, Kong N (1978) In: Muzzarelli RAA, Pariser ER (eds) Proceedings of the first international conference on chitin and chitosan. MIT Press, Cambridge, MA, pp 63–78

Bendtsen JD, Nielsen H, von Heijne G, Brunak S (2004) Improved prediction signal peptides: SignalP 3.0. J Mol Biol 340:783–795

Boucher I, Fukamizo T, Honda Y, Willick GE, Neugebauer WA, Brzezinski R (1995) Site-directed mutagenesis of evolutionary conserved carboxylic amino acids in the chitosanase from Streptomyces sp. N174 reveals two residues essential for catalysis. J Biol Chem 270:31077–31082

Bradford MM (1976) A rapid and sensitive method for the quantitation of microgram quantities of protein utilizing the principle of protein-dye binding. Anal Biochem 72:248–254

Choi YJ, Kim EJ, Piao Z, Yun YC, Shin YC (2004) Purification and characterization of chitosanase from Bacillus sp. strain KCTC 0377BP and its application for the production of chitosan oligosaccharides. Appl Environ Microbiol 70:4522–4531

Chun JS, Bae KS (2000) Phylogenetic analysis of Bacillus subtilis and related taxa based on partial gyrA gene sequences. Antonie Van Leeuwenhoek 78:12–123

David JL (1991) 16S/23S rRNA sequencing. Nucleic acid techniques in bacterial systematics. Wiley, New York, pp 114–147

Fenton DM, Eveleigh DE (1981) Purification and mode of action of a chitosanase from Penicillium islandicum. J Gen Microbiol 126:151–165

Fukamizo T, Brenzezinski R (1997) Chitosanase from Streptomyces sp. strain N174: a comparative review of its structure and function. Biochem Cell Biol 75:687–696

Fukamizo T, Ohkawa T, Ikeda Y, Goto S (1994) Specificity of chitosanase from Bacillus pumilus. Biochim Biophys Acta 1205:183–188

Fukamizo T, Honda Y, Goto S, Boucher I, Brzezinski R (1995) Reaction mechanism of chitosanase from Streptomyces sp. strain N174. Biochem J 311:377–383

Hedges A, Sneath HA (1974) Extracellular enzyme from Mycobacter AL-1 that exhibits both β-1,4-glucanase and chitosanase activities. J Bacteriol 120:844–853

Hirano S, Nagao N (1989) Effects of chitosan, pectic acid, lysozyme, and chitinase on the growth of several phytopathogens. Agric Biol Chem 53:3065–3066

Izume M, Nagae S, Kawagishi H, Mitsutomi M, Ohtakara A (1992) Action pattern of Bacillus sp. No.7-M chitosanase on partially N-acetylated chitosan. Biosci Biotechnol Biochem 56:448–453

Jo YY, Jo KJ, Jin YL, Kim KY, Shim JH, Kim YW, Park RD (2003) Characterization and kinetics of 45 kDa chitosanase from Bacillus sp. P16. Biosci Biotechnol Biochem 67:1875–1882

Jung WJ, Kuk JH, Kim KY, Park ZY, Park RD (2005) Enzymatic characterization and classifications of chitosanase. J Korean Soc Appl Biol Chem 48:16–22

Kendra DF, Hadwiger LA (1984) Characterization of the smallest chitosan oligomer that is maximally antifungal to Fusarium solani and elicits pisatin formation in Pisum sativum. Exp Mycol 8:276–281

Kunst F, Ogasawara N, Moszer I, Albertini AM, Alloni G, Azevedo V, Bertero MG, Bessieres P, Bolotin A, Borchert S, Borriss R, Boursier L, Brans A, Braun M, Brignell SC, Bron S, Brouillet S, Bruschi CV, Caldwell B, Capuano V, Carter NM, Choi SK, Codani JJ, Connerton IF, Canchin A et al (1997) The complete genome sequence of the gram-positive bacterium Bacillus subtilis. Nature 390:249–256

Laemmli UK (1970) Cleavage of structural proteins during the assembly of the head of bacteriophage T4. Nature 227:680–685

Miller L (1959) Use of dinitrosalicylic acid reagent for determination of reducing sugar. Anal Chem 31:208–218

Mitsutomi M, Ohrakara A (1992) Difference between microbial chitinase and chitosanase in the mode of action on partially N-acetylated chitosan. In: Brine CJ, Sanford RA, Zikakis JP (eds) Advances in chitin and chitosan. Elsevier, London, pp 304–313

Nielsen H, Engelbrecht J, Brunak S, von Heijne G (1997) Identification of prokaryotic and eukaryotic signal peptides and prediction of their cleavage sites. Protein Eng 10:1–6

Ohtaka A (1988) Chitosanase from Streptomyces griseus. Methods Enzymol 161:505–510

Osswald WF, Shapiro JP, Doostdar H, McDonald RE, Niedz RP, Nairn CJ, Mayer RT (1994) Identification and characterization of acidic hydrolases with chitinase and chitosanase activities from sweet orange callus tissue. Plant Cell Physiol 35:811–820

Ouakfaoui SE, Asselin A (1992a) Multiple forms of chitosanase activities. Phytochemistry 31:1513–1518

Ouakfaoui SE, Asselin A (1992b) Diversity of chitosanase activity in cucunber. Plant Sci 85:33–41

Parro V, Roman S, Galindo I, Purnelle B, Bolotin A, Sorokin A, Mellado RP (1997) A 23,911-bp region of the Bacillus subtilis genome comprising genes located upstream and downstream of the lev operon. Microbiology 143:1321–1326

Pelletier A, Sygusch J (1990) Purification and characterization of three chitosanase activities from Bacillus megaterium P1. Appl Environ Microbiol 56:844–848

Price JS, Stork R (1975) Production, purification and characterization of chitosanase from Streptomyces. J Bacteriol 124:1574–1585

Sambrook J, Fritsch EF, Maniatis T (1989) Molecular cloning. A laboratory manual, 2nd edn. Cold Spring Harbor Laboratory Press, Cold Spring Harbor, NY

Seng JM (1998) Chitine, chitosane et derives: de mouvelles perspectives pour l'industrie. Biofutur 71:40–44

Sharma P, Borja D, Stougaard P, Lonneborg A (1993) PR-proteins accumulating in spruce roots infected with a pathogenic Pythium sp. isolate include chitinases, chitosanases and β-1,3-glucanases. Physiol Mol Plant Pathol 43:57–67

Suzuki S (1996) Studies on biological effects of water soluble lower homologous oligosaccharides of chitin and chitosan. Fragrance J 15:61–68

Suzuki K, Mikami T, Okawa Y, Tokoro A, Suzuki S, Suzuki M (1986) Antitumor effect of hexa-N-acetylchitogexaose and chitohexose. Carbohydr Res 151:403–408

Tanabe T, Morinaga K, Fukamizo T, Mitsutomi M (2003) Novel chitosanase from Streptomyces griseus HUT 6037 with trans-glycosylation activity. Biosci Biotechnol Biochem 67:354–364

Tanaka T, Fujiwara S, Nishisori S, Fukui T, Takagi M, Imanaka T (1999) A unique chitinase with dual active sites and triple substrate binding sites from the hyperthermophilic Archaeon Pyrococcus kodakaraensis KOD1. Appl Environ Microbiol 65:5338–5344

Thompson JD, Higgins DG, Gibson TJ (1994) CLUSTAL W: improving the sensitivity of progressive multiple sequence alignment through sequence weighting, positions-specific gap penalties and weight matrix choice. Nucleic Acids Res 22:4673–4680

Thompson JD, Gibson TJ, Plewniak F, Jeanmougin F, Higgins DG (1997) The ClustalX windows interface: flexible strategies for multiple sequence alignment aided by quality analysis tools. Nucleic Acids Res 24:4876–4882

Tokoro A, Kobayashi M, Tatekawa N, Suzuki S, Suzuki M (1989) Protective effect of N-acetylchitohexaose of Listeria monocytogens infection in mice. Microbiol Immunol 33:357–367

Tsukada K, Matsumoto T, Aizawa K, Tokoro A, Naruse R, Suzuki S, Suzuki M (1990) Antimetastatic and growth-inhibitory effects of N-acetylchitohexaose in mice bearing Lewis lung carcinoma. Jpn J Cancer Res 81:259–265

Yoon HG, Ha SC, Lim HK, Cho HY (1998) New thermostable chitosanase from Bacillus sp: purification and characterization. J Microbiol Biotechnol 8:449–454

Yoon HG, Kim HY, Lim YH, Kim HK, Shin DH, Hong BS, Cho HY (2000) Thermostable chitosanase from Bacillus sp. CK4: cloning and expression of the gene and characterization of the enzyme. Appl Environ Microbiol 66:3727–3734

Young D, Kauss H (1983) Release of calcium from suspension cultured Glycine max cells by chitosan, other polycations, and polyamines in relation to effects on membrane permeability. Plant Physiol 73:698–702
Acknowledgements
This study was supported by Brain Busan 21 project in 2005 and by Technology Development Program for Agriculture and Forestry, Ministry of Agriculture and Forestry, Republic of Korea.
About this article
Cite this article
Lee, Y.S., Yoo, J.S., Chung, S.Y. et al. Cloning, purification, and characterization of chitosanase from Bacillus sp. DAU101. Appl Microbiol Biotechnol 73, 113–121 (2006). https://doi.org/10.1007/s00253-006-0444-0
Received:

Revised:

Accepted:

Published:

Issue Date:
Keywords
Chitosan

GlcN

Colloidal Chitin

Glycol Chitosan

gyrA Gene