Abstract
The Fourier transform infrared (FTIR) spectra of the cells of two photosynthetic H2-producing strains, Rhodoblastus acidophilus and Rhodobacter capsulatus, as well as their extracellular polymeric substances (EPS), were evaluated. The FTIR spectra of R.capsulatus and its EPS during its cultivation were also recorded. The main peaks in the spectra, including 1,080 cm−1 (carbohydrates), 1,250 cm−1 (nucleic acids), 2,830–2,930 cm−1 (lipids), 1,660–1,535 cm−1 (Amide I and II of proteins), were observed. The relative heights of these peaks in the spectra of the two strains were different, showing the difference in contents of various components in the cells or EPS. The ratios among the main components in the EPS obtained from the FTIR spectra were in good agreement with those from a conventional quantitative chemical analysis. As an easy, rapid, and direct technique, the FTIR spectroscopy could be used to characterize the components and their relative contents of EPS of photosynthetic bacteria.
This is a preview of subscription content, log in to check access.
Access options
Buy single article
Instant access to the full article PDF.
US$ 39.95
Price includes VAT for USA
Subscribe to journal
Immediate online access to all issues from 2019. Subscription will auto renew annually.
US$ 199
This is the net price. Taxes to be calculated in checkout.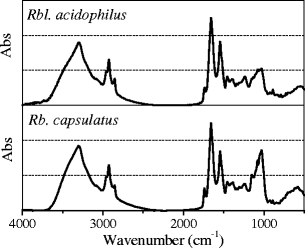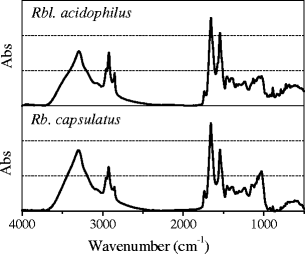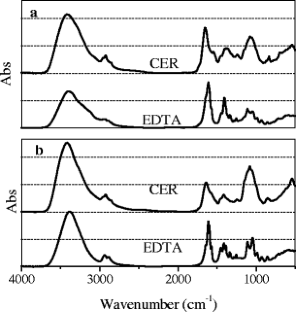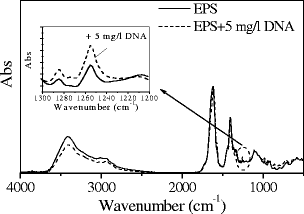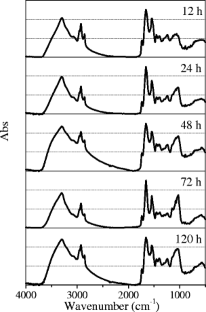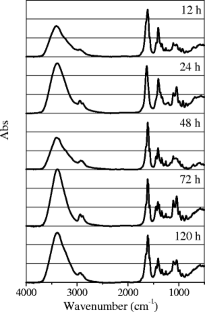 References
Boonaert CJP, Dufrene YF, Derclaye SR, Rouxhet PG (2001) Adhesion of Lactococcus lactis to model substrata: direct study of the interface. Colloids Surf B: Biointerfaces 22:171–182

Comte S, Guibaud G, Baudu M (2006) Relations between extraction protocols for activated sludge extracellular polymeric substances (EPS) and EPS complexation properties Part I. Comparison of the efficiency of eight EPS extraction methods. Enzyme Microb Technol 38:237–245

Frolund B, Palmgren R, Keiding K, Nielsen PH (1996) Extraction of extracellular polymers from activated sludge using a cation exchange resin. Water Res 30(8):1749–1758

Galichet A, Sockalingum GD, Belarbi A, Manfait M (2001) FTIR spectroscopic analysis of Saccharomyces cerevisiae cell walls: study of an anomalous strain exhibiting a pink-colored cell phenotype. FEMS Microbiol Lett 197:179–186

Gomez MAM, Perez MAB, Gil FJM, Diez AD, Rodriguez JFM, Rodriguez PG, Domingo AO, Torres AR (2003) Identification of species of Brucella using Fourier transform infrared spectroscopy. J Microbiol Methods 55:121–131

Grube M, Zagreba E, Gromozova E, Fomina M (1999) Comparative investigation of the macromolecular composition of mycelia forms Thielavia terrestris by infrared spectroscopy. Vib Spectrosc 19:301–306

Huffman SW, Lukasiewicz K, Geldart S, Elliott S, Sperry JF, Brwon CW (2003) Analysis of microbial components using LC-IR. Anal Chem 75:4606–4611

Kamnev AA, Antonyuk LP, Matora LY, Serebrennikova OB, Sumaroka MV, Colina M, Renou-Gonnord MF, Ignatov VV (1999) Spectroscopic characterization of cell membranes and their constituents of the plant-associated soil bacterium Azospirillum brasilense. J Mol Struct 480–481:387–393

Kansiz M, Billman-Jacobe H, McNaugton D (2000) Quantitative determination of the biodegradable polymer Poly(β-hydroxybutyrate) in a recombinant Escherichia coli strain by use of mid-infrared spectroscopy and multivariative statistics. Appl Environ Microbiol 66:3415–3420

Omoike A, Chorover J (2004) Spectroscopic study of extracellular polymeric substances from Bacillus subtilis: aqueous chemistry and adsorption effects. Biomacromolecules 5:1219–1230

Raunkjær K, Hvitved-Jacobsen T, Nielsen PH (1994) Measurement of pools of protein, carbohydrate and lipid in domestic wastewater. Water Res 28:251–261

Rhiel M, Ducommun P, Bolzonella I, Marison L, von Stochar U (2002) Real-time in situ monitoring of freely suspended and immobilized cell cultures based on mid-infrared spectroscopic measurements. Biotechnol Bioeng 77:174–185

Schmitt J and Flemming HC (1998) FTIR-spectroscopy in microbial and material analysis. Int Biodeterior Biodegrad 41:1–11

Schuster KC, Mertens F, Gapes JR (1999) FTIR spectroscopy applied to bacterial cells as a novel method for monitoring complex biotechnological processes. Vib Spectrosc 19:467–477

Sheng GP, Yu HQ, Yue ZB (2005a) Production of extracellular polymeric substances from Rhodopseudomonas acidophila in the presence of toxic substances. Appl Microbiol Biotechnol 69:216–222

Sheng GP, Yu HQ, Yu Z (2005b) Extraction of the extracellular polymeric substances from a photosynthetic bacterium Rhodopseudomonasacidophila. Appl Microbiol Biotechnol 67:125–130

Shi XY, Yu HQ (2005) Response surface analysis on the effect of cell concentration and light intensity on hydrogen production by Rhodopseudomonas capsulata. Process Biochem 40:2475–2481

Tindall BJ, Brambilla E, Steffen M, Neumann R, Pukall R, Kroppenstedt RM, Stackebrandt E (2002) Cultivatable microbial biodiversity: gnawing at Gordian knot. Environ Microbiol 2:310–318

Tsygankov AA, Fedorov AS, Lautinavichene TV, Gototov IN, Rao KK, Hall DO (1998) Actual and potential rates of hydrogen photoproduction by continuous culture of the purple non-sulphur bacterium Rhodobacter capsulatus. Appl Microbiol Biotechnol 49:102–107

Watanabe M, Sasaki K, Nakashimada Y, Kakizono T, Noparatnaraporn N, Nishio N (1998) Growth and flocculation of a marine photosynthetic bacterium Rhodovulum sp. Appl Microbiol Biotechnol 50: 682–691

Wingender J, Neu TR, Flemming HC (1999) Microbial extracellular polymeric substances: characterization, structures and function. Springer, Berlin Heidelberg New York
Acknowledgements
The authors wish to thank the Natural Science Foundation (NSFC) of China (Grant No. 20577048), the NSFC-RGC Joint Project (50418009), and the Trans-Century Training Program Foundation for the Talents, Ministry of Education, China, for the partial support of this study.
About this article
Cite this article
Sheng, G., Yu, H. & Wang, C. FTIR-spectral analysis of two photosynthetic H2-producing strains and their extracellular polymeric substances. Appl Microbiol Biotechnol 73, 204–210 (2006). https://doi.org/10.1007/s00253-006-0442-2
Received:

Revised:

Accepted:

Published:

Issue Date:
Keywords
Extracellular Polymeric Substance

Rhodobacter Capsulatus

Extracellular Polymeric Substance Extraction

Typical Absorption Band

Flocculation Ability