Abstract
A biocontrol fungus isolated from rotting wood was identified as a Trichoderma strain (named as Trichoderma sp. ZH1) by internal transcribed spacer (ITS) sequences of rRNA genes. The laccase yield of Trametes sp. AH28-2 in cocultivation with Trichoderma sp. ZH1 reached 6,210 U l−1, approximately identical to those induced by toxic aromatic inducers. Cocultures maintained 60–70 % of their highest laccase activity obtained at 5 days after inoculation of the biocontrol fungus, at least for 20 days. Furthermore, a novel laccase isozyme (LacC) was obtained through the fungal interactions. The molecular weight of LacC is about 64 kDa, and its isoelectric point is 6.6. The temperature and pH optimum for LacC to oxidize guaiacol are 55 °C and 5.0, respectively. LacC is stable both at 60 °C and pH 4.0–8.0. Furthermore, the K m values of LacC for various substrates were also determined. Our work demonstrates a safe strategy for the production of industrial laccases, instead of the traditional method of chemical induction.
This is a preview of subscription content, log in to check access.
Access options
Buy single article
Instant access to the full article PDF.
US$ 39.95
Price includes VAT for USA
Subscribe to journal
Immediate online access to all issues from 2019. Subscription will auto renew annually.
US$ 199
This is the net price. Taxes to be calculated in checkout.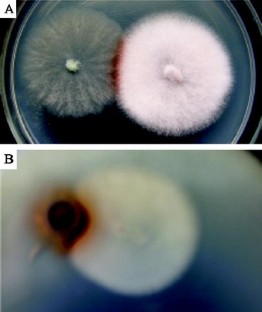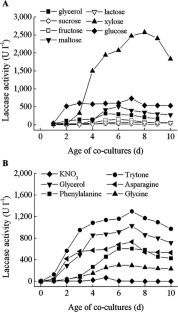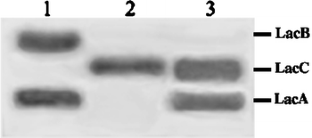 References
Altomare C, Norvell WA, Bjorkman T, Harman GE (1999) Solubilization of phosphates and micronutrients by the plant-growth-promoting and biocontrol fungus Trichoderma harzianum rifai 1295-22. Appl Environ Microbiol 65:2926–2933

Baldrian P (2004) Increase of laccase activities during interspecific interactions of white-rot fungi. FEMS Microbiol Ecol 50:245–253

Baldrian P, Gabriel J (2002) Copper and cadmium increase laccase activity in Pleurotus ostreatus. FEMS Microbiol Lett 206:69–74

Boddy L (2000) Interspecific combative interactions between wood-decaying basidiomycetes. FEMS Microbiol Ecol 31:185–194

Crowe JD, Olsson S (2001) Induction of laccase activity in Rhizoctonia solani by antagonistic Pseudomonas fluorescens strains and a range of chemical treatments. Appl Environ Microbiol 67:2088–2094

Faraco V, Giardina P, Sannia G (2003) Metal-responsive elements in Pleurotus ostreatus laccase gene promoters. Microbiology 149:2155–2162

Galhaup C, Goller S, Peterbauer CK, Strauss J, Haltrich D (2002) Characterization of the major laccase isoenzyme from Trametes pubescens and regulation of its synthesis by metal ions. Microbiology 148:2159–2169

Griffith GS, Rayner ADMR, Wildman HG (1994) Interspecific interactions and mycelial morphogenesis of Hypholoma fasciculare (Agaricaceae). Nova Hedwig 59:47–75

Harazono K, Nakamura K (2005) Decolorization of mixtures of different reactive textile dyes by the white-rot basidiomycete Phanerochaete sordida and inhibitory effect of polyvinyl alcohol. Chemosphere 59:63–68

Inbar J, Abramsky M, Cohen D, Chet I (1994) Plant growth enhancement and disease control by Trichoderma harzianum in vegetable seedlings grown under commercial conditions. Eur J Plant Pathol 100:337–346

Purohit JS, Dutta JR, Nanda RK, Banerjee R (2006) Strain improvement for tannase production from co-culture of Aspergillus foetidus and Rhizopus oryzae. Bioresour Technol 97(6):795–801

Roy JJ, Abraham TE, Abhijith KS, Kumar PV, Thakur MS (2005) Biosensor for the determination of phenols based on cross-linked enzyme crystals (CLEC) of laccase. Biosens Bioelectron 21:206–211

Samuels GJ (1996) Trichoderma: a review of biology and systematics of the genus. Mycol Res 100:923–935

Savoie JM, Mata G (1999) The antagonistic action of Trichoderma sp. hyphae to Lentinula edodes hyphae changes lignocellulotytic activities during cultivation in wheat straw. World J Microbiol Biotechnol 15:369–373

Savoie JM, Mata G (2003) Trichoderma harzianum metabolites pre-adapt mushrooms to Trichoderma aggressivum antagonism. Mycologia 95:191–199

Savoie JM, Mata G, Billette C (1998) Extracellular laccase production during hyphal interactions between Trichoderma sp. and Shiitake, Lentinula edodes. Appl Microbiol Biotechnol 49:589–593

Savoie JM, Mata G, Mamoun M (2001) Variability in brown line formation and extracellulaire laccase production during interaction between white-rot basidiomycetes and Trichoderma harzianum biotype Th2. Mycologia 93:243–248

Score AJ, Palfreyman JW, White NA (1997) Extracellular phenoloxidase and peroxidase enzyme production during interspecific fungal interaction. Int Biodeterior Biodegrad 39:225–233

Smith M, Thurston CF, Wood DA (1997) Fungal laccases: role in delignification and possible industrial applications. In: Messerschmidt A (ed) Multi-copper oxidases. World Scientific, Singapore, pp 201–224

Soden DM, Dobson ADW (2001) Differential regulation of laccase gene expression in Pleurotus sajor-caju. Microbiology 147:1755–1763

Thurston CF (1994) The structure and function of fungal laccase. Microbiology 140:19–26

Velázquez-Cedeño MA, Farnet AM, Ferré E, Savoie JM (2004) Variations of lignocellulosic activities in dual cultures of Pleurotus ostreatus and Trichoderma longibrachiatum on unsterilized wheat straw. Mycologia 96:712–719

Xiao YZ, Tu XM, Wang J, Zhang M, Cheng Q, Zeng WY, Shi YY (2003) Purification, molecular characterization and reactivity with aromatic compounds of a laccase from a basidiomycete Trametes sp. strain AH28-2. Appl Microbiol Biotechnol 60:700–707

Xiao YZ, Chen Q, Hang J, Wu J, Hong YZ, Wang YP, Shi YY (2004) Selective induction, purification and characterization of a laccase isozyme from the basidiomycete Trametes sp. AH28-2. Mycologia 96:26–35

Xiao YZ, Hong YZ, Li JF, Hang J, Tong PG, Fang W, Zhou CZ (2005) Cloning of novel laccase isozyme genes from Trametes sp. AH28-2 and analyses of their differential expression. Appl Microbiol Biotechnol (in press). DOI: 10.1007/s00253-005-0188-2
Acknowledgements
This work was supported by grants from the National Natural Sciences Foundation of China (30370045, 30470056), the Science & Technology Foundation of Distinguished Young Scholars of Anhui Province (04043048, 05023057), and the Innovative Research Team of 211 Project in Anhui University (02203109).
About this article
Cite this article
Zhang, H., Hong, Y.Z., Xiao, Y.Z. et al. Efficient production of laccases by Trametes sp. AH28-2 in cocultivation with a Trichoderma strain. Appl Microbiol Biotechnol 73, 89–94 (2006). https://doi.org/10.1007/s00253-006-0430-6
Received:

Revised:

Accepted:

Published:

Issue Date:
Keywords
Internal Transcribe Spacer

Trichoderma

Guaiacol

Laccase Activity

Laccase Production