Abstract
A highly hydrophobic and non-toxic colloidal silica nanoparticle/polyvinyl butyral sol–gel composite membrane was prepared on a platinum wire electrode. With diphtheria-toxoid (D-Ag) as a model antigen and encapsulation of diphtheria antibody (D-Ab) in the composite architecture, this membrane could be used for reagentless electrochemical immunoassay. It displayed a porous and homogeneous composite architecture without the aggregation of the immobilized protein molecules. The formation of immunoconjugate by a simple one-step immunoreaction between D-Ag in sample solution and the immobilized D-Ab introduced the change in the potential. Under optimal conditions, the D-Ag analyte could be determined in the linear ranges from 10 to 800 ng ml−1 with a relatively low detection limit of 2.3 ng ml−1 at 3δ. The D-Ag immunosensor exhibited good precision, high sensitivity, acceptable stability, accuracy, and reproducibility. This composite membrane could be used efficiently for the entrapment of different biomarkers and clinical applications.
This is a preview of subscription content, log in to check access.
Access options
Buy single article
Instant access to the full article PDF.
US$ 39.95
Price includes VAT for USA
Subscribe to journal
Immediate online access to all issues from 2019. Subscription will auto renew annually.
US$ 199
This is the net price. Taxes to be calculated in checkout.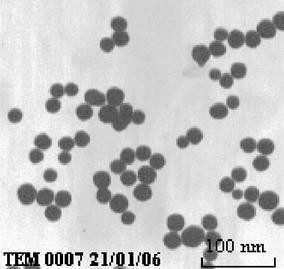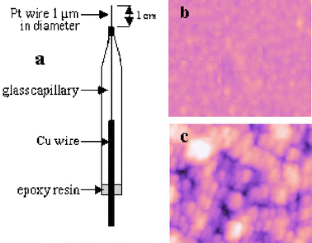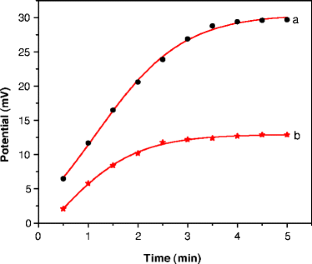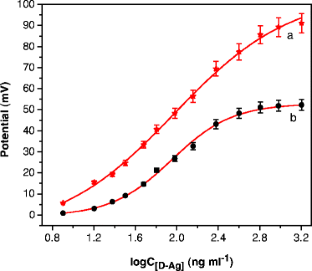 References
Aassi MZ, Van-Oss CJ, Absolom, DR (eds) (1984) Molecular immunology. Marcel Dekker, New York

Chen RT, Broome CV, Weinstein RA, Weaver R, Tsa TF (1985) Diphtheria in the United States, 1971–1981. Am J Publ Health 75:1365–1393

Hianik T, Snejdarkova M, Sokolikova L, Meszar E, Krivanek R, Tvarozek V, Novotny I, Wang J (1999) Immunosensors based on supported lipid membranes, protein films and liposomes modified by antibodies. Sens Actuators B 57:201–212

Katz E, Willner I (2003) Probing biomolecular interactions at conductive and semiconductive surfaces by impedance spectroscopy: routes to impedance immunosensors, DNA-sensors, and enzyme biosensors. Electroanalysis 15:913–947

Liu GD, Wu ZY, Wang SP, Shen GL, Yu RQ (2001) Renewable amperometric immunosensor for Schistosoma japonicum antibody assay. Anal Chem 73:3219–3226

Liu YJ, Yin F, Long YM, Zhang ZH, Yao SZ (2003) Study of the immobilization of alcohol dehydrogenase on Au-colloid modified gold electrode by piezoelectric quartz crystal sensor, cyclic voltammetry, and electrochemical impedance techniques. J Colloi Interface Sci 258:75–81

Nikolelis DP, Mitrokotsa M (2004) Rapid electrochemical detection of propranolol and metoprolol in pharmaceutical preparations using stabilized lipid films. Langmuir 16:741–747

Storri S, Santoni T, Minunni M, Mascini M (1998) Surface modifications for the development of piezoimmunosensors. Biosens Bioelectron 13:347–357

Tang FQ, Li JR, Zhang L, Jiang L (1992) Improvement of enzymatic activity and lifetime of Langmuir–Blodgett films by using submicron SiO2 particles. Biosens Bioelectron 7:503–507

Tang FQ, Men XW, Chen D, Ran JG, Gou L, Zhen CQ (2000) Nanoparticles-enhance glucose biosensor. Sci China B 30:119–124

Tang D, Yuan R, Chai Y, Fu Y, Dai J, Liu Y, Zhong X (2005) New amperometric and potentiometric immunosensors based on gold nanoparticles/tris(2,2′-bipyridyl) cobalt(III) multilayer films for hepatitis B surface antigen determinations. Biosens Bioelectron 21:539–548

Wang H, Wu ZY, Shen GL, Yu RQ (2001) A novel piezoelectric immunosensor for the determination of transferrin. Chem J Chin Univ 22:1305–1309

Wang CC, Wang H, Wu ZY, Shen GL, Yu RQ (2002) A piezoelectric immunoassay based on self-assembled monolayers of cystamine and polystyrene sulfonate for determination of Schistosoma japonicum antibodies. Anal Bioanal Chem 373:803–809

Wharton M, Vitek CR (2003) Diphtheria. In: Plotkin SA, Orenstein WA (eds) Vaccines, 4th edn. Saunders, Philadelphia, PA, p 211

Wu Z, Li J, Luo M, Shen G, Yu R (2005) A novel capacitive immunosensor based on gold colloid monolayers associated with a sol–gel matrix. Anal Chim Acta 528:235–242
Acknowledgements
This work was supported by the NNSF of China (29705001), the Chinese Education Ministry Foundation for Excellent Young Teachers (No. 2002-40) and the NSF of Chongqing City (No. 20027477), China.
About this article
Cite this article
Wang, F., Yuan, R. & Chai, Y. Direct electrochemical immunoassay based on a silica nanoparticles/sol–gel composite architecture for encapsulation of immunoconjugate. Appl Microbiol Biotechnol 72, 671–675 (2006). https://doi.org/10.1007/s00253-006-0353-2
Received:

Revised:

Accepted:

Published:

Issue Date:
Keywords
Silica Nanoparticles

Composite Membrane

Diphtheria

Potentiometric Response

Polyvinyl Butyral