Abstract
Streptococcus mutans is the main cause of dental caries. We evaluated the therapeutic effect of variable regions of a llama heavy chain antibody fragments directed against S. mutans named S36-VHH (S for Streptococcus) alone or fused with glucose oxidase (GOx) from Aspergillus niger. Western blot analysis and ELISA revealed binding of the S36-VHH to the streptococcal antigen I/II adhesin molecule of S. mutans serotype C. In a rat-desalivated caries model, daily administration of S36-VHH significantly reduced the development of smooth surface caries. No additional therapeutic effect of GOx was observed. Our results suggest that llama VHH antibodies may be a potential benefit as prophylaxis against dental caries.
This is a preview of subscription content, log in to check access.
Access options
Buy single article
Instant access to the full article PDF.
US$ 39.95
Price includes VAT for USA
Subscribe to journal
Immediate online access to all issues from 2019. Subscription will auto renew annually.
US$ 199
This is the net price. Taxes to be calculated in checkout.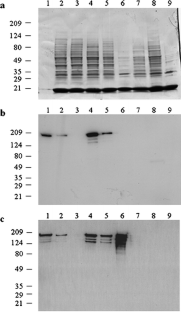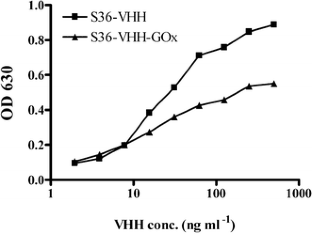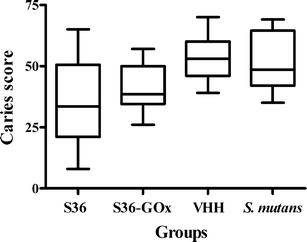 References
Bleiweiss AS, Lee SF, Brady LJ, Progulske-Fox A, Crowley PJ (1990) Cloning and inactivation of the gene responsible for a major surface antigen on Streptococcus mutans. Arch Oral Biol 35:15–23

Bowen WH, Pearson SK, Young DA (1988) The effect of desalivation on coronal root surface caries in rats. J Dent Res 6:21–23

De Haard HJ, Bezemer S, Ledeboer AM, Muller WH, Boender PJ, Moineau S, Coppelmans MC, Verkleij AJ, Frenken LG, Verrips CT (2005) Llama antibodies against a lactococcal protein located at the tip of the phage tail prevent phage infection. J Bacteriol 187:4531–4541

Frenken LGJ, van der Linden RHJ, Hermans PWJJ, Bos JW, Ruuls RC, De Geus B, Verrips CT (2000) Isolation of antigen specific llama VHH antibody fragments and their high level secretion by Saccharomyces cerevisiae. J Biotechnol 78:11–21

Kelly C, Evans P, Bergmeier L, Lee SF, Progulske-Fox A, Harris AC, Aitken A, Bleiweiss AS, Lehner T (1989) Sequence analysis of the cloned streptococcal antigen I/II. FEBS Lett 258:127–132

Keyes PH (1958) Dental caries in the molar teeth of rats. II. A method for diagnosing and scoring several types of lesions simultaneously. J Dent Res 37:1088–1099

Koga T, Oho T, Shimazaki Y, Nakano Y (2002) Immunization against dental caries. Vaccine 20:2027–2044

Krüger C, Hu Y, Pan Q, Marcotte H, Hultberg A, Delwar D, van Dalen PJ, Pouwels PH, Leer RJ, Kelly CG, van Dollenweerd C, Ma JK, Hammarström L (2002) In situ delivery of passive immunity by lactobacilli producing single-chain antibodies. Nat Biotechnol 20:702–706

Krüger C, Pearson SK, Kodama Y, Vacca Smith A, Bowen WH, Hammarström L (2004) The effects of egg-derived antibodies to glucosyltransferases on dental caries in rats. Caries Res 38:9–14

Krüger C, Hultberg A, van Dollenweerd C, Marcotte H, Hammarström L (2005) Passive immunization by lactobacilli expressing single-chain antibodies against Streptococcus mutans. Mol Biotechnol 31:221–232

Ma JKC, Smith R, Lehner T (1987) Use of monoclonal antibodies in local passive immunization to prevent colonization of human teeth by Streptococcus mutans. Infect Immun 55:1274–1278

Marcotte H, Lavoie MC (1998) Oral microbial ecology and the role of salivary immunoglobulin A. Microbiol Mol Biol Rev 62:71–109

Muyldermans S, Atarhouch T, Saldana J (1999) Unique single-domain antigen binding fragments derived from naturally occurring camel heavy-chain antibodies. J Mol Recognit 12:131–140

Payne G (2003) Progress in immunoconjugate cancer therapeutics. Cancer Cell 3:207–212

Smith DJ, King WF, Barnes LA, Peacock Z, Taubman MA (2003a) Immunogenicity and protective immunity induced by synthetic peptides associated with putative immunodominant regions of Streptococcus mutans glucan-binding protein B. Infect Immun 71:1179–1184

Smith DJ, Lam A, Barnes LA, King WF, Peacock Z, Wise DL, Trantolo DJ, Taubman MA (2003b) Remote glucosyltransferase-microparticle vaccine delivery induces protective immunity in the oral cavity. Oral Microbiol Immunol 18:240–248

Szynol A, de Soet JJ, Sieben-van Tuyl E, Bos JW, Frenken LG (2004) Bactericidal effects of a fusion protein of llama heavy-chain antibodies coupled to glucose oxidase on oral bacteria. Antimicrob Agents Chemother 48:3390–3395

Thomas EL, Milligan TW, Joyner RE, Jefferson MM (1994) Antibacterial activity of hydrogen peroxide and the lactoperoxidase-hydrogen peroxide-thiocyanate system against oral streptococci. Infect Immun 62:529–535

Thomassen YE, Verkleij AJ, Boonstra J, Verrips CT (2005) Specific production rate of VHH antibody fragments by Saccharomyces cerevisiae is correlated with growth rate, independent of nutrient limitation. J Biotechnol 118:270–277
Acknowledgement
This work was supported by the Foundation for Preventive Caries Research (Patentmedelsfonden) and the Swedish Research Council.
About this article
Cite this article
Krüger, C., Hultberg, A., Marcotte, H. et al. Therapeutic effect of llama derived VHH fragments against Streptococcus mutans on the development of dental caries. Appl Microbiol Biotechnol 72, 732–737 (2006). https://doi.org/10.1007/s00253-006-0347-0
Received:

Revised:

Accepted:

Published:

Issue Date:
Keywords
Dental Caries

Streptococcus Mutans

Heavy Chain Antibody

Streptococcal Antigen

Talon Metal Affinity Resin