Abstract
In recombinant Pichia pastoris fermentation for hirudin production, copious cells were not viable and most of the secreted hirudin molecules were C-terminally truncated at the end of fermentation. In this work, the influences of reactive oxygen species (ROS) on cell viability and hirudin production were subsequently studied. In contrast to the untreated control condition, the addition of ascorbic acid at the methanol fed-batch phase could obviously relieve the damage of intracellular ROS to cell membranes. As a result, the cell viability could be increased to 91% from 74% in control at the end of fermentation and the extracellular proteolysis of hirudin reduced. Intact and total hirudin production, by supplying ascorbic acid, could reach 2.90 and 5.03 g/l, respectively, in contrast to 1.75 and 4.70 g/l at the control condition. Ascorbic acid, 4 mmol/l or more, in the fermentation broth increased markedly the production of the intact hirudin, despite a little effect on total hirudin production.
This is a preview of subscription content, log in to check access.
Access options
Buy single article
Instant access to the full article PDF.
US$ 39.95
Price includes VAT for USA
Subscribe to journal
Immediate online access to all issues from 2019. Subscription will auto renew annually.
US$ 199
This is the net price. Taxes to be calculated in checkout.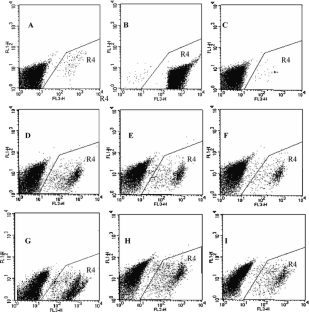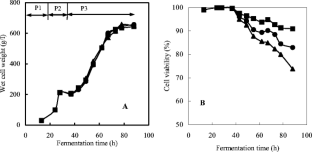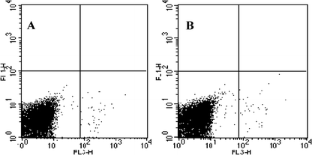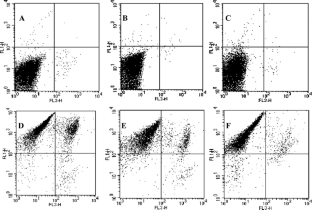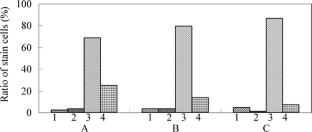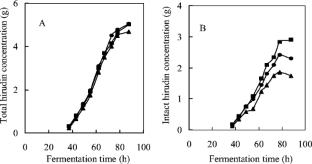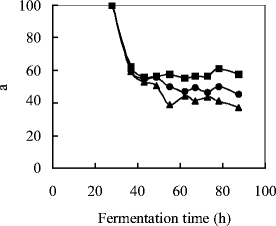 References
Avaro S, Belgaze-Touze N, Sibella-Arguelles C, Haguenauer-Tsapis R (2002) Mutants defective in secretory/vacuolar pathways in the EUROFAN collection of yeast disruptants. Yeast 19:351–371

Belo I, Pinheiro R, Mota M (2005) Morphological and physiological changes in Saccharomycescerevisiae by oxidative stress from hyperbaric air. J Biotechnol 115:397–404

Brierley RA, Bussineau C, Kossan R, Melton A, Siegel RS (1990) Fermentation development of recombinant Pichia pastoris expressing the heterologous gene: bovine lysozyme. Ann N Y Acad Sci 589:350–362

Burgeois C (1992) Determination of vitamin E: tocopherols and tocotrienols. Elsevier Applied Science, New York

Cereghino JL, Cregg JM (2000) Heterologous protein expression in the methylotrophic yeast Pichia pastoris. FEMS Microbiol Rev 24:45–66

Cregg JM, Tschopp JF, Stillman C, Siegel R, Akong M, Craig WS, Buckholz RG, Madden KR, Kellaris PA, Davis GR, Smiley BL, Cruze J, Torregrossa R, Velicelebi G, Thill GP (1987) High level expression and efficient assembly of hepatitis B surface antigen in the methylotrophic yeast Pichia pastoris. Bio/Technol 5:479–485

Cregg JM, Vedvick TS, Raschke WC (1993) Recent advances in the expression of foreign genes in Pichia pastoris. Bio/Technol 11:905–910

Davey HM (2002) Flow cytometric techniques for the detection of microorganisms. Methods Cell Sci 24:91–97

Digan ME, Lair SV, Brierley RA, Siegel RS, Williams ME, Ellis SB, Kellaris PA, Provow SA, Craig WS, Velicelebi G, Harplod MM, Thill GP (1989) Continuous production of a novel lysozyme via secretion from the yeast Pichia pastoris. Bio/Technol 7:160–164

Douma AC, Veenhuis M, de Koning W, Evers M, Harder W (1985) Dihydroxyacetone synthase is localized in the peroxisomal matrix of methanol grown Hansenula polymorpha. Arch Microbiol 143:237–243

Gimenez JA, Monkovic DD, Dekleva ML (2000) Identification and monitoring of protease activity in recombinant Saccharomycescerevisiae. Biotechnol Bioeng 67:245–251

Grant D, Levine A, Dor-Hefetz E (2003) Sugar-induced apoptosis in yeast cells. FEMS Yeast Res 4:7–13

Hansen RJ, Switzer RL, Hinze H, Holzer H (1977) Effects of glucose and nitrogen source on the levels of proteinases, peptidases, and proteinase inhibitors in yeast. Biochim Biophys Acta 496:103–114

Heim J, Takabayashi K, Meyhack B, Marki W, Pohlig G (1994) C-Terminal proteolytic degradation of recombinant desulfatohirudin and its mutants in the yeast Saccharomyces cerevisiae. Eur J Biochem 226:341–353

Hilt W, Wolf DH (1992) Stress-induced proteolysis in yeast. Mol Microbiol 6:2437–2442

Hohenblum H, Borth N, Mattanovich D (2003) Assessing viability and cell-associated product of recombinant protein producing Pichia pastoris with flow cytometry. J Biotechnol 102:281–290

Hong F, Meinander NQ, Jönsson LJ (2002) Fermentation strategies for improved heterologous expression of laccase in Pichia pastoris. Biotechnol Bioeng 79:438–449

Jamieson DJ (1998) Oxidative stress responses of the yeast Saccharomycescerevisiae. Yeast 14:1511–1527

Kim CH, Sohn JH, Choi ES, Rhee SK (1996) Effect of soybean oil on the enhanced expression of hirudin gene in Hansenulapolymorpha. Biotechnol Lett 18:417–422

Kobayashi K, Kuwae S, Ohya T, Ohda T, Ohyama M, Ohi H, Tomomitsu K, Ohmura T (2000) High-level expression of recombinant human serum albumin from the methylotrophic yeast Pichiapastoris with minimal protease production and activation. J Biosci Bioeng 89:55–61

Lehman E, Joyce G, Bailey F, Markus Z, Schultz D, Dunwiddie T, Jacobson A, Miller J (1993) Expression, purification and characterization of multigram amounts of a recombinant hybrid HV1–HV2 hirudin variant expressed in Saccharomycescerevisiae. Protein Expr Purif 4:247–255

Moraitis C, Curran BPG (2004) Reactive oxygen species may influence the heat shock response and stress tolerance in the yeast Saccharomyces cerevisiae. Yeast 21:313–323

Niki E (1987) Antioxidants in relation to lipid peroxidation. Chem Phys Lipids 44:227–253

Packer JE, Slater TF, Wilson RL (1979) Direct observation of a free radical interaction between vitamin E and vitamin C. Nature 278:737–738

Riehl-Bellon N, Dorothee C, Michele A, Alain VD, Magda M, Gerard L, Yves L, Stephen WB, Michael C, Carolyn R (1989) Purification and biochemical characterization of recombinant hirudin produced by Saccharomyces cerevisiae. Biochemistry 28:2941–2949

Rosenfeld SA, Nadeau D, Tirado J, Hollis GF, Knabb RM, Jia S (1996) Production and purification of recombinant hirudin expression in the methylotrophic yeast Pichia pastoris. Protein Exp Purif 8:476–482

Sinha J, Plantz BA, Inan M, Meagher MM (2005) Causes of proteolytic degradation of secreted recombinant proteins produced in methylotrophic yeast Pichia pastoris: case study with recombinant ovine interferon-τ. Biotechnol Bioeng 89:102–112

Sohn JH, Choi ES, Chung BH, Youn DJ, Seo JH, Rhee SK (1995) Process development for the production of recombinant hirudin in Saccharomyces cerevisiae: from upstream to downstream. Process Biochem 30:653–660

Storz G, Christman MF, Sies H, Ames BN (1987) Spontaneous mutagenesis and oxidative damage to DNA in Salmonella typhimurium. Proc Natl Acad Sci U S A 84:8917–8921

Walrand S, Valeix S, Rodriguez C, Ligot P, Chassagne J, Vasson MP (2003) Flow cytometry study of polymorphonuclear neutrophil oxidative burst: a comparison of three fluorescent probes. Clin Chim Acta 331:103–110

Weydemann U, Keup P, Piontek M, Strasser AW, Schweden J, Gellissen G, Janowicz ZA (1995) High-level secretion of hirudin by Hansenula polymorpha authentic processing of three different preprohirudins. Appl Microbiol Biotechnol 44:377–385

Wolff SP, Garner A, Dean RT (1986) Free radicals, lipids and protein degradation. Trends Biochem Sci 11:27–31

Yang JZ, Zhou XS, Zhang YX (2004) Improvement of recombinant hirudin production by controlling NH4 + concentration in Pichia pastoris fermentation. Biotechnol Lett 26:1013–1017

Yasuhara T, Nakai T, Ohashi A (1994) Aminopeptidase Y, a new aminopeptidase from Saccharomyces cerevisiae. J Biol Chem 269:13644–13650

Zhou XS, Zhang YX (2002) Decrease of proteolytic degradation of recombinant hirudin produced by Pichia pastoris by controlling the specific growth rate. Biotechnol Lett 24:1449–1453

Zhou WB, Zhang YX (2004) Purification and identification of recombinant hirudin and its degradation derivatives expressed in Pichia pastoris. Prep Biochem Biotechnol 34:239–252

Zhou XS, Lu J, Fan WM, Zhang YX (2002) Development of a responsive methanol sensor and its application in Pichia pastoris fermentation. Biotechnol Lett 24:643–646
Acknowledgements
We are most grateful to Dr. Ping Shi, who has helped us so much during the FCM measure. Our thanks also go to Mr. Jizhong Yang for his valuable suggestions and advice on the experimental work.
About this article
Cite this article
Xiao, A., Zhou, X., Zhou, L. et al. Improvement of cell viability and hirudin production by ascorbic acid in Pichia pastoris fermentation. Appl Microbiol Biotechnol 72, 837–844 (2006). https://doi.org/10.1007/s00253-006-0338-1
Received:

Revised:

Accepted:

Published:

Issue Date:
Keywords
Reactive Oxygen Species

Fermentation

Intracellular Reactive Oxygen Species

Intracellular Reactive Oxygen Species Level

High Reactive Oxygen Species