Abstract
This study aimed to construct an acetonitrile-containing waste treatment process by using nitrile-degrading microorganisms. To degrade high concentrations of acetonitrile, the microorganisms were newly acquired from soil and water samples. Although no nitrilase-producing microorganisms were found to be capable of degrading high concentrations of acetonitrile, the resting cells of Rhodococcus pyridinivorans S85-2 containing nitrile hydratase could degrade acetonitrile at concentrations as high as 6 M. In addition, an amidase-producing bacterium, Brevundimonas diminuta AM10-C-1, of which the resting cells degraded 6 M acetamide, was isolated. The combination of R. pyridinivorans S85-2 and B. diminuta AM10-C-1 was tested for the conversion of acetonitrile into acetic acid. The resting cells of B. diminuta AM10-C-1 were added after the first conversion involving R. pyridinivorans S85-2. Through this tandem process, 6 M acetonitrile was converted to acetic acid at a conversion rate of >90% in 10 h. This concise procedure will be suitable for practical use in the treatment of acetonitrile-containing wastes on-site.
This is a preview of subscription content, log in to check access.
Access options
Buy single article
Instant access to the full article PDF.
US$ 39.95
Price includes VAT for USA
Subscribe to journal
Immediate online access to all issues from 2019. Subscription will auto renew annually.
US$ 199
This is the net price. Taxes to be calculated in checkout.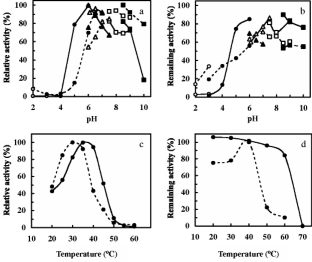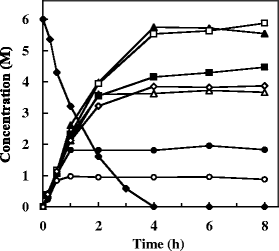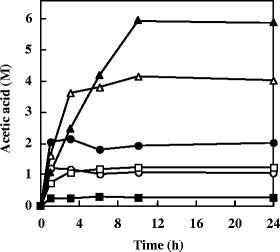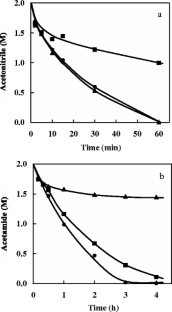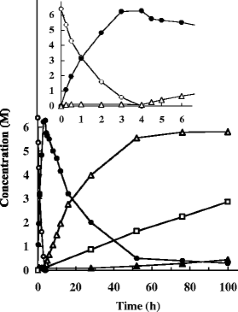 References
Battistel E, Bernardi A, Maestri P (1997) Enzymatic decontamination of aqueous polymer emulsions containing acrylonitrile. Biotechnol Lett 10:131–134

Chapatwala KD, Nawaz MS, Richardson JD, Wolfham JH (1990) Isolation and characterization of acetonitrile utilizing bacteria. J Ind Microbiol 5:65–70

Chapatwala KD, Babu GRV, Dudley C, Williams R, Aremu K (1993) Degradative capability of Pseudomonas putida on acetonitrile. Appl Biochem Biotechnol 39–40:655–666

Endo T, Watanabe I (1989) Nitrile hydratase of Rhodococcus sp. N-774. Purification and amino acid sequences. FEBS Lett 16:61–64

Harper DB (1977) Fungal degradation of aromatic nitriles. Enzymology of C-N cleavage by Fusarium solani. Biochem J 167:685–692

Harper DB (1985) Characterization of nitrilase from Nocardia sp. (Rhodochrous group) N.C.I.B. 11215, using p-hydroxybenzonitrile as sole carbon source. Int J Biochem 17:677–683

Kobayashi M, Shimizu S (1998) Metalloenzyme nitrile hydratase: structure, regulation, and application to biotechnology. Nat Biotechnol 16:733–736

Kobayashi M, Yanaka N, Nagasawa T, Yamada H (1990) Purification and characterization of a novel nitrilase of Rhodococcus rhodochrous K22 that acts on aliphatic nitriles. J Bacteriol 172:4807–4815

Linardi VR, Dias JCT, Rosa CA (1996) Utilization of acetonitrile and other aliphatic nitriles by a Candida famata strain. FEMS Microbiol Lett 144:67–71

Müller D, Gabriel J (1999) Bacterial degradation of the herbicide bromoxynil by Agrobacterium radiobacter in biofilm. Folia Microbiol 44:377–379

Nagasawa T, Mathew CD, Mauger J, Yamada H (1988) Nitrile hydratase-catalyzed production of nicotinamide from 3-cyanopyridine in Rhodococcus rhodochrous J1. Appl Environ Microbiol 54:1766–1769

Nagasawa T, Ryuno K, Yamada H (1989) Superiority of Pseudomonas chlororaphis B23 nitrile hydratase as a catalyst for the enzymatic production of acrylamide. Experientia 45:1066–1070

Nagasawa T, Takeuchi K, Yamada H (1991) Characterization of new cobalt-containing nitrile hydratase purified from urea-induced cells of Rhodococcus rhodochrous J1. Eur J Biochem 196:581–589

Nagasawa T, Shimizu H, Yamada H (1993) Superiority of the third-generation catalyst, Rhodococcus rhodochrous J1 nitrile hydratase, for industrial production of acrylamide. Appl Microbiol Biotechnol 40:189–195

Nawaz MS, Chapatwala KD (1991) Simultaneous degradation of acetonitrile and biphenyl by Pseudomonas aeruginosa. Can J Microbiol 37:411–418

Precigou S, Goulas P, Duran R (2001) Rapid and specific identification of nitrile hydratase (NHase)-encoding genes in soil samples by polymerase chain reaction. FEMS Microbiol Lett 204:155–161

Precigou S, Wieser M, Pommares P, Goulas P, Duran R (2004) Rhodococcus pyridinovorans MW3, a bacterium producing a nitrile hydratase. Biotechnol Lett 26:1379–1384

Sakano K, Oikawa S, Hiraku Y, Kawanishi S (2004) Mechanism of metal-mediated DNA damage induced by a metabolite of carcinogenic acetamide. Chem Biol Interact 149:51–59

Taras M, Håkansson K, Guieysse B (2005) Continuous acetonitrile degradation in a packed-bed bioreactor. Appl Microbiol Biotechnol 66:567–574
About this article
Cite this article
Kohyama, E., Yoshimura, A., Aoshima, D. et al. Convenient treatment of acetonitrile-containing wastes using the tandem combination of nitrile hydratase and amidase-producing microorganisms. Appl Microbiol Biotechnol 72, 600–606 (2006). https://doi.org/10.1007/s00253-005-0298-x
Received:

Revised:

Accepted:

Published:

Issue Date:
Keywords
Ammonium Acetate

Acetamide

Benzonitrile

Nitrile Hydratase

Acetic Acid Production