Abstract
Yeast Asr1 is the first reported protein whose intracellular distribution changes specifically in response to alcohol (Betz et al. (2004) J Biol Chem 279:28174–28181). It was reported that Asr1 is required for tolerance to alcohol and plays an important role in the alcohol stress response. Therefore, Asr1 is of interest to brewers and winegrowers attempting to improve the techniques of alcoholic fermentation. We verified the importance of Asr1 in the alcohol stress response during alcoholic fermentation. Although we reconfirmed the alcohol-responsive changes in the intracellular localization of Asr1, we could not detect the effects of Asr1-deficiency on Japanese sake brewing or winemaking. In addition, we could not reconfirm the hypersensitivity of Asr1-deficient mutants to alcohol and sodium dodecyl sulfate. Instead, we conclude that Asr1 is not required and nor important for tolerance to alcohol stress.
This is a preview of subscription content, log in to check access.
Access options
Buy single article
Instant access to the full article PDF.
US$ 39.95
Price includes VAT for USA
Subscribe to journal
Immediate online access to all issues from 2019. Subscription will auto renew annually.
US$ 199
This is the net price. Taxes to be calculated in checkout.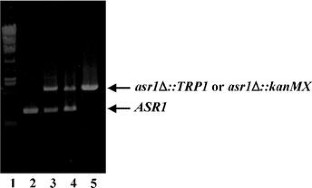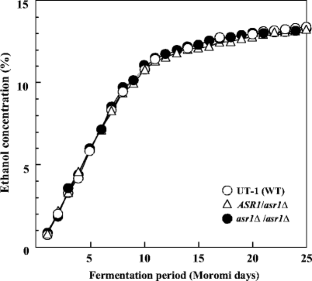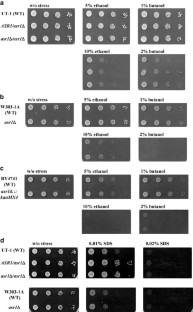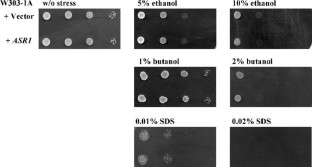 References
Aguilera A, Benitez T (1986) Ethanol-sensitive mutants of Saccharomyces cerevisiae. Arch Microbiol 143:337–344

Alexandre H, Ansanay-Galeote V, Dequin S, Blondin B (2001) Global gene expression during short-term ethanol stress in Saccharomyces cerevisiae. FEBS Lett 498:98–103

Betz F, Schlenstedt G, Bailer SM (2004) Asr1p, a novel yeast Ring/PHD finger protein, signals alcohol stress to the nucleus. J Biol Chem 279:28174–28181

Izawa S, Takemura R, Ikeda K, Fukuda K, Wakai Y, Inoue Y (2005a) Characterization of Rat8 localization and mRNA export in Saccharomyces cerevisiae during the brewing of Japanese sake. Appl Microbiol Biotechnol 69:86–91

Izawa S, Takemura R, Miki T, Inoue Y (2005b) Characterization of the export of bulk poly (A)+ mRNA in Saccharomyces cerevisiae during wine-making process. Appl Environ Microbiol 71:2179–2182

Kitada K, Yamaguchi E, Arisawa M (1995) Cloning of the Candida glabrata TRP1 and HIS3 genes, and construction of their disruptant strains by sequential integrative transformation. Gene 165:203–206

Kitamoto K, Oda K, Gomi K, Takahashi K (1990) Construction of uracil and tryptophan auxotrophic mutants from sake yeast by disruption of URA3 and TRP1 genes. Agric Biol Chem 54:2979–2987

Künzler M, Gerstberger T, Stutz F, Bischoff R, Hurt E (2000) Yeast ran-binding protein 1 (Yrb1) shuttles between the nucleus and cytoplasm and is exported from the nucleus via a CRM1 (XPO1)-dependent pathway. Mol Cell Biol 20:4295–4308

Lorenz MC, Muir RS, Lim E, McElver J, Weber SC, Heitman J (1995) Gene disruption with PCR products in Saccharomyces cerevisiae. Gene 158:113–117

Mager WH, Moradas-Ferreira P (1993) Stress response of yeast. Biochem J 290:1–13

Peoples RW, Li C, Weight FF (1996) Lipid vs protein theories of alcohol action in the nervous system. Annu Rev Pharmacol Toxicol 36:185–201

Piper PW (1995) The heat shock and ethanol stress responses of yeast exhibit extensive similarity and functional overlap. FEMS Microbiol Lett 134:121–127

Stade K, Ford CS, Guthrie C, Weis K (1997) Exportin 1 (Crm1p) is an essential nuclear export factor. Cell 90:1041–1050

Takahashi T, Shimoi H, Ito K (2001) Identification of genes required for growth under ethanol stress using transposon mutagenesis in Saccharomyces cerevisiae. Mol Genet Genomics 265:1112–1119

Takemura R, Inoue Y, Izawa S (2004) Stress response in the yeast mRNA export factor: reversible change in the localization of Rat8p is caused by ethanol stress but not heat shock. J Cell Sci 117:4189–4197

Wach A, Brachat A, Rohlmann R, Philippsen P (1994) New heterologous modules for classical or PCR-based gene disruptions in Saccharomyces cerevisiae. Yeast 10:1793–1808

Wallis JW, Chrebet G, Brodsky G, Rolfe M, Rothstein R (1989) A hyper-recombination mutation in S. cerevisiae identifies a novel eukaryotic topoisomerase. Cell 58:409–419

Zu T, Verna J, Ballester R (2001) Mutations in WSC genes for putative stress receptors result in sensitivity to multiple stress conditions and impairment of Rlm1-dependent gene expression in Saccharomyces cerevisiae. Mol Genet Genomics 266:142–155
Acknowledgements
We are grateful to Dr. K. Kitamoto, Dr. S. Harashima, Dr. E. Hurt, and Dr. K. Weis for providing plasmids and strains. We also thank Dr. Y. Wakai and Dr. K. Fukuda (Kizakura Sake Brewing Co. Ltd.) and Dr. T. Miki (Yamanashi University) for the sake brewing test and winemaking, respectively.
About this article
Cite this article
Izawa, S., Ikeda, K., Kita, T. et al. Asr1, an alcohol-responsive factor of Saccharomyces cerevisiae, is dispensable for alcoholic fermentation. Appl Microbiol Biotechnol 72, 560–565 (2006). https://doi.org/10.1007/s00253-005-0294-1
Received:

Revised:

Accepted:

Published:

Issue Date:
Keywords
Sodium Dodecyl Sulfate

Yeast Cell

Butanol

Nuclear Accumulation

Alcoholic Fermentation