Abstract
Recently we divided Aspergillus oryzae RIB strains into group 1, having seven aflatoxin biosynthesis homologous genes (aflT, nor-1, aflR, norA, avnA, verB, and vbs), and group 2, having three homologues (avnA, verB, and vbs). Here, partial aflatoxin homologous gene cluster of RIB62 from group 2 was sequenced and compared with that of RIB40 from group 1. RIB62 showed a large deletion upstream of ver-1 with more than half of the aflatoxin homologous gene cluster missing including aflR, a positive transcriptional regulatory gene. Adjacent to the deletion of the aflatoxin homologous gene cluster, RIB62 has a unique sequence of about 8 kb and a telomere. Southern analysis of A. oryzae RIB strains with four kinds of probe derived from the unique sequence of RIB62 showed that all group 2 strains have identical hybridizing signals. Polymerase chain reaction with specific primer set designed to amplify the junction between ver-1 and the unique sequence of RIB62 resulted in the same size of DNA fragment only from group 2 strains. Based on these results, we developed a useful genetic tool that distinguishes A. oryzae group 2 strains from the other groups' strains and propose that it might have differentiated from the ancestral strains due to chromosomal breakage.
This is a preview of subscription content, log in to check access.
Access options
Buy single article
Instant access to the full article PDF.
US$ 39.95
Price includes VAT for USA
Subscribe to journal
Immediate online access to all issues from 2019. Subscription will auto renew annually.
US$ 199
This is the net price. Taxes to be calculated in checkout.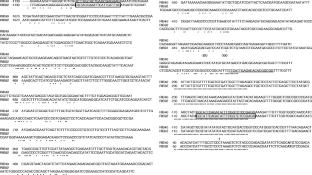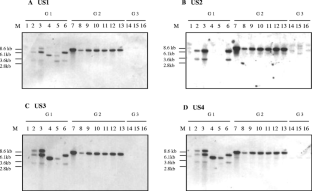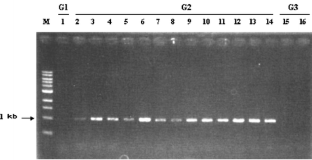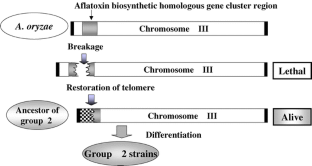 References
Barbesgaard P, Heldt-hansen HP, Diderichsen B (1992) On the safety of Aspergillus oryzae: a review. Appl Microbiol Biotechnol 36:569–572

Bosco G, Haber JE (1998) Chromosome break-induced DNA replication leads to nonreciprocal translocations and telomere capture. Genetics 150:1037–1047

Chang P-K, Yu J (2002) Characterization of a partial duplication of the aflatoxin gene cluster in Aspergillus parasiticus ATCC 56775. Appl Microbiol Biotechnol 58:632–636

Chang P-K, Bhatnagar D, Cleveland TE, Bennett JW (1995) Sequence variability in homologs of the aflatoxin pathway gene aflR distinguishes species in Aspergillus section Flavi. Appl Environ Microbiol 61:40–43

Chang P-K, Horn BW, Dorner JW (2005) Sequence breakpoints in the aflatoxin biosynthesis gene cluster and flanking regions in nonaflatoxigenic Aspergillusflavus isolates. Fungal Genet Biol 42:914–923

Geiser DM, Dorner JW, Horn BW, Taylor JW (2000) The phylogenetics of mycotoxin and sclerotium production in Aspergillusflavus and Aspergillus oryzae. Fungal Genet Biol 31:169–179

Gomi K, Tanaka A, Iimura Y, Takahashi K (1989) Rapid differentiation of four related species of koji molds by agarose gel electrophoresis of genomic DNA digested with SmaI restriction enzyme. J Gen Appl Microbiol 35:225–232

Kurtman CP, Smiley MJ, Robnett CJ, Wicklow DT (1986) DNA relatedness among wild and domesticated species in the Aspergillus flavus group. Mycologia 78(6):955–959

Kusumoto K-I, Nogata Y, Ohta H (2000) Directed deletions in the aflatoxin biosynthesis gene homolog cluster of Aspergillus oryzae. Curr Genet 37:104–111

Kusumoto K-I, Suzuki S, Kashiwagi Y (2003) Telomeric repeat sequence of Aspergillus oryzae consists of dodeca-nucleotides. Appl Microbiol Biotechnol 61:247–251

Machida M, Asai K, Sano M, Tanaka T, Kumagai T, Terai G, Kusomuto K-I, Arima T, Akita O, Kashiwagi Y, Abe K, Gomi K, Horiuchi H, Kitamoto K, Kobayashi T, Takeuchi M, Denning DW, Galagan JE, Nierman WC, Yu J, Archer DB, Bennett JW, Bhatnagar D, Cleveland TE, Fedorova ND, Gotoh O, Horikawa H, Hosoyama A, Ichinomiya M, Igarashi R, Iwashita K, Juvvadi PR, Kato M, Kato Y, Kin T, Kokubun A, Maeda H, Maeyama N, Maruyama J, Nagasaki H, Nakajima T, Oda K, Okada K, Paulsen I, Sakamoto K, Sawano T, Takahashi M, Takase K, Terabayashi Y, Wortman JR, Yamada O, Yamagata Y, Anazawa H, Hata Y, Koide Y, Komori T, Koyama Y, Minetoki T, Suharnan S, Tanaka A, Isono K, Kuhara S, Ogasawara N, Kikuchi H (2005) Genome sequencing and analysis of Aspergillus oryzae. Nature 438: 1157–1161

Murakami H (1971) Classification of the koji mold. J Gen Appl Microbiol 17:281–309

Nikkuni S, Nakajima H, Hoshina S-I, Ohno M, Suzuki C, Kashiwagi Y, Mori K (1998) Evolutionary relationships among Aspergillus oryzae and related species based on the sequences of 18S rRNA genes and internal transcribed spacers. J Gen Appl Microbiol 44:225–230

Rigó K, Varga J, Tóth B, Téren J, Mesterházy Á, Kozakiewicz Z (2002) Evolutionary relationships within Aspergillus section Flavi based on sequences of the intergenic transcribed spacer regions and the 5.8S rRNA gene. J Gen Appl Microbiol 48:9–16

Tominaga M, Lee Y-H, Hayashi R, Suzuki Y, Yamada O, Sakamoto K, Gotoh K, Akita O (2006) Molecular analysis of an inactive aflatoxin biosynthesis gene cluster in Aspergillus oryzae RIB strains. Appl Environ Microbiol 72:484–490

Woloshuk CP, Yousibova GL, Rollins JA, Bhatnagar D, Payne GA (1995) Molecular characterization of the afl-1 locus in Aspergillus flavus. Appl Environ Microbiol 61:3019–3023

Yu J, Chang P-K, Ehrlich KC, Cary JW, Bhatnagar D, Cleveland TE, Payne GA, Linz JE, Woloshuk CP, Bennett JW (2004) Clustered pathway genes in aflatoxin biosynthesis. Appl Environ Microbiol 70:1253–1262
About this article
Cite this article
Lee, Y., Tominaga, M., Hayashi, R. et al. Aspergillus oryzae strains with a large deletion of the aflatoxin biosynthetic homologous gene cluster differentiated by chromosomal breakage. Appl Microbiol Biotechnol 72, 339–345 (2006). https://doi.org/10.1007/s00253-005-0282-5
Received:

Revised:

Accepted:

Published:

Issue Date:
Keywords
Aflatoxin

Southern Blot Analysis

Unique Sequence

Large Deletion

Aspergillus Oryzae