Abstract
Streptococcus equi subsp. zooepidemicus is known to produce a hyaluronic acid capsule to resist the host immune defense. As the structure of the polysaccharide is identical to the one produced by humans, the bacteria S. equisubsp. zooepidemicusis used in biotechnological production of hyaluronic acid. In our laboratory we prepared mutated strains that are β-glucuronidase deficient. Comparing the wild-type strain, which is positive in β-glucuronidase activity, with the mutated strains named clone1 and clone2 in laboratory conditions, we observed that β-glucuronidase influences the production of hyaluronic acid considerably and the molecular weight of hyaluronan slightly. The production of hyaluronic acid by the mutated strains is higher by approximately 20% and the molecular weight is larger by about 2%. The significant increase in the production of hyaluronic acid and the slight increase in the molecular weight are probably caused by an absence of free β-glucuronic acid, due to its removal from the non-reducing termini of the polysaccharide by β-glucuronidase. The presence of free β-glucuronic acid would likely induce the expression of the β-glucuronic-acid-utilizing operon, which in turn would reflect into a misuse of energy in the glucose-rich media.
This is a preview of subscription content, log in to check access.
Access options
Buy single article
Instant access to the full article PDF.
US$ 39.95
Price includes VAT for USA
Subscribe to journal
Immediate online access to all issues from 2019. Subscription will auto renew annually.
US$ 199
This is the net price. Taxes to be calculated in checkout.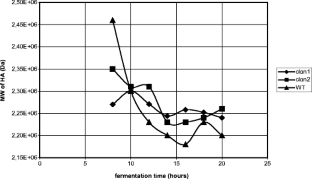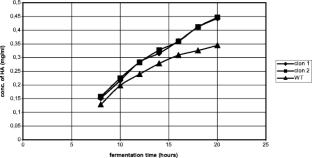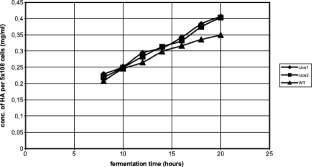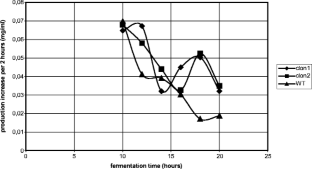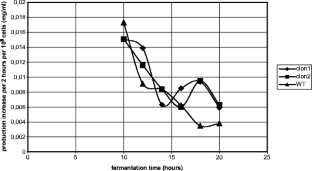 References
Alho AM, Underhill CB (1989) The hyaluronate receptor is preferentially expressed on proliferating epithelial cells. J Cell Biol 108:1557–1565

Baudouy JR, Portalier R, Stoeber F (1981) Regulation of hexuronate system genes in Escherichia coli k-12: multiple regulation of the uxu operon by exuR and uxuR gene products. J Bacteriol 145:211–220

Bettelheim FA, Popdimirova N (1992) Hyaluronic acid—syneretic glycosaminoglycan. Curr Eye Res 11:411–419

Chanter N, Collin NC, Mumford JA (1994) Resistance of Streptococcus equi to equine polymorphonuclear leucocytes. Equine Inf Dis 7:201–206

DeAngelis LP, Padgett-McCue AJ (2000) Identification and molecular cloning of a chondroitin synthase from Pasteurella multocida type F. J Biol Chem 275:24124–24129

DeAngelis PL (2002) Microbial glycosaminoglycan glycosyltransferases. Glycobiology 12:9R–16R

Goldberg RL, Toole BP (1987) Hyaluronate inhibition of cell proliferation. Arthritis Rheum 30:769–778

Heinegard D, Sommarin Y (1987) Proteoglycans: an overview. Methods Enzymol 144D:305–319

Henrich CJ, Hawkes SP (1989) Molecular weight dependence of hyaluronic acid produced during oncogenic transformation. Cancer Biochem Biophys 10:257–267

Kass EH, Seastone CV (1944) The role of the mucoid polysaccharide (hyaluronic acid) in the virulence of group A hemolytic streptococci. J Exp Med 79:319–330

Kitchen JR, Cysyk RL (1995) Synthesis and release of hyaluronic acid by Swiss 3T3 fibroblasts. Biochemical J 309:649–656

Kujawa MJ, Carrino DA, Caplan AI (1986) Substrate-bonded hyaluronic acid exhibits a size-dependent stimulation of chondrogenic differentiation of stage 24 limb mesenchymal cells in culture. Dev Biol 114:519–528

Kumar S, Kumar P, Ponting JM, Sattar A, Rooney P, Pye D, Hunter RD (1992) Biotinylated hyaluronan: a versatile and highly sensitive probe capable of detecting nanogram level of hyaluronan binding proteins (hyaladherins) on electroblots by a novel affinity detection procedure. In: Maragoudakis, ME (ed) Angiogenesis in health and disease, NATO ASI Series A, vol 227. Plenum, New York, pp 253–263

Laurent TC, Fraser JR (1992) Hyaluronan. Faseb J 6:2397–2404

McCarty MF (1996) Glucosamine for wound healing. Med Hypotheses 47:273–275

Moses AE, Wessels MR, Zalcman K, Alberti S, Natanson-Yaron S, Menes T, Hanski E (1997) Relative contribution of hyaluronic acid capsule and M protein to virulence in a mucoid strain of the group A Streptococcus. Inf Immun 65:64–71

Pham PL, Dupont I, Roy D, Lapointe G, Cerning J (2000) Production of exopolysaccharide by Lactobacillus rhamnosum R and analysis of its enzymatic degradation during prolonged fermentation. Appl Environ Microbiol 66:2302–2310

Poole AR (1986) Proteoglycans in health and disease: structures and functions. Biochem J 236:1–14

Roberts IS (1996) The biochemistry and genetics of capsular polysaccharide production in bacteria. Annu Rev Microbiol 50:285–315

Shulami S, Gat O, Sonenshein AL, Shoham Y (1999) The glucuronic acid utilization gene cluster from Bacillus stearothermophilus T-6. J Bacteriol 181:3695–3704

Toole BP (1990) Hyaluronan and its binding proteins, the hyaladherins. Curr Opin Cell Biol 2:839–844

Turley EA, Bowman P, Kytryk MA (1985) Effects of hyaluronate and hyaluronate binding proteins on cell motile and contact behaviour. J Cell Sci 78:133–145

Van Brunt J (1986) More to hyaluronic acid than meets the eye. Biotechnology 4:780–782

Weindl G, Schaller M, Schäfer-Korting M, Korting HC (2004) Hyaluronic acid in the treatment and prevention of skin diseases: molecular biological, pharmaceutical and clinical aspects. Skin Pharmacol Physiol 17:207–213
Appendices
Appendix A
First day: clone1
Cultivation time (h)
MW (Da)
Concentration (mg/ml)
Cell number
pH
6
 
 
7.31
8
1.969×106
0.1152
2.28×108
6.48
1.963×106
0.1085
10
2.323×106
0.1699
3.74×108
5.1
2.384×106
0.1594
12
 
4.53×108
4.95
2.274×106
0.2357
14
2.240×106
0.2964
4.93×108
4.95
2.110×106
0.3029
16
2.305×106
0.3255
5.28×108
5.15
2.213×106
0.3423
18
2.239×106
0.3696
5.26×108
5.18
20
2.257×106
0.4184
5.49×108
5.25
2.221×106
0.4247
Appendix B
First day: clone2
Cultivation time (h)
MW (Da)
Concentration (mg/ml)
Cell number
pH
6
 
 
7.3
8
2.493×106
0.0889
2.47×108
6.25
2.318×106
0.0924
10
2.367×106
0.1716
3.86×108
4.9
2.374×106
0.1679
12
 
4.63×108
4.9
2.394×106
0.2184
14
2.264×106
0.2895
5.03×108
4.95
2.343×106
0.2756
16
2.372×106
0.3033
5.29×108
5.05
2.268×106
0.3151
18
2.289×106
0.3499
5.37×108
5.24
2.190×106
0.3641
20
2.239×106
0.4111
5.44×108
5.24
2.244×106
0.4065
Appendix C
First day: wild type
Cultivation time (h)
MW (Da)
Concentration (mg/ml)
Cell number
pH
6
 
 
7.48
8
2.570×106
0.0396
1.21×108
6.98
2.611×106
0.0373
10
2.441×106
0.1173
2.85×108
5.4
2.460×106
0.1147
12
2.253×106
0.1960
4.00×108
4.75
2.136×106
0.2092
14
2.209×106
0.2505
4.41×108
4.84
2.341×106
0.2329
16
2.386×106
0.2662
4.82×108
4.9
2.242×106
0.2805
18
2.220×106
0.3208
4.69×108
4.88
2.361×106
0.3020
20
2.282×106
0.3387
4.84×108
4.86
2.275×106
0.3392
Appendix D
Second day: clone1
Cultivation time (h)
MW (Da)
Concentration (mg/ml)
Cell number
pH
6
 
 
5.36
8
2.461×106
0.1740
3.97×108
4.98
2.457×106
0.1708
10
2.284×106
0.2453
4.69×108
4.97
2.293×106
0.2461
12
2.256×106
0.2901
5.06×108
5.08
2.384×106
0.2728
14
2.298×106
0.3203
5.28×108
5.28
2.226×106
0.3269
16
2.193×106
0.3869
5.35×108
5.41
2.284×106
0.3675
18
2.264×106
0.4048
5.47×108
5.3
2.178×106
0.4281
20
2.204×106
0.4452
5.44×108
5.78
2.184×106
0.4501
Appendix E
Second day: clone2
Cultivation time (h)
MW (Da)
Concentration (mg/ml)
Cell number
pH
6
 
 
5.36
8
2.497×106
0.1735
3.98×108
4.9
2.347×106
0.1837
10
2.357×106
0.2402
4.71×108
4.96
2.337×106
0.2397
12
2.209×106
0.3036
5.14×108
5.05
2.260×106
0.2939
14
2.260×106
0.3359
5.29×108
5.26
2.265×106
0.3342
16
2.271×106
0.3722
5.51×108
5.47
2.295×106
0.3665
18
2.131×106
0.4354
5.60×108
5.33
2.176×106
0.4304
20
2.231×106
0.4678
5.54×108
5.7
2.178×106
0.4724
Appendix F
Second day: wild type
Cultivation time (h)
MW (Da)
Concentration (mg/ml)
Cell number
pH
6
 
 
5.28
8
2.483×106
0.1455
3.95×108
4.84
2.380×106
0.1447
10
2.264×106
0.2124
4.53×108
4.8
2.222×106
0.2150
12
2.188×106
0.2567
4.78×108
4.83
2.239×106
0.2528
14
2.159×106
0.2814
4.89×108
4.87
2.179×106
0.2781
16
2.006×106
0.3315
5.11×108
5.07
2.170×106
0.3119
18
2.104×106
0.3390
5.13×108
5.05
2.170×106
0.3239
20
2.133×106
0.3576
5.13×108
5.27
2.025×106
0.3692
Appendix G
Third day: clone1
Cultivation time (h)
MW (Da)
Concentration (mg/ml)
Cell number
pH
6
 
 
6.06
8
2.378×106
0.1714
3.77×108
5.00
2.391×106
0.1696
10
2.294×106
0.2393
4.50×108
5.00
2.224×106
0.2384
12
2.154×106
0.3148
4.97×108
5.05
2.287×106
0.3044
14
2.285×106
0.3230
5.20×108
5.15
2.299×106
0.3247
16
2.293×106
0.3644
5.27×108
5.34
2.261×106
0.3772
18
2.199×106
0.4445
5.45×108
5.45
2.382×106
0.4074
20
2.354×106
0.4520
5.54×108
5.54
2.200×106
0.4677
Appendix H
Third day: clone2
Cultivation time (h)
MW (Da)
Concentration (mg/ml)
Cell number
pH
6
 
 
5.58
8
2.289×106
0.1769
3.90×108
4.94
2.336×106
0.1710
10
2.244×106
0.2407
4.62×108
5.00
2.222×106
0.2420
12
2.354×106
0.2662
4.98×108
5.10
2.392×106
0.2712
14
2.144×106
0.3344
5.15×108
5.23
2.185×106
0.3292
16
2.188×106
0.3572
5.26×108
5.45
2.168×106
0.3548
18
2.254×106
0.4158
5.35×108
5.55
2.248×106
0.4147
20
2.413×106
0.4262
5.43×108
5.68
2.351×106
0.4264
Appendix I
Third day: wild type
Cultivation time (h)
MW (Da)
Concentration (mg/ml)
Cell number
pH
6
 
 
6.46
8
2.425×106
0.1457
3.32×108
5.09
2.456×106
0.1446
10
2.329×106
0.2064
4.14×108
4.85
12
2.256×106
0.2421
4.45×108
4.95
2.250×106
0.2438
14
2.285×106
0.2562
4.47×108
4.87
2.186×106
0.2780
16
2.190×106
0.3043
4.52×108
4.95
2.227×106
0.2865
18
2.268×106
0.3219
4.62×108
4.96
2.193×106
0.3205
20
2.233×106
0.3411
4.72×108
5.15
2.245×106
0.3229
Appendix J
Fourth day: clone1
Cultivation time (h)
MW (Da)
Concentration (mg/ml)
Cell number
pH
6
 
 
6.85
8
2.168×106
0.1532
3.19×108
5.16
10
2.145×106
0.2205
4.26×108
4.96
12
2.143×106
0.2785
4.74×108
4.93
2.190×106
0.2705
14
2.210×106
0.2835
5.03×108
5.17
2.197×106
0.2908
16
2.297×106
0.3370
5.19×108
5.25
2.293×106
0.3389
18
2.215×106
0.4039
5.32×108
5.4
2.250×106
0.3885
20
2.243×106
0.4236
5.38×108
5.94
Appendix K
Fourth day: clone2
Cultivation time (h)
MW (Da)
Concentration (mg/ml)
Cell number
pH
6
 
 
6.31
8
2.260×106
0.1873
3.96×108
4.85
2.276×106
0.1824
10
2.354×106
0.2402
4.84×108
5.00
2.241×106
0.2569
12
2.354×106
0.3103
5.23×108
4.86
2.243×106
0.3168
14
2.130×106
0.3604
5.46×108
5.16
2.239×106
0.3559
16
2.176×106
0.3945
5.63×108
5.20
2.108×106
0.4123
18
2.354×106
0.4386
5.75×108
5.40
2.240×106
0.4469
20
2.223×106
0.4834
5.80×108
5.97
2.221×106
0.4804
Appendix L
Fourth day: wild type
Cultivation time (h)
MW (Da)
Concentration (mg/ml)
Cell number
pH
6
 
 
5.94
8
2.178×106
0.1870
3.91×108
4.85
2.279×106
0.1831
10
2.253×106
0.2574
4.63×108
4.90
2.159×106
0.2639
12
2.295×106
0.2747
4.82×108
4.85
14
2.121×106
0.3252
4.94×108
4.90
2.118×106
0.3245
16
2.064×106
0.3520
5.00×108
4.93
2.156×106
0.3370
18
2.258×106
0.3406
4.99×108
5.04
2.258×106
0.3383
20
2.247×106
0.3422
5.08×108
5.42
2.196×106
0.3462
About this article
Cite this article
Krahulec, J., Krahulcová, J. Increase in hyaluronic acid production by Streptococcus equi subsp. zooepidemicus strain deficient in β-glucuronidase in laboratory conditions. Appl Microbiol Biotechnol 71, 415–422 (2006). https://doi.org/10.1007/s00253-005-0173-9
Received:

Revised:

Accepted:

Published:

Issue Date:
Keywords
Hyaluronic Acid

Hyaluronan

Glucuronic Acid

Host Immune Defense

Hyaluronic Acid Production