Abstract
For almost 50 years now, biotechnological production processes have been used for industrial production of amino acids. Market development has been particularly dynamic for the flavor-enhancer glutamate and the animal feed amino acids l-lysine, l-threonine, and l-tryptophan, which are produced by fermentation processes using high-performance strains of Corynebacterium glutamicum and Escherichia coli from sugar sources such as molasses, sucrose, or glucose. But the market for amino acids in synthesis is also becoming increasingly important, with annual growth rates of 5–7%. The use of enzymes and whole cell biocatalysts has proven particularly valuable in production of both proteinogenic and nonproteinogenic l-amino acids, d-amino acids, and enantiomerically pure amino acid derivatives, which are of great interest as building blocks for active ingredients that are applied as pharmaceuticals, cosmetics, and agricultural products. Nutrition and health will continue to be the driving forces for exploiting the potential of microorganisms, and possibly also of suitable plants, to arrive at even more efficient processes for amino acid production.
This is a preview of subscription content, log in to check access.
Access options
Buy single article
Instant access to the full article PDF.
US$ 39.95
Price includes VAT for USA
Subscribe to journal
Immediate online access to all issues from 2019. Subscription will auto renew annually.
US$ 199
This is the net price. Taxes to be calculated in checkout.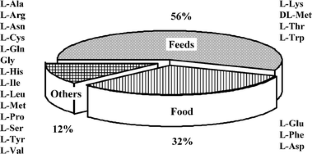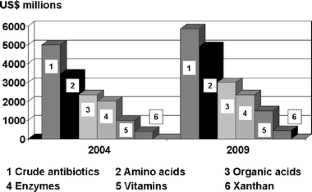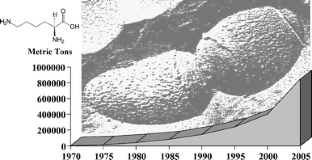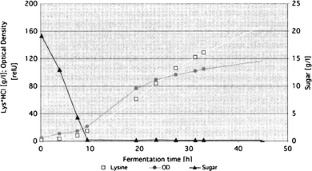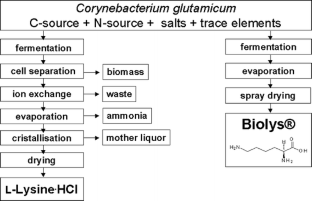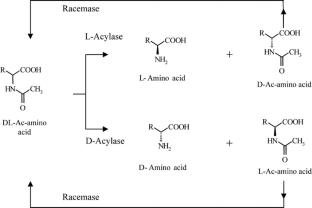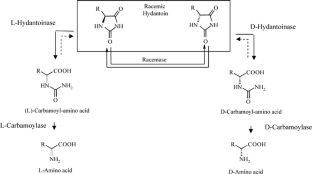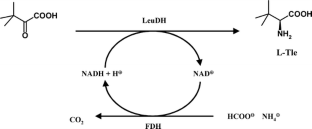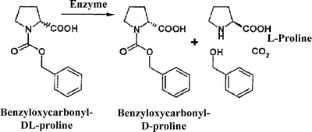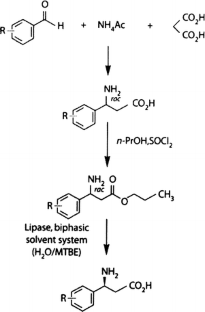 References
Ajinomoto (2003) 1H-FY2003 market and other information. Available from World Wide Web: http://www.ajinomoto.com/ar/i_r/pdf/presentation/1H-2003_mkt_info.pdf. Cited 15 April 2005

Ajinomoto (2004) Feed-use amino acids business. Available from World Wide Web: http://www.ajinomoto.co.jp/ir/pdf/fact/feeduse_amino_oct2003.pdf??companyDown=kankyoPdfFactfeeduse_amino_oct2003. Cited 15 April 2005

Alvarez I, Geli MI, Pimentel E, Ludevid D, Torrent M (1998) Lysine-rich gamma-zeins are secreted in transgenic Arabidopsis plants. Planta 205(3):420–427

Aragao FJL, Barros LMG, Sousa MV, Grossi de Sá MF, Almeida ERP, Gander ES, Rech EL (1999) Expression of a methionine-rich storage albumin from the Brazil nut (Bertholletia excelsa HBK, Lecythidaceae) in transgenic bean plants (Phaseolus vulgaris L., Fabaceae). Genet Mol Biol 22:445–449. Available from World Wide Web: http://www.scielo.br/scielo.php?script=sci_arttextandpid=S141547571999000300026andlng=enandnrm=iso. Cited 15 April 2005

Bercovici D, Fuller F (1995) Industrial amino acids in nonruminant animal nutrition. In: Wallace RJ, Chesson A (eds) Biotechnology in animal feeds and animal feeding, VCH, Weinheim pp 93–113

Binder W, Friedrich H, Lotter H, Tanner H, Holldorf H, Leuchtenberger W (1995) Tierfuttersupplement auf der Basis einer Aminosäure und Verfahren zu dessen Herstellung (09.09.1992/ 31.08.1995), Patent EP 533039

Brown K (2005) B-132R amino acids: highlighting synthesis applications. Available from World Wide Web: http://www.bccresearch.com/biotech/B132R.html. Cited 15 April 2005

Calton GJ (1992) The enzymatic production of l-aspartic acid. In: Rozzell JD, Wagner F (eds) Biocatalytic production of amino acids and derivatives, Hanser, München, pp 3–21

Calton GJ (1992) The enzymatic production of l-alanine. In: Rozzell JD, Wagner F (eds) Biocatalytic production of amino acids and derivatives, Hanser, München, pp 59–74

Chibata J (1978) Immobilized enzymes, Kodansha-Halsted Press, Tokyo

Cordwell SJ (1999) Microbial genomes and "missing" enzymes: redefining biochemical pathways. Arch Microbiol 172:269

Debabov VG (2003) The threonine story. In: Scheper T, Faurie R, Thommel J (eds) Advances in biochemical engineering/biotechnology, vol 79. Springer, Berlin Heidelberg New York, pp 59–112

de Graaf AA, Eggeling L, Sahm H (2001) Metabolic engineering for l-lysine production by Corynebacterium glutamicum. In: Scheper T, Nielsen J (eds) Advances in biochemical engineering/biotechnology, vol 73. Springer, Berlin Heidelberg New York, pp 9–29

Degussa (2003) German Future Prize awarded to Prof. Dr. Maria-Regina Kula. Elements 02, pp 20. Available from World Wide Web: http://www.degussa.de. Cited 15 April 2005

Drauz K, Waldmann H (2002) Enzyme catalysis in organic synthesis: a comprehensive handbook 2nd edn. Wiley-VCH, Weinheim

Eichhorn U, Bommarius AS, Drauz K, Jakubke H-D (1997) Synthesis of dipeptides by suspension-to-suspension conversion via thermolysin catalysis—from analytical to preparative scale. J Pept Science 3: 245–251

Groeger H, Drauz K (2003) Methods for the enantioselective biocatalytic production of l-amino acids on an industrial scale. In: Blaser H-U, Schmidt E (eds) Asymmetric catalysis on industrial scale. Wiley-VCH, Weinheim, pp 131–147

Ikeda M (2003) Amino acid production processes. In: Scheper T, Faurie R, Thommel J (eds) Advances in biochemical engineering/ biotechnology, vol 79. Springer, Berlin Heidelberg New York, pp 1–35

Ikeda M, Katsumata R (1999) Hyperproduction of tryptophan by Corynebacterium glutamicum with the modified pentose phosphate pathway. Appl Environ Microbiol 65:2497–2502

Kalinowski J, Bathe B, Bartels D, Bischoff N, Bott M, Burkovski A, Dusch N, Eggeling L, Eikmanns BJ, Gaigalat L, Goesmann A, Hartmann M, Huthmacher K, Kramer R, Linke B, McHardy AC, Meyer F, Moeckel B, Pfefferle W, Puehler A, Rey DA, Ruckert C, Rupp O, Sahm H, Wendisch VF, Wiegrabe I, Tauch A (2003) The complete Corynebacterium glutamicum ATCC 13032 genome sequence. J Biotechnol 104: 5–25

Kimura E (2003) Metabolic engineering of glutamate production. In: Scheper T, Faurie R, Thommel J (eds) Advances in biochemical engineering/biotechnology, vol 79. Springer, Berlin Heidelberg New York, pp 37–57

Kinoshita S, Ukada S, Shimono M (1957) Studies on the amino acid fermentation. J Gen Appl Microbiol 3: 193–205

Leuchtenberger W (1996) Amino acids—technical production and use. In: Rehm H-J, Reed G, Pühler A, Stadler P (eds) Biotechnology 2nd edn, vol 6. Products of primary metabolism. VCH, Weinheim, pp 465–502

Maerz U (2005) GA-103R World markets for fermentation ingredients. Available from World Wide Web: http://www.bccresearch.com/food/GA103R.html. Cited 15 April 2005

May O, Nguyen P, Arnold F (2000) Inverting enantioselectivity by directed evolution of hydantoinase for improved production of l-methionine. Nat Biotechnol 18: 317–320

May O, Verseck S, Bommarius A, Drauz K (2002) Development of dynamic kinetic resolution processes for biocatalytic production of natural and nonnatural l-amino acids. Org. Process Res. Dev. 6:452–457

Meyer HP, Shaw NM, Kiener A (2003) What have we learned during 20 years of industrial biotransformations? 6th International Symposium on Biocatalysis and Biotranformations, Olomouc, Czech Republic

Ngo J, Rabasseda X, Castaner J (1997) Eletriptan. Antimigraine 5-HT1D agonist. Drugs Future 22: 221–224

Pae KM, Ryo OH, Yoon HS, Schin CS (1992) Kinetic properties of a l-cysteine desulfhydrase-deficient mutant in the enzymatic formation of l-cysteine from dl-ATC. Biotechnol Lett 14:1143–1148

Pfefferle W, Moeckel B, Bathe B, Marx A (2003) Biotechnological manufacture of lysine. In: Scheper T, Faurie R, Thommel J (eds) Advances in biochemical engineering/biotechnology, vol 79. Springer, Berlin Heidelberg New York, pp 59–112

Shaw NM, Robins KT, Kiener A (2003) Lonza: 20 years of biotransformations. Adv Synth Catal 345: 425–435

Sijbesma F, Schepens H (2004) White biotechnology: gateway to a more sustainable future. EuropaBio, Brussels pp 1–16. Available from World Wide Web: http://www.europabio.org/documents/100403/Innenseiten_final_screen.pdf. Cited 15 April 2005

Slusarczyk H, Felber S, Kula M-R, Pohl M (2000) Stabilization of NAD dependent formate dehydrogenase by site directed mutagenesis of cystein residues. Eur J Biochem 207,1280–1289

Wacker (2004) Cysteine from Wacker–Fermentation synthesis for the highest demand. Available from World Wide Web: http://www.wacker.com/internet/webcache/de_DE/PTM/BioTec/AminoAcids/Cysteine/Cysteine_USA_Sept_2004_fin.pdf. Cited 15 April 2005

Weckbecker C, Hummel W (2004) Making L fom D—in a single cell. Elements 06: 34–37. Available from World Wide Web: http://www.degussa.de/de/innovationen/elements.Par.0008.downloads.0002.myFile.tmp/elements_06_en.pdf. Cited 15 April 2005

Wendisch VF, Marx A, Buchholz S (2005) Towards integration of biorefinary and microbial amino acid production. In: biorefineries, biobased industrial processes and products. Wiley-VCH, Weinheim (in press)

Woeltinger J, Karau A, Leuchtenberger W, Drauz K (2005) Membrane reactors at Degussa. In: Scheper T (ed) Advances in biochemical engineering/biotechnology, vol 92. Springer, Berlin Heidelberg New York, pp 289–316
About this article
Cite this article
Leuchtenberger, W., Huthmacher, K. & Drauz, K. Biotechnological production of amino acids and derivatives: current status and prospects. Appl Microbiol Biotechnol 69, 1–8 (2005). https://doi.org/10.1007/s00253-005-0155-y
Received:

Revised:

Accepted:

Published:

Issue Date:
Keywords
Fermentation

Eletriptan

Limit Amino Acid

Proteinogenic Amino Acid

Amino Acid Amide