Abstract
A simple activity staining protocol for rapid detection and differentiation of lipases and esterases was developed based on pH drop due to fatty acids released following lipolysis. Though the detection of lipolysis as a function of drop in pH is not new, the present method has been made more sensitive by the judicious selection of the initial pH of the chromogenic substrate, which has been set near the end point of the dye so that even a slight drop in pH results in immediate color change. In the present case, the dye phenol red was taken, which has the end point at pH 7.3–7.4 where the color is pink. A slight drop due to fatty acid release results in yellow coloration. The assay has high reproducibility and can detect as low as 0.5 p-NPP enzyme units within 15 min. In addition, this method can be used for various lipidic substrates such as oils and tributyrin, making it suitable for both lipases and esterases.
This is a preview of subscription content, log in to check access.
Access options
Buy single article
Instant access to the full article PDF.
US$ 39.95
Price includes VAT for USA
Subscribe to journal
Immediate online access to all issues from 2019. Subscription will auto renew annually.
US$ 199
This is the net price. Taxes to be calculated in checkout.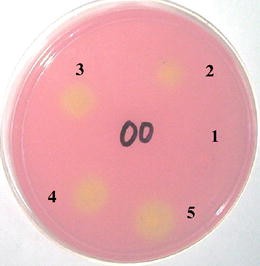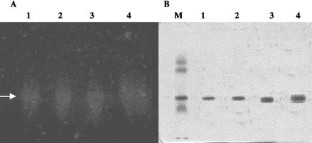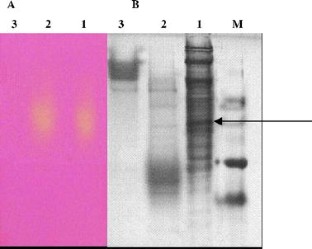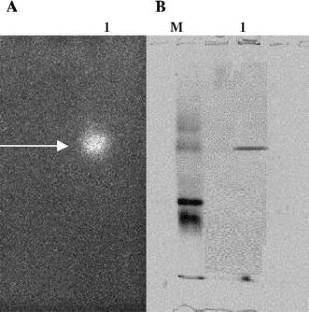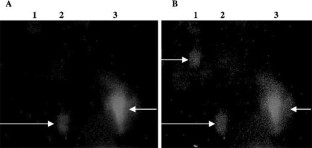 References
Abousalham A, Verger R (2000) Zymogram of pancreatic lipases. Anal Biochem 281:234–236

Beisson F, Ferté N, Nari J, Noat G, Arondel V, Verger R (1999) Use of naturally fluorescent triacylglycerols from Parinari glaberrimum to detect low lipase activities from Arabidopsis thaliana seedlings. J Lipid Res 40:2313–2321

Bornscheuer UT, Altenbuchner J, Meyer HH (1999) Directed evolution of an esterase: screening of enzyme libraries based on pH-indicators and growth assay. Bioorg Med Chem 7:2169–2173

Bradford MM (1976) A rapid and sensitive method for the quantitation of microgram quantities of protein utilizing the principle of protein dye-binding. Anal Biochem 72:248–254

Chemnitius GC, Erdmann H, Schmid RD (1992) Solubilized substrates for the on-line measurement of lipases by flow injection analysis during chromatographic enzyme purification. Anal Biochem 202:16–24

Davis BJ (1964) Disc electrophoresis II. Method and application to human serum proteins. Ann NY Acad Sci 121:321–349

Gilbert EJ, Cornish A, Jones CW (1991) Purification and properties of extracellular lipase from Pseudomonas aeruginosa EF2. J Gen Microbiol 137:2223–2229

Gupta N, Rathi P, Gupta R (2002) Simplified para-nitrophenyl palmitate assay for lipases and esterases. Anal Biochem 311:98–99

Gupta R, Rathi P, Gupta N, Bradoo S (2003) Lipase assays for conventional and molecular screening: an overview. Biotechnol Appl Biochem 37:63–71

Gupta N, Rathi P, Singh R, Goswami VK, Gupta R (2005) Single step purification of lipase from Burkholderia multivorans using polypropylene matrix. Appl Microbiol Biotechnol (in press). DOI https://doi.org/10.1007/s00253-004-1856-3

Ingham E, Holland KT, Gowland G, Cunliffe WJ (1981) Partial purification and characterization of lipase (EC3.1.1.3) from Propionibacterium acnes. J Gen Microbiol 124:393–401

Jaeger KE, Reetz MT (1998) Microbial lipases form versatile tools for biotechnology. Trends Biotechnol 16:396–403

Jaeger KE, Ransac S, Dijkstra BW, Colson C, Heuvel M van, Misset O (1994) Bacterial lipases. FEMS Microbiol Rev 15:29–63

Kazlauskas RJ, Bornscheuer UT (1998) Biotransformations with lipases. Wiley-VCH, Weinheim

Krebsfänger N, Zocher F, Altenbuchner J, Bornscheuer UT (1998) Characterization and enantioselectivity of a recombinant esterase from Pseudomonas fluorescens. Enzyme Microb Technol 21:641–646

Layer P, Keller J (2003) Lipase supplementation therapy: standards, alternatives, and perspectives. Pancreas 26:1–7

Longshaw CM, Farrel AM, Wright JD, Holland KT (2000) Identification of second lipase gene, gehD, in Staphylococcus epidermis: comparison of sequence with those of other staphylococcal lipases. Microbiology 146:1419–1427

Muller M, Mathers TW, Davis AP (2001) A new screen for combinatorial catalysis; on-bead testing in agarose gel. Angew Chem Int Ed 40:3813–3815

Musidlowska-Persson A, Bornscheuer UT (2003) Recombinant porcine intestinal carboxylesterase: cloning from the pig liver esterase gene by site-directed mutagenesis, functional expression and characterization. Protein Eng 16:1139–1145

Schmid RD, Verger R (1998) Lipases: interfacial enzymes with attractive applications. Angew Chem Int Ed Engl 37:1608–1633

Snellman EA, Elise RS, Colwell RR (2002) Purification and properties of the extracellular lipase, LipA, of Acinetobacter sp. RAG-1. Eur J Biochem 269:5771–5779

Yadav RP, Saxena RK, Gupta R, Davidson WS (1998) Rapid zymogram for lipase. BioTechniques 24:754–756
Acknowledgements
The financial support of the Department of Biotechnology (DBT) and Council of Scientific and Industrial Research (CSIR) through projects and Senior Research Fellowship from CSIR to Namita Gupta is kindly acknowledged.
About this article
Cite this article
Singh, R., Gupta, N., Goswami, V.K. et al. A simple activity staining protocol for lipases and esterases. Appl Microbiol Biotechnol 70, 679–682 (2006). https://doi.org/10.1007/s00253-005-0138-z
Received:

Revised:

Accepted:

Published:

Issue Date:
Keywords
Activity staining

Chromogenic substrate

Esterases

Lipases

Zymogram