Abstract
Antimicrobial peptides are part of the innate immune system of vertebrates and invertebrates. They are active against gram-negative and gram-positive bacteria, fungi, and protozoa. Currently, most antimicrobial peptides are extracted from host organisms or produced by solid-phase peptide synthesis. Recombinant protein expression in Escherichia coli is a tool for greater production yields at a decreased cost and reduces the use of hazardous materials. We have constructed a concatamer of indolicidin and successfully expressed a fusion product with thioredoxin in E. coli BL21DE3. Codons for methionine residues flanking individual indolicidin genes were incorporated for cyanogen bromide cleavage of the fusion protein and liberation of active monomeric indolicidin. Peptide yields of 150 μg/l monomeric indolicidin were achieved in this first report of recombinant production of indolicidin with demonstrated antimicrobial activity.
This is a preview of subscription content, log in to check access.
Access options
Buy single article
Instant access to the full article PDF.
US$ 39.95
Price includes VAT for USA
Subscribe to journal
Immediate online access to all issues from 2019. Subscription will auto renew annually.
US$ 199
This is the net price. Taxes to be calculated in checkout.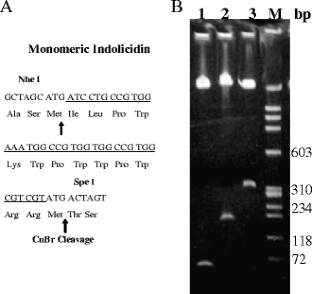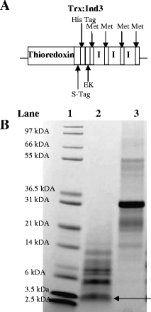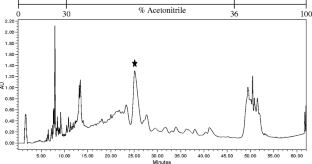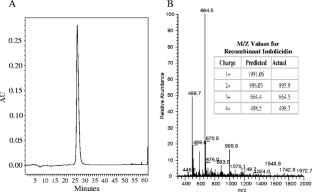 References
Ahmad IW, Perkins R, Lupan DM, Selsted ME, Janoff AS (1995) Liposomal entrapment of the neutrophil-derived peptide indolicidin endows it with in vivo antifungal activity. Biochim Biophys Acta 1237:109–114

Aley SB, Zimmerman M, Hetsko M, Selsted ME, Gillin FD (1994) Killing of Giardia lamblia by cryptdins and cationic neutrophil peptides. Infect Immun 62:5397–5403

Andersons D, Engstrom A, Josephson S, Hansson L, Steiner H (1991) Biologically active and amidated cecropin produced in a baclovirus expression system from a fusion construct containing the antibody-binding part of protein A. Biochem J 280:219–224

Boman HG (1995) Peptide antibiotics and their role in innate immunity. Annu Rev Immunol 13:61–92

Falla T, Hancock RE (1997) Improved activity of a synthetic indolicidin analog. Antimicrob Agents Chemother 41:771–775

Falla T, Karunaratne N, Hancock R (1996) Mode of action of the antimicrobial peptide indolicidin. J Biol Chem 271:19293–19303

Fang X, Peng L, Xu Z, Wu J, Cen P (2002) Cloning and expression of human beta-defensin-2 gene in Escherichia coli. Protein Pept Lett 9:31–37

Friedrich C, Rozek A, Patrzykat A, Hancock RE (2001) Structure and mechanism of action of an indolicidin peptide derivative with improved activity against gram-positive bacteria. J Biol Chem 276:24015–24022

Giacometti A, Cirioni O, Greganti G, Quarta M, Scalise G (1998) In vitro activities of membrane-active peptides against Gram-positive and Gram-negative aerobic bacteria. Antimicrob Agents Chemother 42:3320–3324

Halevy R, Rozek A, Kolusheva S, Hancock RE, Jelinek R (2003) Membrane binding and permeation by indolicidin analogs studied by a biomimetic lipid/polydiacetylene vesicle assay. Peptides 24:1753–1761

Hara S, Yamakawa M (1996) Production in Escherichia coli of moricin, a novel type antibacterial peptide from the silkworm, Bombyx mori. Biochem Biophys Res Commun 220:664–669

Harrison SJ, McManus AM, Marcus JP, Goulter KC, Green JL, Nielsen KJ, Craik DJ, Maclean DJ, Manners JM (1999) Purification and characterization of a plant antimicrobial peptide expressed in Escherichia coli. Protein Expr Purif 15:171–177

Haught C, Davis G, Subramanian R, Jackson K, Harrison R (1998) Recombinant production and purification of novel antisense antimicrobial peptide in Escherichia coli. Biotechnol Bioeng 57:55–61

Hellers M, Gunne H, Steiner H (1991) Expression of post-translational processing of preprocecropin A using a baculovirus vector. Eur J Biochem 199:435–439

Hwang SW, Lee JH, Park HB, Pyo SH, So JE, Lee HS, Hong SS, Kim JH (2001) A simple method for the purification of an antimicrobial peptide in recombinant Escherichia coli. Mol Biotechnol 18:193–198

Kim J, Park JM, Lee BJ (1997) High-level expression and efficient purification of the antimicrobial peptide gaegurin 4 in E. coli. Protein Pept Lett 4:391–396

Lee JH, Skowron PM, Rutkowska SM, Hong SS, Kim SC (1996) Sequential amplification of cloned DNA as tandem multimers using class-IIS restriction enzymes. Genet Anal Biomol Eng 13:139–145

Lee JH, Hong SS, Kim SC (1998a) Expression of an antimicrobial peptide magainin by a promoter inversion system. J Microbiol Biotechnol 8:34–41

Lee JH, Minn I, Park CB, Kim SC (1998b) Acidic peptide-mediated expression of the antimicrobial peptide buforin II as tandem repeats in Escherichia coli. Protein Expr Purif 12:53–60

Lee JH, Kim J-H, Hong S-S, Lee H-S, Kim S-C (1999) Multimeric expression of the antimicrobial peptide Buforin II in Escherichia coli by fusion to a cysteine-rich acidic peptide. J Microbiol Biotechnol 9:303–310

Lee JH, Kim JH, Hwang SW, Lee WJ, Yoon HK, Lee HS, Hong SS (2000) High-level expression of antimicrobial peptide mediated by a fusion partner reinforcing formation of inclusion bodies. Biochem Biophys Res Commun 277:575–580

Lee JH, Kim MS, Cho JH, Kim SC (2002) Enhanced expression of tandem multimers of the antimicrobial peptide buforin II in Escherichia coli by the DEAD-box protein and trxB mutant. Appl Microbiol Biotechnol 52:790–796

Lee DG, Kim HK, Kim SA, Park Y, Park SC, Jang SH, Hahm K-S (2003) Fungicidal effect of indolicidin and its interaction with phospholipid membranes. Biochem Biophys Res Commun 305:305–310

Matanic VCA, Castilla V (2004) Antiviral activity of antimicrobial cationic peptides against Junin virus and herpes simplex virus. Int J Antimicrob Agents 23:382–389

Metlitskaia L, Cabralda J, Suleman D, Brinkman J, Bartfeld D, Guarna MM (2004) Recombinant antimicrobial peptides efficiently produced using novel cloning and purification processes. Biotechnol Appl Biochem 39:339–345

Piers KL, Brown MH, Hancock REW (1993) Recombinant DNA procedures for producing small antimicrobial cationic peptides in bacteria. Gene 134:7–13

Ponti D, Mignoga G, Magoni M, Biase D, Simmaco M, Barra D (1999) Expression and activity of cyclic and linear analogues of esculentin-1 an anti-microbial peptide from amphibian skin. Eur J Biochem 263:921–927

Prince J, McGrath K, DiGirolamo C, Kaplan D (1995) Construction, cloning, and expression of synthetic genes encoding spider dragline silk. Biochemistry 34:10879–10885

Reichhart JM, Petit I, Legrain M, Dimarcq JL, Keppi E, Lecocq JP, Hoffmann JA, Achstetter T (1992) Expression and secretion in yeast of active insect defensin, an inducible antibacterial peptide from the fleshfly Phormia terranovae. Invertebr Reprod Dev 21:15–24

Robinson EE, McDougall B, Tran D, Selsted M (1998) Anti-HIV-1 activity of indolicidin, an antimicrobial peptide from neutrophils. J Leukoc Biol 63:94–100

Sambrook J, Fritsch EF, Maniatis T (1989) Molecular cloning: a laboratory manual. Cold Spring Harbor Laboratory, New York

Selsted ME, Novotny MJ, Morris WL, Tang Y-Q, Smith W, Cullor JS (1992) Indolicidin, a novel bactericidal tridecapeptide amide from neutrophils. J Biol Chem 267:4292–4295

Skosyrev VS, Kulesskiy EA, Yakhnin AV, Temirov YV, Vinokurov LM (2003) Expression of the recombinant antibacterial peptide sarcotoxin IA in Escherichia coli cells. Protein Expr Purif 28:350–356

Staubitz P, Peschel A, Nierwenhuizen WF, Otto M, Gotz F, Jung G, Jack RW (2001) Structure–function relationships in the tryptophan-rich, antimicrobial peptide indolicidin. J Pept Sci 7:552–564

Subbalakshmi C, Sitaram N (1998) Mechanism of antimicrobial action of indolicidin. FEMS Microbiol Lett 160:91–96

Subbalakshmi C, Krishnakumari V, Nagaraj R, Sitaram N (1996) Requirements for antibacterial and hemolytic activities in the bovine neutrophil derived 13-residue peptide indolicidin. FEBS Lett 395:48–52

Taguchi S, Nakagawa K, Maeno M, Momose H (1994) In vivo monitoring system for structure–function relationship analysis of the antimicrobial peptide apidaecin. Appl Environ Microbiol 60:3566–3572

Zhang L, Falla T, Wu M, Fidai S, Burian J, Kay W, Hancock REW (1998) Determinants of recombinant production of antimicrobial cationic peptides and creation of peptide variants in bacteria. Biochem Biophys Res Commun 247:674–680
About this article
Cite this article
Morin, K.M., Arcidiacono, S., Beckwitt, R. et al. Recombinant expression of indolicidin concatamers in Escherichia coli . Appl Microbiol Biotechnol 70, 698–704 (2006). https://doi.org/10.1007/s00253-005-0132-5
Received:

Revised:

Accepted:

Published:

Issue Date:
Keywords
Antimicrobial Activity

Antimicrobial Peptide

Melittin

Guanidine Hydrochloride

Cyanogen Bromide