Abstract
Mutagenesis and selection were applied to a strain of Penicillium echinulatum by treating conidia with hydrogen peroxide or 1,2,7,8-diepoxyoctane and then by incubating the conidia for 48 h in broth containing microcrystalline cellulose washed in 0.5% (w/v) aqueous 2-deoxyglucose before plating them onto cellulose agar containing 1.5% (w/v) glucose from which colonies showing the fastest production of halos of cellulose hydrolysis were selected. This process resulted in the isolation of two new cellulase-secreting P. echinulatum mutants: strain 9A02S1 showing increased cellulase secretion (2 IU ml−1, measured as filter paper activity) in submerged culture in agitated flasks containing a mineral salts medium and 1% of cellulose, and strain 9A02D1, which proved more suitable for the production of cellulases in semisolid bran culture where it produced 23 IU of β-glucosidase per gram of wheat bran.
This is a preview of subscription content, log in to check access.
Access options
Buy single article
Instant access to the full article PDF.
US$ 39.95
Price includes VAT for USA
Subscribe to journal
Immediate online access to all issues from 2019. Subscription will auto renew annually.
US$ 199
This is the net price. Taxes to be calculated in checkout.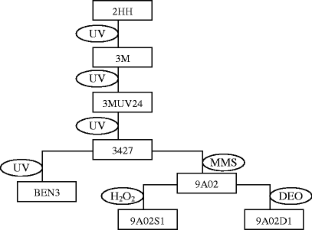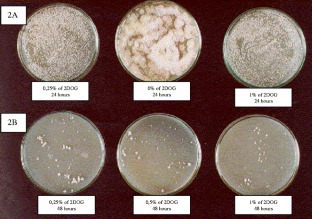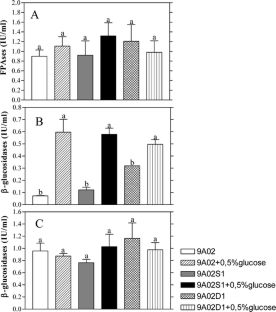 References
Antier P, Minjares A, Roussus A, Raimbault M, Viniegra G (1993) Pectinase-hyperproducing mutants of Aspergillus niger C28B25 for solid state fermentation of coffee pulp. Enzyme Microb Technol 15:254–260

Anwar MN, Suto M, Tomida F (1996) Isolation of mutants of Penicillium purpurogenum resistant to catabolite repression. Appl Microbiol Biotechnol 45:684–687

Aro N, Saloheimo A, Ilmén M, Penttilã M (2001) ACEII, a novel transcriptional activator involved in regulation of cellulase and xylanase genes of Trichoderma reesei. J Biol Chem 276:24309–24314

Aro N, Ilmén M, Saloheimo A, Penttilã M (2003) AceI of Trichoderma reesei is a repressor of cellulase and xylanase expression. Appl Environ Microbiol 69:56–65

Barnett CC, Berka RM, Fowler T (1991) Cloning and amplification of the gene encoding an extracellular β-glucosidase from Trichoderma reesei: evidence for improved rates of saccharification of cellulosic substrates. Biotechnology 9:562–566

Brown JA, Falconer DJ, Wood TM (1987) Isolation and properties of mutants of the fungus Penicillium pinophillum with enhanced cellulase and β-glucosidase production. Enzyme Microb Technol 9:47–52

Castillo MR, Gutierrez-Correa LJC, Tengerdy RP (1994) Mixed culture solid substrate fermentation for cellulolytic enzyme production. Biotechnol Lett 16:967–972

Chahal DS (1985) Solid-state fermentation with Trichoderma reesei for cellulase production. Appl Environ Microbiol 49:205–210

Chand P, Aruna A, Maqsood AM, Rao LV (2005) Novel mutation method for increased cellulase production. J Appl Microbiol 98:318–323

Dillon AJP, Paesi-Toresan S, Barp LB (1992) Isolation of cellulase-producing mutants from Penicillium sp. strains denominated 3MUV3424. Rev Bras Genet 15:491–498

El-Gogary S, Leite A, Crivellaro O, Eveleigh D, El-Doory S (1989) Mechanism by which cellulose triggers cellobiohydrolase I gene expression in Trichoderma reesei. Proc Natl Acad Sci U S A 86:6138–6141

Farkas V, Labudova I, Bauers S, Ferenczy L (1981) Preparation of mutants of Trichoderma viride with increased production of cellulase. Folia Microbiol 26:105–110

Gadgil NJ, Daginawala HL, Chakrabarti T, Khanna P (1995) Enhanced cellulase production by a mutant of Trichoderma reesei. Enzyme Microb Technol 17:942–946

Gutierrez-Correa M, Tengerdy RP (1997) Production of cellulase on sugarcane bagasse by fungal mixed culture solid substrate fermentation. Biotechnol Lett 19:665–667

Henrique-Silva F, El-Gogary S, Carle-Urioste E, Matheucci JR, Crivellaro O, El-Dorry H (1996) Two regulatory regions controlling basal cellulose induced expression of the gene encoding cellobiohydrolase I of Trichoderma reesei are adjacent to its TATA box. Biochem Biophys Res Commun 228:229–237

Himmel ME, Ruth MF, Wyman CE (1999) Cellulase for commodity products from cellulosic biomass. Curr Opin Biotechnol 10:358–364

Ilmén M, Thrane C, Pentillã ME (1996) The glucose repressor gene cre1 of Trichoderma: isolation and repression of a full-length and a truncated mutant form. Mol Gen Genet 251:451–460

Ilmén M, Saloheimo A, Onnela ML, Pentillã ME (1997) Regulation of cellulase gene expression in the filamentous fungus Trichoderma reesei. Appl Environ Microbiol 63:1298–1306

Joseph IN, Vallin C, Bravo C, Bugallo F, Marques C (1986) Intraspecific fusion between mutants of the cellulolytic strain Trichoderma hamatum. Cienc Biol 16:3–10

Kubicek CP (1987) Involvement of a conidial endoglucanase and a plasma-membrane-bound β-glucosidase in the induction of endoglucanase synthesis by cellulose in Trichoderma reesei. J Gen Microbiol 33:1481–1487

Manczinger L, Ferenczy L (1985) Somatic cell fusion of Trichoderma reesei resulting in new genetic combination. Appl Microbiol Biotechnol 22:72–76

Mandels M, Reese ET (1957) Induction of cellulase in Trichoderma viride as influenced by carbon source and metals. J Bacteriol 73:269–278

Mandels M, Andreotti R, Roche C (1976) Measurement of saccharifying cellulase. Biotechnol Bioeng Symp 21–33

Meza V, Moreno P, Tengerdy RP, Gutierrez-Correa M (1995) Transfer of a benomyl resistance marker by heat-inactivated Trichoderma reesei protoplast. Biotechnol Lett 17:827–832

Miettinen-Oinonen A, Suominen P (2002) Enhanced production of Trichoderma reesei endoglucanases and use of the new cellulase preparations in producing the stonewashed effect on denim fabric. Appl Environ Microbiol 68:3956–3964

Minjares-Carranco A, Trejo-Aguilar BA, Aguilar G, Viniegra-González G (1997) Physiological comparison between pectinase-producing mutants of Aspergillus niger adapted either to solid-state fermentation or submerged fermentation. Enzyme Microbial Technol 21:25–31

Picada JN, Khromov-Borisov NN, Henriques JAP (1999) Deletogenic activity of 1,2,7,8-diepoxyoctane in the Salmonella typhimurium tester strains TA102. Mutat Res 437:165–173

Saddler JN, Hogan CM, Louis-Seize A (1985) Comparison between the cellulase systems of Trichoderma harzianum E58 and Trichoderma reesei RUT C30. Appl Microbiol Biotechnol 22:139–145

Saloheimo A, Aro N, Ilmén M, Penttilã M (2000) Isolation of ace1 gene encoding a Cys2–His2 transcription factor involved in regulation of activity of the cellulase promoter cbh1 of Trichoderma reesei. J Biol Chem 275:5817–5825

Smits JP, Sonsbeek HM, Rinzema A, Tramper J (1998) Solid-state fermentation—a mini review. Agro Food Ind Hi Tech 29–36

Sternberg D, Dorval S (1979) Cellulase production and ammonia metabolism in Trichoderma reesei on high levels of cellulose. Biotechnol Bioeng 21:181–191

Suzuki A, Sarangbin S, Kirimura K, Usami S (1996) Direct production of citric acid from starch by a 2-deoxyglucose-resistant mutant strain of Aspergillus niger. J Ferment Bioeng 81:320–323

Tangnu SK, Blanch HW, Wilke CR (1981) Enhanced production of cellulases, hemicellulase and β-glucosidase by Trichoderma reesei (Rut C-30). Biotechnol Bioeng 23:1837–1849

Torigoi E, Henrique-Silva F, Escobar-Vera J, Carle-Urioste C, Crivellaro O, El-Dorry H, El-Gogary S (1996) Mutants of Trichoderma reesei are defective in cellulose induction, but not basal expression of cellulase-encoding genes. Gene 173:199–203

Yoo YD, Pack MY (1992) Simultaneous production of endoglucanase and β-glucosidase using synthetic two cistron genes. Biotechnol Lett 14:77–82
About this article
Cite this article
Dillon, A.J.P., Zorgi, C., Camassola, M. et al. Use of 2-deoxyglucose in liquid media for the selection of mutant strains of Penicillium echinulatum producing increased cellulase and β-glucosidase activities. Appl Microbiol Biotechnol 70, 740–746 (2006). https://doi.org/10.1007/s00253-005-0122-7
Received:

Revised:

Accepted:

Published:

Issue Date:
Keywords
Cellulase

Wheat Bran

Cellulase Activity

Cellulose Hydrolysis

Strain 9A02