Abstract
An environmental Mycobacterium able to degrade phenanthrene, pyrene and fluoranthene was transformed with an IS1096-based transposon marker system. Electroporation and subsequent delivery of the transposon enabled formation of constitutive lacZ transformants, with similar growth rates on pyrene and R2A media to the parental strain. A semi-selective medium was developed to recover and detect colonies of the transformed strain after inoculation into polycyclic aromatic hydrocarbon-contaminated soil. Microcosm experiments involving inoculation of the tagged Mycobacterium strain into a historically PAH-contaminated soil indicated survival when an appropriate carbon source was available. The results reported show that transposon systems developed for clinical mycobacterial isolates are also applicable for use in environmental isolates. The results also show that inoculated Mycobacterium strains could survive for at least 100 days at 106–107 cfu g−1 in the PAH-contaminated soil tested here.
This is a preview of subscription content, log in to check access.
Access options
Buy single article
Instant access to the full article PDF.
US$ 39.95
Price includes VAT for USA
Subscribe to journal
Immediate online access to all issues from 2019. Subscription will auto renew annually.
US$ 199
This is the net price. Taxes to be calculated in checkout.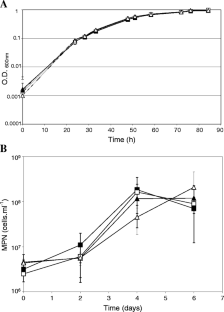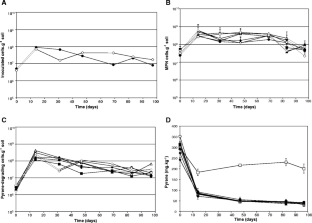 Abbreviations
PAH:

Polycyclic aromatic hydrocarbon

GC:

Gas chromatography

FID:

Flame ionization detection

Temp:

temperature

DCM:

Dichloromethane

PBS:

Phosphate buffered saline

MPN:

Most probable number

DMF:

Dimethylformamide
References
Bogan BW, Sullivan WR (2003) Physicochemical soil parameters affecting sequestration and mycobacterial biodegradation of polycyclic aromatic hydrocarbons in soil. Chemosphere 52:1717–1726

Bogan BW, Lahner LM, Sullivan WR, Paterek JR (2003) Degradation of straight-chain aliphatic and high-molecular-weight polycyclic aromatic hydrocarbons by a strain of Mycobacterium austroafricanum. J Appl Microbiol 94:230–239

Boonchan S, Britz ML, Stanley, GA (2000) Degradation and mineralization of high-molecular-weight polycyclic aromatic hydrocarbons by defined fungal-bacterial cocultures. Appl Environ Microbiol 66:1007–1019

Brezna B, Khan AA, Cerniglia CE (2003) Molecular characterization of dioxygenases from polycyclic aromatic hydrocarbon-degrading Mycobacterium spp. FEMS Microbiol Lett 223:177–183

Cheung P-Y, Kinkle BK (2001) Mycobacterium diversity and pyrene mineralization in petroleum-contaminated soils. Appl Environ Microbiol 67(5):2222–2229

Dandie CE, Thomas SM, Bentham RH, McClure NC (2004) Physiological characterization of Mycobacterium sp. strain 1B isolated from a bacterial culture able to degrade high-molecular-weight polycyclic aromatic hydrocarbons. J Appl Microbiol 97(2):246–255

Gilbert ES, Crowley DE (1998) Repeated application of carvone-induced bacteria to enhance biodegradation of polychlorinated biphenyls in soil. Appl Microbiol Biotechnol 50:489–494

Heitkamp AM, Cerniglia CE (1988) Mineralization of polycyclic aromatic hydrocarbons by a bacterium isolated from sediment below an oil field. Appl Environ Microbiol 54:1612–1614

Jacobs WR Jr, Kalpana GV, Cirillo JD, Pascopella L, Snapper SB, Udani RA, Jones W, Barletta RG, Bloom BR (1991) Genetic systems for mycobacteria. Methods Enzymol 204:537–555

Khan AA, Wang R-F, Cao W-W, Doerge DR, Wennerstrom D, Cerniglia CE (2001) Molecular cloning, nucleotide sequence, and expression of genes encoding a polyclic aromatic ring dioxygenase from Mycobacterium sp. strain PYR-1. Appl Environ Microbiol 67(8):3577–3585

Lee S-H, Cheung M, Irani V, Carroll D, Inamine JM, Howe WR, Maslow JN (2002) Optimisation of electroporation conditions for Mycobacterium avium. Tuberculosis 82(1):1–8

Leys NM, Bastiaens L, Verstraete W, Springael D (2004) Influence of the carbon/nitrogen/phosphorus ratio on polycyclic aromatic hydrocarbon degradation by Mycobacterium and Sphingomonas in soil. Appl Microbiol Biotechnol 10.1007/s00253-004-1766-4

Leys NM, Ryngaert A, Bastiaens L, Wattiau P, Top EM, Verstraete W, Springael D (2005) Occurrence and community composition of fast-growing Mycobacterium in soils contaminated with polycyclic aromatic hydrocarbons. FEMS Microbiol Ecol 51:375–388

Machowski EE, McAdam RA, Derbyshire KM, Mizrahi V (2000) Construction and application of mycobacterial reporter transposons. Gene 253:67–75

Miller CD, Hall K, Liang YN, Nieman K, Sorensen D, Issa B, Anderson AJ, Sims RC (2004) Isolation and characterization of polycyclic aromatic hydrocarbon-degrading Mycobacterium isolates from soil. Microb Ecol 48:230–238

Newcombe DA, Crowley DE (1999) Bioremediation of atrazine-contaminated soil by repeated applications of atrazine-degrading bacteria. Appl Microbiol Biotechnol 51:877–882

Pelicic V, Jackson M, Reyrat J-M, Jacobs WR Jr, Gicquel B, Guilhot C (1997) Efficient allelic exchange and transposon mutagenesis in Mycobacterium tuberculosis. Proc Natl Acad Sci U S A 94:10955–10960

Schneider J, Grosser R, Jayasimhulu K, Xue W, Warshawsky D (1996) Degradation of pyrene, benz[a]anthracene, and benzo[a]pyrene by Mycobacterium sp. strain RJGII-135, isolated from a former coal gasification site. Appl Environ Microbiol 62:13–19

Schwartz E, Scow KM (2001) Repeated inoculation as a strategy for the remediation of low concentrations of phenanthrene in soil. Biodegradation 12(3):201–207

Snapper SB, Melton RE, Mustafa S, Kieser TB, Jacobs WR Jr (1990) Isolation and characterization of efficient transformation mutants of Mycobacterium smegmatis. Mol Microbiol 4:1911–1919

Van der Rest ME, Lange C, Molenaar D (1999) A heat shock following electroporation induces highly efficient transformation of Corynebacterium glutamicum with xenogeneic plasmid DNA. Appl Microbiol Biotechnol 52:541–545

Wattiau P, Springael D, Agathos SN, Wuertz S (2002) Use of the pAL5000 replicon in PAH-degrading mycobacteria: application for strain labelling and promoter probing. Appl Microbiol Biotechnol 59(6):700–705
Acknowledgements
C.D. was supported by Flinders University Research Scholarship. The vectors pEM32 and pEM42 were kind gifts from Edith Machowski, Molecular Mycobacteriology Research Unit, University of the Witwatersrand, South Africa.
About this article
Cite this article
Dandie, C.E., Bentham, R.H. & Thomas, S.M. Use of reporter transposons for tagging and detection of Mycobacterium sp. strain 1B in PAH-contaminated soil. Appl Microbiol Biotechnol 71, 59–66 (2006). https://doi.org/10.1007/s00253-005-0121-8
Received:

Revised:

Accepted:

Published:

Issue Date:
Keywords
Polycyclic Aromatic Hydrocarbon

Pyrene

Mycobacterium

Electrocompetent Cell

Polycyclic Aromatic Hydrocarbon Degradation