Abstract
Magnetotactic bacteria are microorganisms that present intracellular chains of magnetic nanoparticles, the magnetosome chain. A challenge in the study of magnetotactic bacteria is the measurement of the magnetic moment associated with the magnetosome chain. Several techniques have been used to estimate the average magnetic moment of a population of magnetotactic bacteria, and others permit the measurement of the magnetic moment of individual bacteria. The U-turn technique allows the measurement of the individual magnetic moment and other parameters associated with the movement and magnetotaxis, such as the velocity and the orientation angle of the trajectory relative to the applied magnetic field. The aim of the present paper is to use the U-turn technique in a population of uncultured magnetotactic cocci to measure the magnetic moment, the volume, orientation angle and velocity for the same individuals. Our results showed that the magnetic moment is distributed in a log-normal distribution, with a mean value of 8.2 × 10–15 Am2 and median of 5.4 × 10–15 Am2. An estimate of the average magnetic moment using the average value of the orientation cosine produces a value similar to the median of the distribution and to the average magnetic moment obtained using transmission electron microscopy. A strong positive correlation is observed between the magnetic moment and the volume. There is no correlation between the magnetic moment and the orientation cosine and between the magnetic moment and the velocity. Those null correlations can be explained by our current understanding of magnetotaxis.
This is a preview of subscription content, log in to check access.
Access options
Buy single article
Instant unlimited access to the full article PDF.
US$ 39.95
Price includes VAT for USA
Subscribe to journal
Immediate online access to all issues from 2019. Subscription will auto renew annually.
US$ 199
This is the net price. Taxes to be calculated in checkout.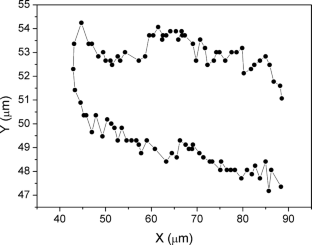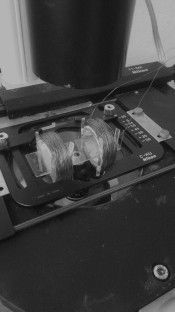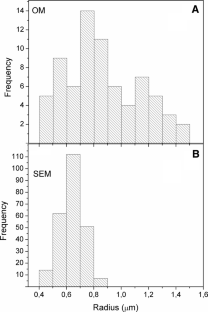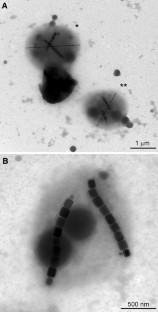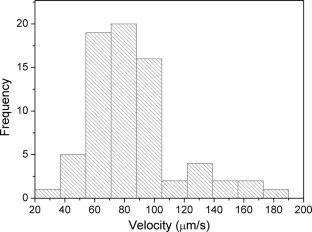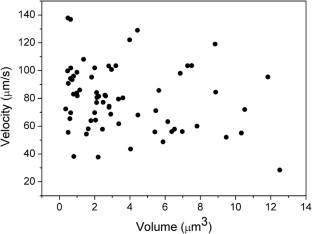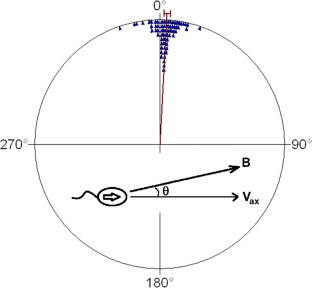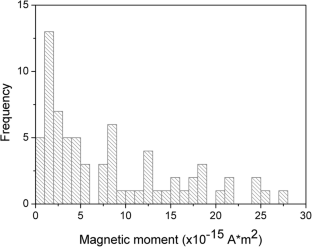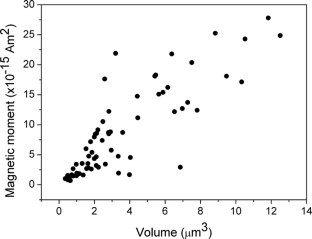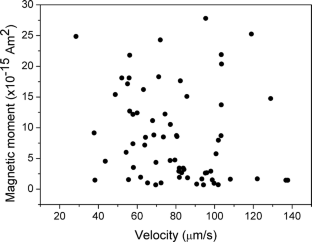 References
Abreu F, Acosta-Avalos D (2018) Biology and physics of magnetotactic bacteria. In: Barakat KM (ed) Bacteriology, 1st edn. IntechOpen, London. DOI: 10.5772/intechopen.79965.

Araujo ACV, Morillo V, Cypriano J et al (2016) Combined genomic and structural analyses of a cultured magnetotactic bacterium reveals its niche adaptation to a dynamic environment. BEM Genom 17(Suppl 8):726

Chen H, Zhang SD, Chen L, Cai Y, Zhang WJ, Song T, Wu LF (2018) Efficient genome editing of Magnetospirillum magneticum AMB-1 by CRISPR-Cas9 system for analyzing magnetotactic behavior. Front Microbiol 9:1569

De Melo RD, Acosta-Avalos D (2017) The swimming polarity of multicellular magnetotactic prokaryotes can change during an isolation process employing magnets: evidence of a relation between swimming polarity and magnetic moment intensity. Eur Biophys J 46:533–539

Esquivel DMS, Lins de Barros HGP (1986) Motion of magnetotactic microorganisms. J Exp Biol 121:153–163

Felfoul O, Mohammadi M, Taherkhani S et al (2016) Magneto-aerotactic bacteria deliver drug-containing nanoliposomes to tumour hypoxic regions. Nat Nanotechnol 11:941–947

Frankel RB, Blakemore RP (1980) Navigational compass in magnetic bacteria. J Magn Magn Mater 15–18:1562–1564

Kalmijn AJ (1981) Biophysics of geomagnetic field detection. IEEE Trans Magn 17:1113–1124

Lins U, Freitas F, Keim CN, de Barros HL, Esquivel DMS, Farina M (2003) Simple homemade apparatus for harvesting uncultured magnetotactic microorganisms. Br J Microbiol 34:111–116

Nogueira FS, de Barros HGPL (1995) Study of the motion of magnetotactic bacteria. Eur Biophys J 24:13–21

Perantoni M, Esquivel DMS, Wajnberg E, Acosta-Avalos D, Cernicchiaro G, de Barros HL (2009) Magnetic properties of the microorganism Candidatus Magnetoglobus multicellularis. Naturwissenschaften 96:685–690

Petersen N, Weiss DG, Vali H (1989) Magnetic bacteria in lake sediments. In: Lowes F (ed) Geomagnetism and Paleomagnetism. Kluwer, Amsterdan-Berlin, pp 231-241. DOI: 10.1007/978-94-009-0905-2_17

Pichel MP, Hageman TAG, Khalil ISM, Manz A, Abelmann L (2018) Magnetic response of Magnetospirillum gryphiswaldense observed inside a microfluidic channel. J Magn Magn Mater 460:340–353

Rosenblatt C, de Araujo FFT, Frankel RB (1982) Birefringence determination of magnetic moments of magnetotactic bacteria. Biophys J 40:83–85

Rosenblatt C, de Araujo FFT, Frankel RB (1982) Light scattering determination of magnetic moments of magnetotactic bacteria. J Appl Phys 53:2727–2729

Wajnberg E, de Souza LHS, de Barros HGPL, Esquivel DMS (1986) A study of magnetic properties of magnetotactic bacteria. Biophys J 50:451–455

Zahn C, Keller S, Toro-Nahuelpan M, Dorscht P, Gross W, Laumann M, Gekle S, Zimmermann W, Schuler D, Kress H (2017) Measurement of the magnetic moment of single Magnetospirillum gryphiswaldense cells by magnetic tweezers. Scientific Reports 7:3558

Zhang WY, Zhou K, Pan HM, Yue HD, Jiang M, Xiao T, Wu LF (2012) Two genera of magnetococci with bean-like morphology from intertidal sediments of the Yellow Sea, China. Appl Environ Microbiol 78:5606–5611
Acknowledgements
Cassia Picanço Conceição, Jayane Julia Pereira da Silva, Kaio José Monteiro São Paulo Aguiar and Marciano de Lima Medeiros thank the financial support for the 3er EAFEX (Escola Avançada de Física Experimental do CBPF) done in February 2018. We thank also the support of LABNANO-CBPF for SEM. F. Abreu acknowledges support from FAPERJ, Conselho Nacional de Desenvolvimento Cientifico e Tecnologico (CNPq) and Coordenação de Aperfeiçoamento de Pessoal de Nível Superior (CAPES) and thanks the microscopy facilities CENABIO-UFRJ and UniMicro-UFRJ.
Additional information
Publisher's Note
Springer Nature remains neutral with regard to jurisdictional claims in published maps and institutional affiliations.
Electronic supplementary material
Below is the link to the electronic supplementary material.
Supplementary Video 1: Uncultured magnetotactic cocci swimming under the effect of magnetic fields. They start to swim when the magnetic field inverts its direction. Observed the presence of bigger and smaller cocci in the same sample (AVI 4426 kb)
About this article
Cite this article
Acosta-Avalos, D., de Figueiredo, A.C., Conceição, C.P. et al. U-turn trajectories of magnetotactic cocci allow the study of the correlation between their magnetic moment, volume and velocity. Eur Biophys J 48, 513–521 (2019). https://doi.org/10.1007/s00249-019-01375-2
Received:

Revised:

Accepted:

Published:

Issue Date:
Keywords
Magnetotaxis

Magnetotactic bacteria

Magnetic moment

U-turn

Coccus

Bacterial velocity