Abstract
Staphylococci are important opportunistic pathogens in human and veterinary medicine in addition to being part of the normal flora of the skin and mucous membranes of mammals and birds. The rise of antimicrobial resistance amongst staphylococci warrants closer investigation of the diversity of skin commensal organisms—including coagulase-negative staphylococci (CoNS)—due to their potential as a source of resistance genes. This study is aimed at characterising the commensal staphylococci—including methicillin-resistant Staphylococcus species (spp.)—from mucocutaneous sites of dogs and cats from remote New South Wales (NSW), Australia. Pet dogs and cats were recruited from participants in a community companion animal health programme in six communities in western NSW. Three swabs were collected from each animal (anterior nares, oropharynx, and perineum) and from skin lesions or wounds if present and cultured on selective media for Staphylococcus spp. In total, 383 pets (303 dogs, 80 cats) were enrolled. Staphylococcus spp. were isolated from 67.3% of dogs and 73.8% of cats (494 isolates). The diversity of CoNS was high (20 species) whilst only three coagulase-positive spp. were isolated (S. pseudintermedius, S. aureus, S. intermedius). The prevalence of methicillin-resistant Staphylococcus aureus (MRSA) carriage in dogs was high (2.6%) relative to other studies but was only a small proportion of overall commensal staphylococci. No cats carried MRSA and no MRSP was isolated from either species. Dogs were significantly more likely to carry coagulase-positive staphylococci than cats (P < 0.001). Amongst dogs, males and those with skin lesions were more likely to carry S. pseudintermedius. This study highlights important differences in the diversity and patterns of carriage of commensal staphylococci between dogs and cats in remote NSW, Australia.
This is a preview of subscription content, log in to check access.
Access options
Buy single article
Instant unlimited access to the full article PDF.
US$ 39.95
Price includes VAT for USA
Subscribe to journal
Immediate online access to all issues from 2019. Subscription will auto renew annually.
US$ 199
This is the net price. Taxes to be calculated in checkout.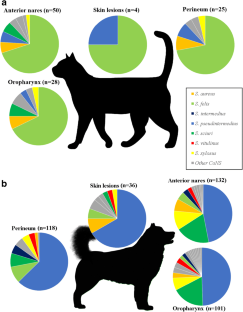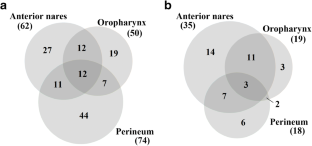 References
1.

ABS (2016) 'Remoteness structure' Australian statistical geography standard (ASGS)

2.

Ahmadi M, Javadi S, Maroofi S (2009) Prevalence of coagulase-positive staphylococci in the skin of dogs; antibacterial resistance and plasmid profile of the isolates. Comp Clin Pathol 18:39–42

3.

Alshaikh B, Yee W, Lodha A, Henderson E, Yusuf K, Sauve R (2014) Coagulase-negative staphylococcus sepsis in preterm infants and long-term neurodevelopmental outcome. J Perinatol: official journal of the California Perinatal Association 34:125–129

4.

Bagcigil FA, Moodley A, Baptiste KE, Jensen VF, Guardabassi L (2007) Occurrence, species distribution, antimicrobial resistance and clonality of methicillin- and erythromycin-resistant staphylococci in the nasal cavity of domestic animals. Vet Microbiol 121:307–315

5.

Bannoehr J, Guardabassi L (2012) Staphylococcus pseudintermedius in the dog: taxonomy, diagnostics, ecology, epidemiology and pathogenicity. Vet Dermatol 23:253–266 e251–252

6.

Baptiste KE, Williams K, Willams NJ, Wattret A, Clegg PD, Dawson S, Corkill JE, O'Neill T, Hart CA (2005) Methicillin-resistant staphylococci in companion animals. Emerg Infect Dis 11:1942–1944

7.

Barker SC, Walker AR (2014) Ticks of Australia. The species that infest domestic animals and humans. Zootaxa 3816:1

8.

Bean DC, Wigmore SM (2016) Carriage rate and antibiotic susceptibility of coagulase-positive staphylococci isolated from healthy dogs in Victoria, Australia. Aust Vet J 94:456–460

9.

Becker K, Heilmann C, Peters G (2014) Coagulase-negative staphylococci. Clin Microbiol Rev 27:870–926

10.

Bierowiec K, Ploneczka-Janeczko K, Rypula K (2016) Is the colonisation of Staphylococcus aureus in pets associated with their close contact with owners? PLoS One 11:e0156052

11.

Bland IM, Guthrie-Jones A, Taylor RD, Hill J (2009) Dog obesity: owner attitudes and behaviour. Prev Vet Med 92:333–340

12.

Boost MV, O'Donoghue MM, James A (2008) Prevalence of Staphylococcus aureus carriage among dogs and their owners. Epidemiol Infect 136:953–964

13.

Bradley CW, Morris DO, Rankin SC, Cain CL, Misic AM, Houser T, Mauldin EA, Grice EA (2016) Longitudinal evaluation of the skin microbiome and association with microenvironment and treatment in canine atopic dermatitis. J Investig Dermatol 136:1182–1190

14.

Cain CL, Morris DO, Rankin SC (2011) Clinical characterization of Staphylococcus schleiferi infections and identification of risk factors for acquisition of oxacillin-resistant strains in dogs: 225 cases (2003-2009). J Am Vet Med Assoc 239:1566–1573

15.

Chah KF, Gómez-Sanz E, Nwanta JA, Asadu B, Agbo IC, Lozano C, Zarazaga M, Torres C (2014) Methicillin-resistant coagulase-negative staphylococci from healthy dogs in Nsukka, Nigeria. Braz J Microbiol 45:215–220

16.

CLSI (2018) M02 performance standards for antimicrobial disk susceptibility tests13th edn. Clinical and Laboratory Standards Institute, Wayne, PA

17.

Cox HU, Hoskins JD, Newman SS, Turnwald GH, Foil CS, Roy AF, Kearney MT (1985) Distribution of staphylococcal species on clinically healthy cats. Am J Vet Res 46:1824

18.

Cox HU, Hoskins JD, Newman SS, Foil CS, Turnwald GH, Roy AF (1988) Temporal study of staphylococcal species on healthy dogs. Am J Vet Res 49:747

19.

Daley P, Bajgai J, Penney C, Williams K, Whitney H, Golding GR, Weese S (2016) A cross sectional study of animal and human colonization with methicillin-resistant Staphylococcus aureus (MRSA) in an aboriginal community. BMC Public Health 16:595

20.

Fazakerley J, Nuttall T, Sales D, Schmidt V, Carter SD, Hart CA, McEwan NA (2009) Staphylococcal colonization of mucosal and lesional skin sites in atopic and healthy dogs. Vet Dermatol 20:179–184

21.

Gandolfi-Decristophoris P, Regula G, Petrini O, Zinsstag J, Schelling E (2013) Prevalence and risk factors for carriage of multi-drug resistant staphylococci in healthy cats and dogs. J Vet Sci 14:449–456

22.

Garland F (2016) Climate change addendum: western local strategic plan, region, L.L.S.W., ed. (LLS Western Region)

23.

Griffeth GC, Morris DO, Abraham JL, Shofer FS, Rankin SC (2008) Screening for skin carriage of methicillin-resistant coagulase-positive staphylococci and staphylococcus schleiferi in dogs with healthy and inflamed skin. Vet Dermatol 19:142–149

24.

Gronthal T, Ollilainen M, Eklund M, Piiparinen H, Gindonis V, Junnila J, Saijonmaa-Koulumies L, Liimatainen R, Rantala M (2015) Epidemiology of methicillin resistant Staphylococcus pseudintermedius in guide dogs in Finland. Acta Vet Scand 57:37

25.

Guardabassi L, Loeber ME, Jacobson A (2004) Transmission of multiple antimicrobial-resistant Staphylococcus intermedius between dogs affected by deep pyoderma and their owners. Vet Microbiol 98:23–27

26.

Hájek V, Ludwig W, Schleifer KH, Springer N, Zitzelsberger W, Kroppenstedt RM, Kocur M (1992) Staphylococcus muscae, a new species isolated from flies. Int J Syst Bacteriol 42:97–101

27.

Hanselman BA, Kruth S, Weese JS (2008) Methicillin-resistant staphylococcal colonization in dogs entering a veterinary teaching hospital. Vet Microbiol 126:277–281

28.

Hanselman BA, Kruth SA, Rousseau J, Weese JS (2009) Coagulase positive staphylococcal colonization of humans and their household pets. Can Vet J 50:954–958

29.

Higgins R, Gottschalk M (1991) Québec. Isolation of Staphylococcus felis from cases of external otitis in cats. Can Vet J = La revue vétérinaire canadienne 32:312–313

30.

Hiramatsu K, Cui L, Kuroda M, Ito T (2001) The emergence and evolution of methicillin-resistant Staphylococcus aureus. Trends Microbiol 9:486–493

31.

Igimi S, Atobe H, Tohya Y, Inoue A, Takahashi E, Konishi S (1994) Characterization of the most frequently encountered staphylococcus sp. in cats. Vet Microbiol 39:255–260

32.

Kong HH, Oh J, Deming C, Conlan S, Grice EA, Beatson MA, Nomicos E, Polley EC, Komarow HD, Mullikin J, Thomas J, Blakesley R, Young A, Chu G, Ramsahoye C, Lovett S, Han J, Legaspi R, Sison C, Montemayor C, Gregory M, Hargrove A, Johnson T, Riebow N, Schmidt B, Novotny B, Gupta J, Benjamin B, Brooks S, Coleman H, Ho S-L, Schandler K, Stantripop M, Maduro Q, Bouffard G, Dekhtyar M, Guan X, Masiello C, Maskeri B, McDowell J, Park M, Vemulapalli M, Murray PR, Turner ML, Segre JA, Program NCS (2012) Temporal shifts in the skin microbiome associated with disease flares and treatment in children with atopic dermatitis. Genome Res 22:850–859

33.

Lilenbaum W, Nunes ELC, Azeredo MAI (1998) Prevalence and antimicrobial susceptibility of staphylococci isolated from the skin surface of clinically normal cats. Lett Appl Microbiol 27:224–228

34.

Litster A, Moss SM, Honnery M, Rees B, Trott DJ (2007) Prevalence of bacterial species in cats with clinical signs of lower urinary tract disease: recognition of Staphylococcus felis as a possible feline urinary tract pathogen. Vet Microbiol 121:182–188

35.

Loeffler A, Lloyd D (2010) Companion animals: a reservoir for methicillin-resistant Staphylococcus aureus in the community? Epidemiol Infect 138:595–605

36.

Loeffler A, Pfeiffer DU, Lindsay JA, Magalhaes RJS, Lloyd DH (2011) Prevalence of and risk factors for MRSA carriage in companion animals: a survey of dogs, cats and horses. Epidemiol Infect 139:1019–1028

37.

Malik S, Coombs GW, O'Brien FG, Peng H, Barton MD (2006) Molecular typing of methicillin-resistant staphylococci isolated from cats and dogs. J Antimicrob Chemother 58:428–431

38.

Mouney MC, Stiles J, Townsend WM, Guptill L, Weese JS (2015) Prevalence of methicillin-resistant Staphylococcus spp. in the conjunctival sac of healthy dogs. Vet Ophthalmol 18:123–126

39.

Paul NC, Bärgman SC, Moodley A, Nielsen SS, Guardabassi L (2012) Staphylococcus pseudintermedius colonization patterns and strain diversity in healthy dogs: a cross-sectional and longitudinal study. Vet Microbiol 160:420–427

40.

Penna B, Varges R, Medeiros L, Martins GM, Martins RR, Lilenbaum W (2010) Species distribution and antimicrobial susceptibility of staphylococci isolated from canine otitis externa. Vet Dermatol 21:292–296

41.

Pinto Ferreira J, Anderson KL, Correa MT, Lyman R, Ruffin F, Reller LB, Fowler Jr VG (2011) Transmission of MRSA between companion animals and infected human patients presenting to outpatient medical care facilities. PLoS One 6:e26978

42.

Rusdi B, Laird T, Abraham R, Ash A, Robertson DI, Mukerji S, Coombs G, Abraham S, O'Dea MA (2018) Carriage of critically important antimicrobial resistant bacteria and zoonotic parasites amongst camp dogs in remote Western Australian indigenous communities. Sci Rep 8:8725. https://doi.org/10.1038/s41598-018-26920-5

43.

Salgado CD, Farr BM, Calfee DP (2003) Community-acquired methicillin-resistant Staphylococcus aureus: a meta-analysis of prevalence and risk factors. (major article). Clin Infect Dis 36:131–139

44.

Santoro D, Rodrigues Hoffmann A (2016) Canine and human atopic dermatitis: two faces of the same host-microbe interaction. J Investig Dermatol 136:1087–1089

45.

Takada K, Iwase T, Mizunoe Y, Tajima A, Shinji H, Seo H, Agata T, Uehara Y (2010) Staphylococcus epidermidis Esp inhibits Staphylococcus aureus biofilm formation and nasal colonization. Nature 465:346–349

46.

Tong SYC, Varrone L, Chatfield MD, Beaman M, Giffard PM (2015) Progressive increase in community-associated methicillin-resistant Staphylococcus aureus in indigenous populations in northern Australia from 1993 to 2012. Epidemiol Infect 143:1519–1523

47.

van Duijkeren E, Wolfhagen MJHM, Box ATA, Heck MEOC, Wannet WJB, Fluit AC (2004) Human-to-dog transmission of methicillin-resistant Staphylococcus aureus. Emerg Infect Dis 10:2235–2237

48.

van Duijkeren E, Kamphuis M, van der Mije IC, Laarhoven LM, Duim B, Wagenaar JA, Houwers DJ (2011) Transmission of methicillin-resistant Staphylococcus pseudintermedius between infected dogs and cats and contact pets, humans and the environment in households and veterinary clinics. Vet Microbiol 150:338–343

49.

Vengust M, Anderson M, Rousseau J, Weese J (2006) Methicillin-resistant staphylococcal colonization in clinically normal dogs and horses in the community. Lett Appl Microbiol 43:602–606

50.

Vernozy-Rozand C, Mazuy C, Meugnier H, Bes M, Lasne Y, Fiedler F, Etienne J, Freney J (2000) Staphylococcus fleurettii sp. nov., isolated from goat's milk cheeses. Int J Syst Evol Microbiol 50:1521–1527

51.

von Eiff C, Peters G, Heilmann C (2002) Pathogenesis of infections due to coagulase-negative staphylococci. Lancet Infect Dis 2:677–685

52.

Walther B, Hermes J, Cuny C, Wieler LH, Vincze S, Abou Elnaga Y, Stamm I, Kopp PA, Kohn B, Witte W, Jansen A, Conraths FJ, Semmler T, Eckmanns T, Lübke-Becker A (2012) Sharing more than friendship--nasal colonization with coagulase-positive staphylococci (CPS) and co-habitation aspects of dogs and their owners. PLoS One 7:e35197

53.

Weese JS (2010) Methicillin-resistant Staphylococcus aureus in animals. ILAR J 51:233–244

54.

Weese JS (2013) The canine and feline skin microbiome in health and disease. Vet Dermatol 24:137–e131

55.

Weese JS, Dick H, Willey BM, McGeer A, Kreiswirth BN, Innis B, Low DE (2006) Suspected transmission of methicillin-resistant Staphylococcus aureus between domestic pets and humans in veterinary clinics and in the household. Vet Microbiol 115:148–155

56.

Worthing K, Pang S, Trott DJ, Abraham S, Coombs GW, Jordan D, McIntyre L, Davies RM, Norris J (2018a) Characterisation of Staphylococcus felis isolated from cats using whole genome sequencing. Vet Microbiol 222:98–104

57.

Worthing KA, Brown J, Gerber L, Trott DJ, Abraham S, Norris JM (2018b) Methicillin-resistant staphylococci amongst veterinary personnel, personnel-owned pets, patients and the hospital environment of two small animal veterinary hospitals. Vet Microbiol 223:79–85

58.

Wu SW, de Lencastre H, Tomasz A (2001) Recruitment of the mecA gene homologue of Staphylococcus sciuri into a resistance determinant and expression of the resistant phenotype in Staphylococcus aureus. J Bacteriol 183:2417–2424
Acknowledgements
We are very grateful to all communities and pet owners who participated in this study. Special thanks to Dr. Ann-Margret Withers and veterinary staff involved in community companion animal health programs for their assistance and support. We also thank Charlotte Webster and the team at the Department of Microbiology and Infectious Diseases at Concord Hospital (NSW, Australia) for their assistance with MALDI-TOF.
Ethics declarations
All dogs and cats were owned, and their participation was with written owner consent. Ethics approval was granted by the Animal Ethics Committee of the University of Sydney (2016/1044).
Conflict of Interest
The authors declare that they have no conflict of interest.
About this article
Cite this article
Ma, G.C., Worthing, K.A., Ward, M.P. et al. Commensal Staphylococci Including Methicillin-Resistant Staphylococcus aureus from Dogs and Cats in Remote New South Wales, Australia. Microb Ecol 79, 164–174 (2020) doi:10.1007/s00248-019-01382-y
Received:

Accepted:

Published:

Issue Date:
Keywords
Staphylococcus

Dog

Cat

MRSA

Commensal