Abstract
Background
Pancreatic atrophy as a finding of chronic pancreatitis has largely been a subjective finding. Cross-sectional imaging should provide a means to quantify pancreatic atrophy.
Objective
The purposes of this study were to: (1) quantify pancreatic volume by magnetic resonance imaging (MRI) in a cohort of children without pancreatic disease, (2) define predictors of pancreatic volume and (3) assess the relationship between pancreatic volume and pancreatic fluid secretion.
Materials and methods
This study involved further analysis of data collected as part of an institutional review board-approved prospective study of secreted fluid volume in response to secretin in 50 healthy children ages 6–16 years. The pancreas was manually segmented on axial MR images to calculate pancreatic volume. Pearson correlation or the Student's t-test were used to define associations between pancreatic volume and patient characteristics and previously calculated secreted fluid volume. Quantile regression was used to define the 5th percentile for pancreatic volume based on body surface area (BSA) [1].
Results
Mean pancreatic volume was 46.0±18.8 mL with no significant difference based on sex (boys: 42.4±19 mL, girls: 49.1±18.3 mL, P=0.21). Pancreatic volume was moderately correlated with age (r=0.51, P=0.002) and strongly correlated with BSA (r=0.75, P<0.0001), with the 5th percentile for pancreatic volume defined by: (24.66×BSA) – 4.97. Pancreatic volume was moderately correlated with volume of fluid secreted after secretin administration (r=0.51, P=0.0002).
Conclusion
We report increasing pancreatic volumes by MRI during childhood in a cohort of children without pancreatic disease. We have also shown that pancreatic volume is associated with secreted fluid volume as measured by MRI.
This is a preview of subscription content, log in to check access.
Access options
Buy single article
Instant access to the full article PDF.
US$ 39.95
Price includes VAT for USA
Subscribe to journal
Immediate online access to all issues from 2019. Subscription will auto renew annually.
US$ 199
This is the net price. Taxes to be calculated in checkout.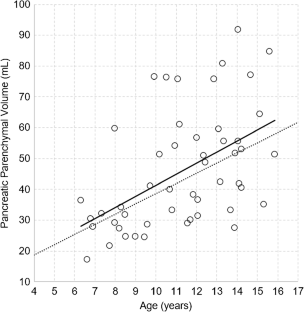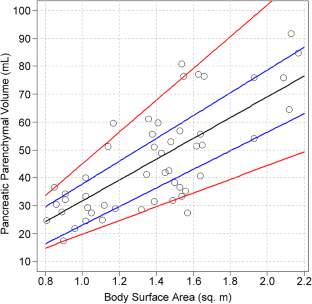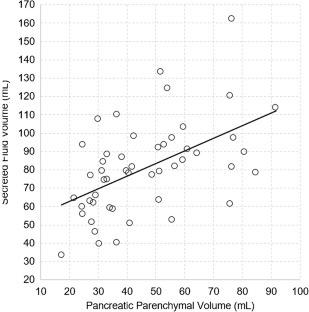 References
1.

Trout AT, Serai SD, Fei L et al (2018) Prospective assessment of normal pancreatic secretory function measured by MRI in a cohort of healthy children. Am J Gastroenterol 113:1385

2.

Nydegger A, Couper RT, Oliver MR (2006) Childhood pancreatitis. J Gastroenterol Hepatol 21:499–509

3.

Schwarzenberg SJ, Bellin M, Husain SZ et al (2015) Pediatric chronic pancreatitis is associated with genetic risk factors and substantial disease burden. J Pediatr 166:e1

4.

Morinville VD, Barmada MM, Lowe ME (2010) Increasing incidence of acute pancreatitis at an American pediatric tertiary care center: is greater awareness among physicians responsible? Pancreas 39:5–8

5.

Morinville VD, Husain SZ, Bai H et al (2012) Definitions of pediatric pancreatitis and survey of present clinical practices. J Pediatr Gastroenterol Nutr 55:261–265

6.

Mensel B, Messner P, Mayerle J et al (2014) Secretin-stimulated MRCP in volunteers: assessment of safety, duct visualization, and pancreatic exocrine function. AJR Am J Roentgenol 202:102–108

7.

Matos C, Metens T, Deviere J et al (1997) Pancreatic duct: morphologic and functional evaluation with dynamic MR pancreatography after secretin stimulation. Radiology 203:435–441

8.

Tirkes T, Fogel EL, Sherman S et al (2017) Detection of exocrine dysfunction by MRI in patients with early chronic pancreatitis. Abdom Radiol (NY) 42:544–551

9.

Djuric-Stefanovic A, Masulovic D, Kostic J et al (2012) CT volumetry of normal pancreas: correlation with the pancreatic diameters measurable by the cross-sectional imaging, and relationship with the gender, age, and body constitution. Surg Radiol Anat 34:811–817

10.

Trout AT, Preet-Singh K, Anton CG et al (2018) Normal pancreatic parenchymal thickness by CT in healthy children. Pediatr Radiol 48:1600–1605

11.

DeSouza SV, Priya S, Cho J et al (2019) Pancreas shrinkage following recurrent acute pancreatitis: an MRI study. Eur Radiol 29:3746–3756

12.

Szczepaniak EW, Malliaras K, Nelson MD, Szczepaniak LS (2013) Measurement of pancreatic volume by abdominal MRI: a validation study. PLoS One 8:e55991

13.

Hallgren KA (2012) Computing inter-rater reliability for observational data: an overview and tutorial. Tutor Quant Methods Psychol 8:23–34

14.

Saisho Y, Butler AE, Meier JJ et al (2007) Pancreas volumes in humans from birth to age one hundred taking into account sex, obesity, and presence of type-2 diabetes. Clin Anat 20:933–942

15.

DeSouza SV, Singh RG, Yoon HD et al (2018) Pancreas volume in health and disease: a systematic review and meta-analysis. Expert Rev Gastroenterol Hepatol 12:757–766

16.

Regnell SE, Peterson P, Trinh L et al (2016) Pancreas volume and fat fraction in children with type 1 diabetes. Diabet Med 33:1374–1379

17.

Burute N, Nisenbaum R, Jenkins DJ et al (2014) Pancreas volume measurement in patients with type 2 diabetes using magnetic resonance imaging-based planimetry. Pancreatology 14:268–274

18.

Lim S, Bae JH, Chun EJ et al (2014) Differences in pancreatic volume, fat content, and fat density measured by multidetector-row computed tomography according to the duration of diabetes. Acta Diabetol 51:739–748

19.

Madzak A, Olesen SS, Haldorsen IS et al (2017) Secretin-stimulated MRI characterization of pancreatic morphology and function in patients with chronic pancreatitis. Pancreatology 17:228–236

20.

Williams AJ, Chau W, Callaway MP, Dayan CM (2007) Magnetic resonance imaging: a reliable method for measuring pancreatic volume in type 1 diabetes. Diabet Med 24:35–40

21.

Philippe MF, Benabadji S, Barbot-Trystram L et al (2011) Pancreatic volume and endocrine and exocrine functions in patients with diabetes. Pancreas 40:359–363
Acknowledgments
We acknowledge the support of Rebecca Imbus and Tyler Thompson for their help with conducting the study. Funding was received from the National Pancreas Foundation with in-kind support from ChiRhoClin, Inc.
Ethics declarations
Conflicts of interest
None
Additional information
Publisher's note
Springer Nature remains neutral with regard to jurisdictional claims in published maps and institutional affiliations.
About this article
Cite this article
McCleary, B.M., Trout, A.T., Fei, L. et al. Healthy pancreatic parenchymal volume and its relationship to exocrine function. Pediatr Radiol (2020). https://doi.org/10.1007/s00247-019-04605-z
Received:

Revised:

Accepted:

Published:
Keywords
Children

Exocrine insufficiency

Image segmentation

Magnetic resonance imaging

Pancreas

Pancreatitis

Secretin

Volume