Abstract
Abdominal wall defects range from the mild umbilical cord hernia to the highly complex limb–body wall syndrome. The most common defects are gastroschisis and omphalocele, and the rarer ones include the exstrophy complex, pentalogy of Cantrell and limb–body wall syndrome. Although all have a common feature of viscera herniation through a defect in the anterior body wall, their imaging features and, more important, postnatal management, differ widely. Correct diagnosis of each entity is imperative in order to achieve appropriate and accurate prenatal counseling and postnatal management. In this paper, we discuss fetal abdominal wall defects and present diagnostic pearls to aid with diagnosis.
This is a preview of subscription content, log in to check access.
Access options
Buy single article
Instant access to the full article PDF.
US$ 39.95
Price includes VAT for USA
Subscribe to journal
Immediate online access to all issues from 2019. Subscription will auto renew annually.
US$ 199
This is the net price. Taxes to be calculated in checkout.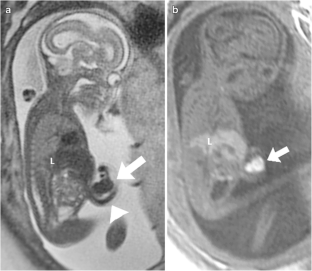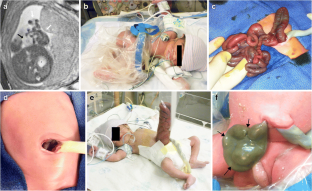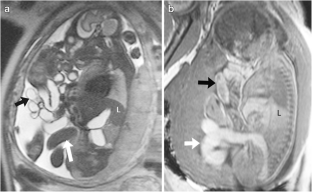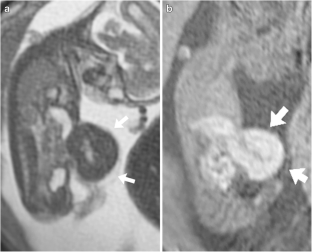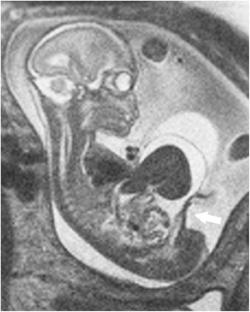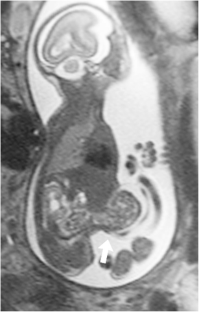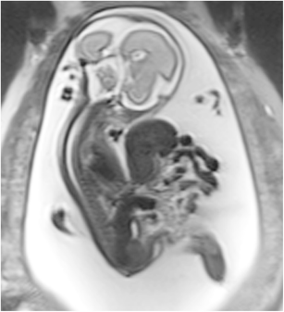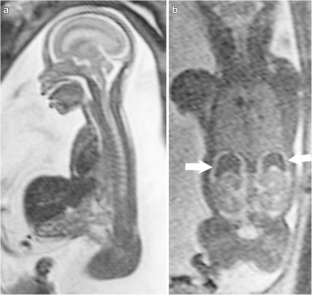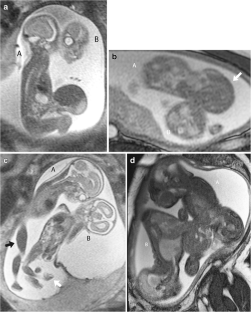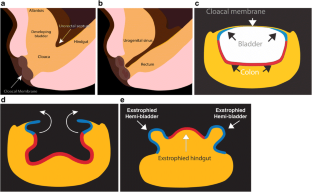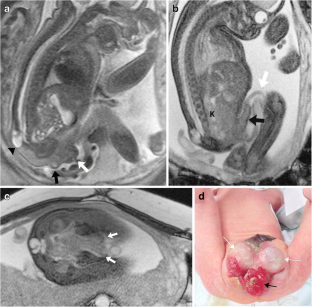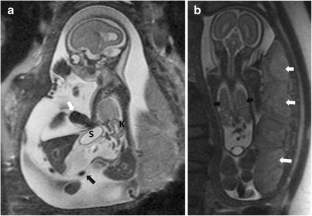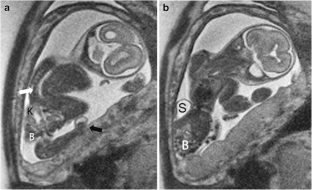 References
1.

Pakdaman R, Woodward PJ, Kennedy A (2015) Complex abdominal wall defects: appearances at prenatal imaging. Radiographics 35:636–649

2.

Haas J, Achiron R, Barzilay E et al (2011) Umbilical cord hernias: prenatal diagnosis and natural history. J Ultrasound Med 30:1629–1632

3.

Emanuel PG, Garcia GI, Angtuaco TL (1995) Prenatal detection of anterior abdominal wall defects with US. Radiographics 15:517–530

4.

Schoenwolf GC, Bleyl SB, Brauer PR et al (2015) Larsen's human embryology. Elsevier/Churchill Livingstone, Philadelphia, p 1

5.

Glick PL, Harrison MR, Adzick NS et al (1985) The missing link in the pathogenesis of gastroschisis. J Pediatr Surg 20:406–409

6.

Giuliani S, Gamba P, Kiblawi R et al (2014) Lymphocele after pediatric kidney transplantation: incidence and risk factors. Pediatr Transplant 18:720–725

7.

Friedman AM, Ananth CV, Siddiq Z et al (2016) Gastroschisis: epidemiology and mode of delivery, 2005-2013. Am J Obstet Gynecol 215:e341–e349

8.

O'Connell RV, Dotters-Katz SK, Kuller JA et al (2016) Gastroschisis: a review of management and outcomes. Obstet Gynecol Surv 71:537–544

9.

Nasr A, Wayne C, Bass J et al (2013) Effect of delivery approach on outcomes in fetuses with gastroschisis. J Pediatr Surg 48:2251–2255

10.

Glasmeyer P, Grande C, Margarit J et al (2012) Gastroschisis. Preterm elective cesarean and immediate primary closure: our experience. Cir Pediatr 25:12–15

11.

Islam S (2012) Advances in surgery for abdominal wall defects: gastroschisis and omphalocele. Clin Perinatol 39:375–386

12.

Abdelhafeez AH, Schultz JA, Ertl A et al (2015) The risk of volvulus in abdominal wall defects. J Pediatr Surg 50:570–572

13.

Gamba P, Midrio P (2014) Abdominal wall defects: prenatal diagnosis, newborn management, and long-term outcomes. Semin Pediatr Surg 23:283–290

14.

Bauman B, Stephens D, Gershone H et al (2016) Management of giant omphaloceles: a systematic review of methods of staged surgical vs. nonoperative delayed closure. J Pediatr Surg 51:1725–1730

15.

Montero FJ, Simpson LL, Brady PC et al (2011) Fetal omphalocele ratios predict outcomes in prenatally diagnosed omphalocele. Am J Obstet Gynecol 205:e281–e287

16.

Kleinrouweler CE, Kuijper CF, van Zalen-Sprock MM et al (2011) Characteristics and outcome and the omphalocele circumference/abdominal circumference ratio in prenatally diagnosed fetal omphalocele. Fetal Diagn Ther 30:60–69

17.

Danzer E, Gerdes M, D'Agostino JA et al (2010) Prospective, interdisciplinary follow-up of children with prenatally diagnosed giant omphalocele: short-term neurodevelopmental outcome. J Pediatr Surg 45:718–723

18.

Danzer E, Victoria T, Bebbington MW et al (2012) Fetal MRI-calculated total lung volumes in the prediction of short-term outcome in giant omphalocele: preliminary findings. Fetal Diagn Ther 31:248–253

19.

Daltro P, Fricke BL, Kline-Fath BM et al (2005) Prenatal MRI of congenital abdominal and chest wall defects. AJR Am J Roentgenol 184:1010–1016

20.

Nyberg DA, Fitzsimmons J, Mack LA et al (1989) Chromosomal abnormalities in fetuses with omphalocele. Significance of omphalocele contents. J Ultrasound Med 8:299–308

21.

Benacerraf BR, Saltzman DH, Estroff JA et al (1990) Abnormal karyotype of fetuses with omphalocele: prediction based on omphalocele contents. Obstet Gynecol 75:317–319

22.

van Zalen-Sprock RM, Vugt JM, van Geijn HP (1997) First-trimester sonography of physiological midgut herniation and early diagnosis of omphalocele. Prenat Diagn 17:511–518

23.

Chauvin NA, Epelman M, Victoria T et al (2012) Complex genitourinary abnormalities on fetal MRI: imaging findings and approach to diagnosis. AJR Am J Roentgenol 199:W222–W231

24.

Pierre K, Borer J, Phelps A et al (2014) Bladder exstrophy: current management and postoperative imaging. Pediatr Radiol 44:768–786

25.

Stec AA, Pannu HK, Tadros YE et al (2001) Pelvic floor anatomy in classic bladder exstrophy using 3-dimensional computerized tomography: initial insights. J Urol 166:1444–1449

26.

Saguintaah M, Couture A, Veyrac C et al (2002) MRI of the fetal gastrointestinal tract. Pediatr Radiol 32:395–404

27.

Borer JG, Vasquez E, Canning DA et al (2015) An initial report of a novel multi-institutional bladder exstrophy consortium: a collaboration focused on primary surgery and subsequent care. J Urol 193:1802–1807

28.

Bruch SW, Adzick NS, Goldstein RB et al (1996) Challenging the embryogenesis of cloacal exstrophy. J Pediatr Surg 31:768–770

29.

Calvo-Garcia MA, Kline-Fath BM, Rubio EI et al (2013) Fetal MRI of cloacal exstrophy. Pediatr Radiol 43:593–604

30.

Mathews R, Gearhart JP, Bhatnagar R et al (2006) Staged pelvic closure of extreme pubic diastasis in the exstrophy-epispadias complex. J Urol 176:2196–2198

31.

Austin PF, Homsy YL, Gearhart JP et al (1998) The prenatal diagnosis of cloacal exstrophy. J Urol 160:1179–1181

32.

Taghizadeh A, Qteishat A, Cuckow PM (2009) Restoring hindgut continuity in cloacal exstrophy: a valuable method of optimising bowel length. Eur J Pediatr Surg 19:141–144

33.

Vliet R, Roelofs LA, Rassouli-Kirchmeier R et al (2015) Clinical outcome of cloacal exstrophy, current status, and a change in surgical management. Eur J Pediatr Surg 25:87–93

34.

Cantrell JR, Haller JA, Ravitch MM (1958) A syndrome of congenital defects involving the abdominal wall, sternum, diaphragm, pericardium, and heart. Surg Gynecol Obstet 107:602–614

35.

Restrepo MS, Cerqua A, Turek JW (2014) Pentalogy of Cantrell with ectopia cordis totalis, total anomalous pulmonary venous connection, and tetralogy of Fallot: a case report and review of the literature. Congenit Heart Dis 9:E129–E134

36.

Kanagasuntheram R, Verzin JA (1962) Ectopia cordis in man. Thorax 17:159–167

37.

Van Allen MI, Curry C, Gallagher L (1987) Limb body wall complex: I. Pathogenesis. Am J Med Genet 28:529–548

38.

Aguirre-Pascual E, Epelman M, Johnson AM (2014) Prenatal MRI evaluation of limb-body wall complex. Pediatr Radiol 44:1412–1420
Ethics declarations
Conflicts of interest
None
About this article
Cite this article
Victoria, T., Andronikou, S., Bowen, D. et al. Fetal anterior abdominal wall defects: prenatal imaging by magnetic resonance imaging. Pediatr Radiol 48, 499–512 (2018). https://doi.org/10.1007/s00247-017-3914-x
Received:

Revised:

Accepted:

Published:

Issue Date:
Keywords
Abdominal wall defect

Bladder

Cloaca

Exstrophy

Fetus

Magnetic resonance imaging

Limb–body wall defect

Umbilical cord insertion