Abstract
Spinal cord signal abnormality resulting from alterations in cerebrospinal fluid flow at the craniocervical junction has been termed a presyrinx state. This condition has been described in the adult literature in association with a variety of conditions that cause obstruction to normal cerebrospinal fluid flow. We present a case of presyrinx in a child in the setting of acquired Chiari I malformation caused by lumboperitoneal overshunting. Awareness of the potentially reversible nature of this condition might allow for intervention before irreversible neurological damage has occurred.
This is a preview of subscription content, log in to check access.
Access options
Buy single article
Instant unlimited access to the full article PDF.
US$ 39.95
Price includes VAT for USA
Subscribe to journal
Immediate online access to all issues from 2019. Subscription will auto renew annually.
US$ 199
This is the net price. Taxes to be calculated in checkout.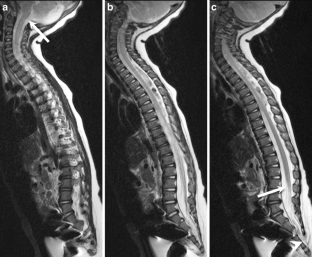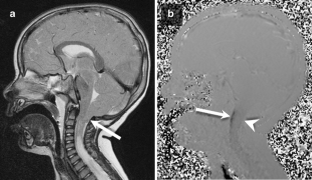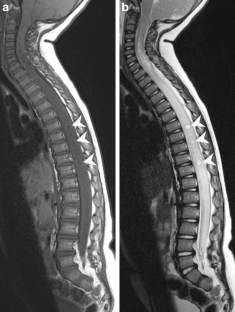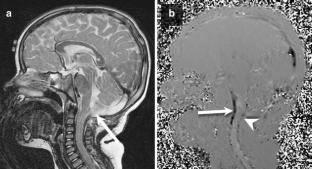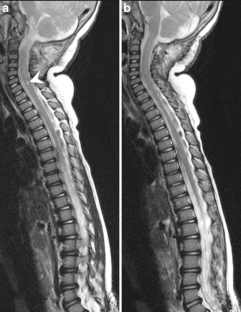 References
1.

Fischbein NJ, Dillon WP, Cobbs C et al (1999) The 'presyrinx' state: a reversible myelopathic condition that may precede syringomyelia. AJNR 20:7–20

2.

Rennels ML, Gregory TF, Blaumanis OR et al (1985) Evidence for a 'paravascular' fluid circulation in the mammalian central nervous system, provided by the rapid distribution of tracer protein throughout the brain from the subarachnoid space. Brain Res 326:47–63

3.

Oldfield EH, Muraszko K, Shawker TH et al (1994) Pathophysiology of syringomyelia associated with Chiari I malformation of the cerebellar tonsils. J Neurosurg 80:3–15

4.

Levy EI, Heiss JD, Kent MS et al (2000) Spinal cord swelling preceding syrinx development. Case report. J Neurosurg 92(1 Suppl):93–97

5.

Greitz D (2006) Unraveling the riddle of syringomyelia. Neurosurg Rev 29:251–264

6.

Goh S, Bottrell CL, Aiken AH et al (2008) Presyrinx in children with Chiari malformations. Neurology 71:351–356

7.

Milhorat TH, Kotzen RM, Anzil A (1994) Stenosis of central canal of spinal cord in man: incidence and pathological findings in 232 autopsy cases. J Neurosurg 80:716–722

8.

Milhorat TH, Capocelli AL, Anzil AP et al (1995) Pathological basis of spinal cord cavitation in syringomyelia: analysis of 105 autopsy cases. J Neurosurg 82:802–812
About this article
Cite this article
Nixon, J.N., Stanescu, L.A. & Weinberger, E. Presyrinx in a child with acquired Chiari I malformation. Pediatr Radiol 43, 506–511 (2013). https://doi.org/10.1007/s00247-012-2488-x
Received:

Revised:

Accepted:

Published:

Issue Date:
Keywords
Presyrinx

Chiari I malformation

Syrinx

MRI