Abstract
Background
Proximal focal femoral deficiency (PFFD) is a rare congenital anomaly characterized by abnormal development of the proximal femur. The most common radiographic classification (Aitken) does not evaluate the cartilaginous and soft-tissue abnormalities.
Objective
To demonstrate MR findings of PFFD focusing on features not seen with radiographs.
Materials and methods
Nine MR examinations of the hip and femurs of seven children with PFFD were retrospectively reviewed. Imaging was quantitatively and qualitatively assessed comparing the affected limb to the contralateral limb and age-matched controls.
Results
The children were classified via the Aitken classification. All children had at least mild acetabular dysplasia, and one type D patient had no acetabulum. MR demonstrated that 4/6 children had labral hypertrophy with a decreased distance from the greater trochanter to the acetabular rim, suggesting impingement (P < 0.05). The proximal femoral physis was abnormal in all cases. The connection between the femoral head and shaft if present was fibrous or fibrocartilaginous.
Conclusion
MRI can help in evaluation of PFFD by defining the anatomy. MR demonstrates features of the acetabulum and cartilaginous femoral epiphysis and depicts ligamentous abnormalities of the knee.
This is a preview of subscription content, log in to check access.
Access options
Buy single article
Instant access to the full article PDF.
US$ 39.95
Price includes VAT for USA
Subscribe to journal
Immediate online access to all issues from 2019. Subscription will auto renew annually.
US$ 199
This is the net price. Taxes to be calculated in checkout.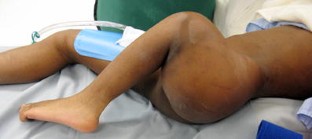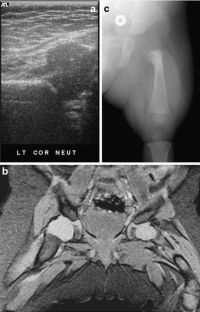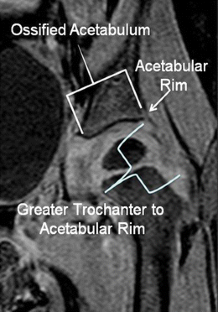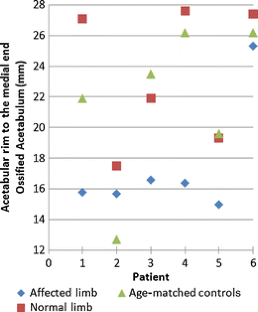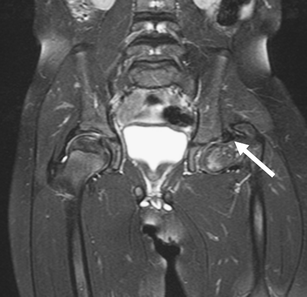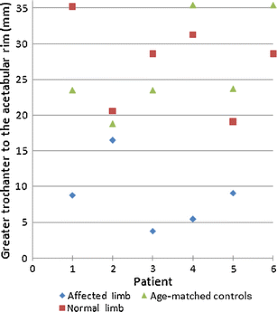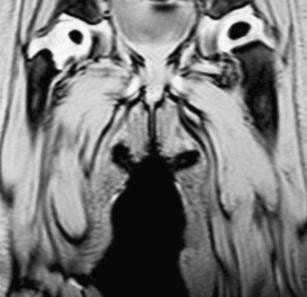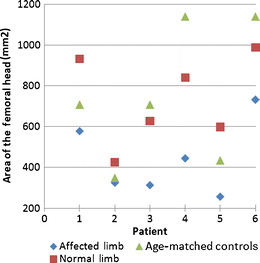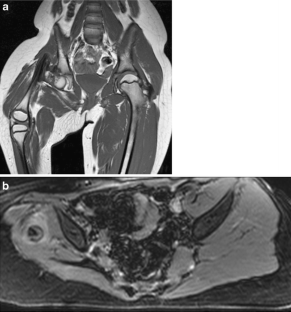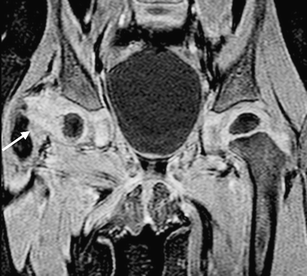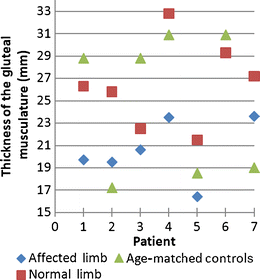 References
1.

Anton CG, Applegate KE, Kuivila TE et al (1999) proximal femoral focal deficiency (PFFD): more than an abnormal hip. Semin Musculoskelet Radiol 3:215–225

2.

Hillman JS, Mesgarzadeh M, Revesz G et al (1987) Proximal femoral focal deficiency: radiologic analysis of 49 cases. Radiology 165:769–773

3.

Maldjian C, Patel TY, Klein RM et al (2007) Efficacy of MRI in classifying proximal focal femoral deficiency. Skeletal Radiol 36:215–220

4.

Pappas AM (1983) Congenital abnormalities of the femur and related lower extremity malformations: classification and treatment. J Pediatr Orthop 3:45–59

5.

Bernaerts A, Pouillon M, De Ridder K et al (2006) Value of magnetic resonance imaging in early assessment of proximal femoral focal deficiency (PFFD). JBR-BTR 89:325–327

6.

Dillon JE, Connolly SA, Connolly LP et al (2005) MR imaging of congenital/developmental and acquired disorders of the pediatric hip and pelvis. Magn Reson Imaging Clin N Am 13:783–797

7.

Epps CH (1983) Current concepts review proximal femoral focal deficiency. J Bone Joint Surg 65:867–870

8.

Paley D, Standard S (2007) Lengthening reconstruction surgery for congenital femoral deficiency. In: Rozbruch S, Ilizarov S (eds) Limb lengthening and reconstructive surgery, 1st edn. Informa Healthcare USA, New York, pp 393–428

9.

Grisson LE, Harcke T (1994) Sonography in congenital deficiency of the femur. J Pediatr Orthop 14:29–33

10.

Jaramillo D, Connolly SA, Mulkern RV et al (1998) Developing epiphysis: MR imaging characteristics and histologic correlation in the newborn lamb. Radiology 207:637–645

11.

Burdan F, Szumilo J, Korobowicz A et al (2009) Morphology and physiology of the epiphyseal growth plate. Folia Histochem Cytobiol 47:5–16

12.

Oestreich AE (2003) The acrophysis: a unifying concept for enchondral bone growth and its disorders. I. Normal growth. Skeletal Radiol 32:121–127

13.

Oestreich AE (2004) The acrophysis: a unifying concept for understanding enchondral bone growth and its disorders. II. Abnormal growth. Skeletal Radiol 33:119–128

14.

Alman BA (2008) Skeletal dysplasias and the growth plate. Clin Genet 73:24–30

15.

Dora C, Buhler M, Stover MD et al (2004) Morphologic characteristics of acetabular dysplasia in proximal femoral focal deficiency. J Pediatr Orthop 13:81–87

16.

Ozkan K, Kocaoglu M, Eralp L et al (2005) Van Nes rotationplasty in two patients with congenital femoral deficiency. Acta Orthop Traumatol Turc 39:369–374

17.

Brown KL (2001) Resection, rotationplasty, and femoropelvic arthrodesis in severe congenital femoral deficiency. J Bone Joint Surg 83:78–85
Disclaimer
The views expressed in this article are those of the author and do not necessarily reflect the official policy or position of the Department of the Air Force, Navy, Army, Department of Defense, nor the U.S. Nothing in the presentation implies any Federal/DOD/DON endorsement.
About this article
Cite this article
Biko, D.M., Davidson, R., Pena, A. et al. Proximal focal femoral deficiency: evaluation by MR imaging. Pediatr Radiol 42, 50–56 (2012). https://doi.org/10.1007/s00247-011-2203-3
Received:

Revised:

Accepted:

Published:

Issue Date:
Keywords
PFFD

Congenital anomalies

MRI

Children