Abstract
We describe a case of external snapping hip diagnosed by dynamic sonography. The case prompted us to retrospectively review the imaging findings of children who clinically had presented with snapping hip. From this review we identified the features on MRI and CT of either thickening of the iliotibial band or thickening of the anterior edge of the gluteus maximus muscle as the cause of snapping and atrophy of the bulk of gluteus maximus muscle as an important secondary sign associated with snapping.
This is a preview of subscription content, log in to check access.
Access options
Buy single article
Instant unlimited access to the full article PDF.
US$ 39.95
Price includes VAT for USA
Subscribe to journal
Immediate online access to all issues from 2019. Subscription will auto renew annually.
US$ 199
This is the net price. Taxes to be calculated in checkout.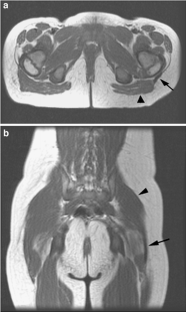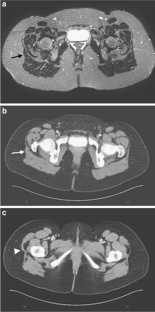 References
1.

Schaberg JE, Harper MC, Allen WC (1984) The snapping hip syndrome. Am J Sports Med 12:361–365

2.

Nunziata A, Blumenfeld I (1951) Cadera a resorte: a proposito de una variedad. Prensa Med Argent 38:1997–2001

3.

Larsen E, Johansen J (1986) Snapping hip. Acta Orthop Scand 57:168–170

4.

Pelsser V, Cardinal E, Hobden R et al (2001) Extraarticular snapping hip: sonographic findings. AJR 176:67–73

5.

Choi YS, Lee SM, Song BY et al (2002) Dynamic sonography of external snapping hip syndrome. J Ultrasound Med 21:753–758

6.

Allen WC, Cope R (1995) Coxa saltans: the snapping hip revisited. J Am Acad Orthop Surg 3:303–308

7.

Johnston CA, Wiley JP, Lindsay DM et al (1998) Iliopsoas bursitis and tendinitis. Sports Med 25:271–283

8.

Hashimoto BE, Green TM, Wiitala L (1997) Ultrasonographic diagnosis of hip snapping related to iliopsoas tendon. J Ultrasound Med 16:433–435
Electronic supplementary material
Below is the link to the electronic supplementary material.
About this article
Cite this article
Krishnamurthy, G., Connolly, B.L., Narayanan, U. et al. Imaging findings in external snapping hip syndrome. Pediatr Radiol 37, 1272–1274 (2007). https://doi.org/10.1007/s00247-007-0602-2
Received:

Revised:

Accepted:

Published:

Issue Date:
Keywords
External snapping hip

ITB

Imaging

Muscle atrophy

Child