Abstract
Coarctation of the aorta (COA) is suspected prenatally when there is ventricular asymmetry, arterial disproportion, and hypoplasia of the aortic arch/isthmus. The presence of fetal shunts creates difficulty in prenatal confirmation of the diagnosis so serial echocardiography after birth is necessary to confirm or refute the diagnosis. The first neonatal echocardiogram in prenatally suspected cases of COA was assessed for prediction of neonatal COA repair (NCOAR). This included morphological assessment, measurement of the aortic arch and calculation of the distal arch index (DAI = distance between left common carotid and left subclavian artery/diameter of the distal arch). NCOAR was undertaken in 23/60 (38%) cases. Transverse arch, aortic isthmus z-score, and DAI had an area under the receiver operator curve of 0.88 (95% CI 0.77–0.98), 0.86 (95% CI 0.75–0.96), and 0.84 (95% CI 0.74–0.95), respectively for the prediction of NCOAR. Using transverse arch z-score threshold < − 3 gave sensitivity 100%, NPV: 100%, specificity 76%; aortic isthmus z-score  < − 3: NPV 92%, specificity 62% and DAI > 1.4: NPV 88%, specificity 78%. The size of the distal aortic arch in infants with a common origin of the innominate artery and left common carotid artery who did not require COA repair was similar to the NCOAR cases (p = 0.22). The early postnatal assessment of the size and morphology of the aortic arch can assist in risk stratification for development of neonatal COA. The branching pattern of the head/neck vessels impacts on the size of the distal aortic arch adding to the complexity of predicting COA based on vessel size.
This is a preview of subscription content, log in to check access.
Access options
Buy single article
Instant access to the full article PDF.
US$ 39.95
Price includes VAT for USA
Subscribe to journal
Immediate online access to all issues from 2019. Subscription will auto renew annually.
US$ 99
This is the net price. Taxes to be calculated in checkout.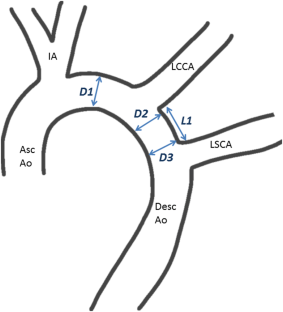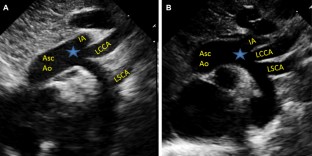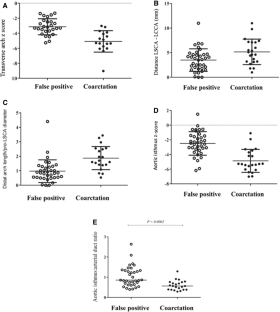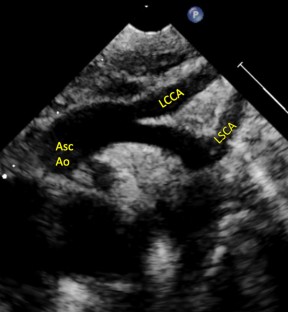 Abbreviations
COA:

Coarctation of the aorta

DAI:

Distal arch index
References
1.

Franklin O, Burch M, Manning N, Sleeman K, Gould S, Archer N (2002) Prenatal diagnosis of coarctation of the aorta improves survival and reduces morbidity. Heart 87(1):67–69. https://doi.org/10.1136/heart.87.1.67

2.

Rosenthal E (2005) Coarctation of the aorta from fetus to adult: curable condition or life long disease process? Heart 91(11):1495–1502. https://doi.org/10.1136/hrt.2004.057182

3.

Familiari A, Morlando M, Khalil A, Sonesson SE, Scala C, Rizzo G, Del Sordo G, Vassallo C, Elena Flacco M, Manzoli L, Lanzone A, Scambia G, Acharya G, D'Antonio F (2017) Risk factors for coarctation of the aorta on prenatal ultrasound: a systematic review and meta-analysis. Circulation 135(8):772–785. https://doi.org/10.1161/CIRCULATIONAHA.116.024068

4.

Gomez-Montes E, Herraiz I, Gomez-Arriaga PI, Escribano D, Mendoza A, Galindo A (2014) Gestational age-specific scoring systems for the prediction of coarctation of the aorta. Prenat Diagn 34(12):1198–1206. https://doi.org/10.1002/pd.4452

5.

Vigneswaran TV, Zidere V, Chivers S, Charakida M, Akolekar R, Simpson JM (2019) Impact of prospective measurement of outflow tracts in the prediction of coarctation of the aorta. Ultrasound Obstet Gynecol. https://doi.org/10.1002/uog.21957

6.

Peng DM, Punn R, Maeda K, Selamet Tierney ES (2016) Diagnosing neonatal aortic coarctation in the setting of patent ductus arteriosus. Ann Thorac Surg 101(3):1005–1010. https://doi.org/10.1016/j.athoracsur.2015.09.050

7.

Sharland GK, Chan KY, Allan LD (1994) Coarctation of the aorta: difficulties in prenatal diagnosis. Br Heart J 71(1):70–75

8.

Donofrio MT, Moon-Grady AJ, Hornberger LK, Copel JA, Sklansky MS, Abuhamad A, Cuneo BF, Huhta JC, Jonas RA, Krishnan A, Lacey S, Lee W, Michelfelder EC Sr., Rempel GR, Silverman NH, Spray TL, Strasburger JF, Tworetzky W, Rychik J (2014) American Heart Association Adults With Congenital Heart Disease Joint Committee of the Council on Cardiovascular Disease in the Y, Council on Clinical Cardiology CoCS, Anesthesia, Council on C, Stroke N, ***** Diagnosis and treatment of fetal cardiac disease: a scientific statement from the American Heart Association. Circulation 129(21):2183–2242. https://doi.org/10.1161/01.cir.0000437597.44550.5d

9.

Head CE, Jowett VC, Sharland GK, Simpson JM (2005) Timing of presentation and postnatal outcome of infants suspected of having coarctation of the aorta during fetal life. Heart 91(8):1070–1074. https://doi.org/10.1136/hrt.2003.033027

10.

Pettersen MD, Du W, Skeens ME, Humes RA (2008) Regression equations for calculation of z-scores of cardiac structures in a large cohort of healthy infants, children, and adolescents: an echocardiographic study. J Am Soc Echocardiogr 21(8):922–934. https://doi.org/10.1016/j.echo.2008.02.006

11.

Dodge-Khatami A, Ott S, Di Bernardo S, Berger F (2005) Carotid-subclavian artery index: new echocardiographic index to detect coarctation in neonates and infants. Ann Thorac Surg 80(5):1652–1657. https://doi.org/10.1016/j.athoracsur.2005.04.041

12.

Daubeney PE, Blackstone EH, Weintraub RG, Slavik Z, Scanlon J, Webber SA (1999) Relationship of the dimension of cardiac structures to body size: an echocardiographic study in normal infants and children. Cardiol Young 9(4):402–410

13.

Du Bois D, Du Bois E (1916) Clinical calorimetry: tenth paper a formula to estimate the approximate surface area if height and weight be known. Arch Intern Med XVII(6_2):863–871. https://doi.org/10.1001/archinte.1916.00080130010002

14.

Limited U (2014) CardioZ (Version 1.0.2.9) [mobile application software]

15.

Bailey BJ, Briars GL (1996) Estimating the surface area of the human body. Stat Med 15(13):1325–1332. https://doi.org/10.1002/(sici)1097-0258(19960715)15:13%3c1325:aid-sim233%3e3.0.co;2-k

16.

Vucurevic G, Marinkovic S, Puskas L, Kovacevic I, Tanaskovic S, Radak D, Ilic A (2013) Anatomy and radiology of the variations of aortic arch branches in 1,266 patients. Folia Morphol (Warsz) 72(2):113–122

17.

Malkawi AH, Hinchliffe RJ, Yates M, Holt PJ, Loftus IM, Thompson MM (2010) Morphology of aortic arch pathology: implications for endovascular repair. J Endovasc Ther 17(4):474–479. https://doi.org/10.1583/10-3067.1

18.

Meyer AM, Turek JW, Froud J, Endelman LA, Cavanaugh NB, Torres JE, Ashwath R (2019) Insights into arch vessel development in the bovine aortic arch. Pediatr Cardiol 40(7):1445–1449. https://doi.org/10.1007/s00246-019-02156-6

19.

Arya B, Bhat A, Vernon M, Conwell J, Lewin M (2016) Utility of novel fetal echocardiographic morphometric measures of the aortic arch in the diagnosis of neonatal coarctation of the aorta. Prenat Diagn 36(2):127–134. https://doi.org/10.1002/pd.4753

20.

Soslow JH, Kavanaugh-McHugh A, Wang L, Saurers DL, Kaushik N, Killen SA, Parra DA (2013) A clinical prediction model to estimate the risk for coarctation of the aorta in the presence of a patent ductus arteriosus. J Am Soc Echocardiogr 26(12):1379–1387. https://doi.org/10.1016/j.echo.2013.08.016

21.

Pasquini L, Mellander M, Seale A, Matsui H, Roughton M, Ho SY, Gardiner HM (2007) Z-scores of the fetal aortic isthmus and duct: an aid to assessing arch hypoplasia. Ultrasound Obstet Gynecol 29(6):628–633. https://doi.org/10.1002/uog.4021

22.

Seed M, van Amerom JF, Yoo SJ, Al Nafisi B, Grosse-Wortmann L, Jaeggi E, Jansz MS, Macgowan CK (2012) Feasibility of quantification of the distribution of blood flow in the normal human fetal circulation using CMR: a cross-sectional study. J Cardiovasc Magn Reson 14:79. https://doi.org/10.1186/1532-429x-14-79

23.

Miranda JO, Hunter L, Tibby S, Sharland G, Miller O, Simpson J (2016) Myocardial deformation in fetuses with coarctation of the aorta: a case–control study. Ultrasound Obstet Gynecol. https://doi.org/10.1002/uog.15939

24.

Vigneswaran TV, Sinha MD, Valverde I, Simpson JM, Charakida M (2018) Hypertension in coarctation of the aorta: challenges in diagnosis in children. Pediatr Cardiol 39(1):1–10. https://doi.org/10.1007/s00246-017-1739-x

25.

Lloyd DFA, Pushparajah K, Simpson JM, van Amerom JFP, van Poppel MPM, Schulz A, Kainz B, Deprez M, Lohezic M, Allsop J, Mathur S, Bellsham-Revell H, Vigneswaran T, Charakida M, Miller O, Zidere V, Sharland G, Rutherford M, Hajnal JV, Razavi R (2019) Three-dimensional visualisation of the fetal heart using prenatal MRI with motion-corrected slice-volume registration: a prospective, single-center cohort study. Lancet 393(10181):1619–1627. https://doi.org/10.1016/s0140-6736(18)32490-5

26.

Chubb H, Simpson JM (2012) The use of Z-scores in paediatric cardiology. Ann Pediatr Cardiol 5(2):179–184. https://doi.org/10.4103/0974-2069.99622

27.

Chubb H, Simpson JM (2014) Quantification of error in the calculation of Z-scores in neonates. J Am Soc Echocardiogr 27(4):449–451. https://doi.org/10.1016/j.echo.2014.01.010
Funding
This research did not receive any specific grant from funding agencies in the public, commercial, or not-for-profit sectors.
Ethics declarations
Conflict of interest
The authors have no conflicts of interest to disclose.
Additional information
Publisher's Note
Springer Nature remains neutral with regard to jurisdictional claims in published maps and institutional affiliations.
About this article
Cite this article
Vigneswaran, T.V., Bellsham-Revell, H.R., Chubb, H. et al. Early Postnatal Echocardiography in Neonates with a Prenatal Suspicion of Coarctation of the Aorta. Pediatr Cardiol (2020). https://doi.org/10.1007/s00246-020-02310-5
Received:

Accepted:

Published:
Keywords
Congenital heart disease

Fetal cardiology

Coarctation of the aorta

Aortic isthmus

Aortic arch

Distal arch index