Abstract
The pentalogy of Cantrell (PC) was first described in 1958. It includes five anomalies: a deficiency of the anterior diaphragm, a midline supraumbilical abdominal wall defect, a defect in the diaphragmatic pericardium, various congenital intracardiac abnormalities, and a defect of the lower sternum. Five patients showing the PC spectrum are reported. The report presents the prenatal diagnosis, the postnatal course, and the patients' outcome at a tertiary care center from June 2001 to May 2012. A literature review and the management plan for this group of patients also are discussed. All patient data were obtained via electronic medical records retrospectively after approval by the institutional review board at the home institution. The patients in the study were three males and two females. For all of the patients, a prenatal diagnosis had been determined. The mean gestational age at delivery was 36.6 weeks. One patient had associated cranial and spine malformations. All the patients had associated congenital heart disease but a normal karyotype. Four of the five patients died in the first year of life. The ages at death ranged from 0 to 259 days (mean, 46.2 ± 51.8 days). The patients who did not survive had withdrawal of care due to increased morbidity, associated complications, or parental wishes. The pentalogy of Cantrell is a wide spectrum of associations. Patients with the complete PC together with complex congenital heart disease or extracardiac malformations may have a poor prognosis. Incomplete PC cases may have a better outcome based on associated anomalies. Prenatal counseling plays a very important role in the decision-making process for the families and has a significant impact on the postnatal management. A multidisciplinary team approach is essential for successful postpartum outcomes.
This is a preview of subscription content, log in to check access.
Access options
Buy single article
Instant unlimited access to the full article PDF.
US$ 39.95
Price includes VAT for USA
Subscribe to journal
Immediate online access to all issues from 2019. Subscription will auto renew annually.
US$ 99
This is the net price. Taxes to be calculated in checkout.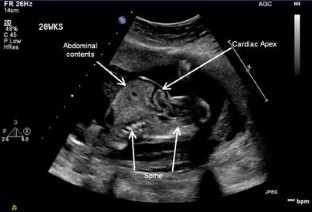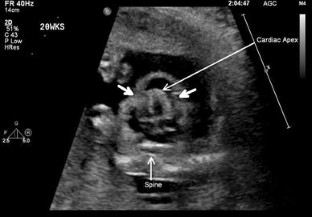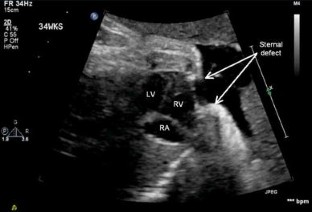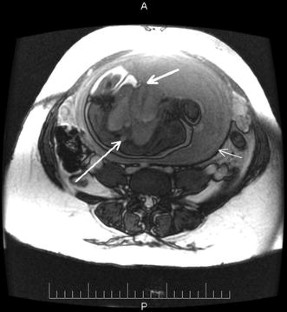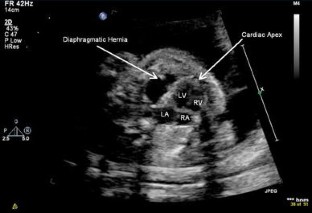 References
1.

Amato JJ, Douglas WI, Desai U, Burke S (2000) Ectopia cordis. Chest Surg Clin North Am 10:297–316

2.

Araujo Junior E, Zanforlin Filho SM, Guimaraes Filho HA, Pires CR, Nardozza LM, Moron AF (2006) Diagnosis of pentalogy of Cantrell by three-dimensional ultrasound in third trimester of pregnancy: a case report. Fetal Diagn Ther 21:544–547

3.

Atis A, Demirayak G, Saglam B, Aksoy F, Sen C (2011) Craniorachischisis with a variant of pentalogy of Cantrell, with lung extrophy. Fetal Pediatr Pathol 30:431–436

4.

Baeza-Herrera C, Escobar-Izquierdo MA, Garcia-Cabello LM, Sanchez-Magana L, Najera-Garduno HM (2008) Cantrell's pentalogy: four cases reported. Rev Med Institut Mex Seguro Soc 46:673–676

5.

Brochut AC, Baumann MU, Kuhn A, Di Naro E, Tutschek B, Surbek D, Raio L (2011) Pentalogy or hexalogy of Cantrell? Pediatr Dev Pathol 14:396–401

6.

Cantrell JR, Haller JA, Ravitch MM (1958) A syndrome of congenital defects involving the abdominal wall, sternum, diaphragm, pericardium, and heart. Surg Gynecol Obstet 107:602–614

7.

Carmi R, Boughman JA (1992) Pentalogy of Cantrell and associated midline anomalies: a possible ventral midline developmental field. Am J Med Genet 42:90–95

8.

Carmi R, Barbash A, Mares AJ (1990) The thoracoabdominal syndrome (TAS): a new X-linked dominant disorder. Am J Med Genet 36:109–114

9.

Chen Y, Lai HS, Duh YC, Wang JK, Chiu IS (1996) Pentalogy of Cantrell corrected by one-stage repair. J Formos Med Assoc 95:555–557

10.

Chia HL, Rasheed MZ, Ong KK, Yeow VK (2012) Repair of ectopia cordis using a resorbable poly-l-lactic-polyglycolic acid plate in a patient with pentalogy of Cantrell. J Pediatr Surg 47:e1–e4

11.

Dane C, Dane B, Yayla M, Cetin A (2007) Prenatal diagnosis of a case of pentalogy of Cantrell with spina bifida. J Postgrad Med 53:146–148

12.

de Rubens Figueroa J, Sosa Cruz EF, Diaz Garcia L, Carrasco Daza D (2011) Cardiac malformations in patients with pentalogy of Cantrell and ectopia cordis. Rev Esp Cardiol 64:615–618

13.

Denath FM, Romano W, Solcz M, Donnelly D (1994) Ultrasonographic findings of exencephaly in pentalogy of Cantrell: case report and review of the literature. J Clin Ultrasound 22:351–354

14.

Desselle C, Herve P, Toutain A, Lardy H, Sembely C, Perrotin F (2007) Pentalogy of Cantrell: sonographic assessment. J Clin Ultrasound 35:216–220

15.

Egan JF, Petrikovsky BM, Vintzileos AM, Rodis JF, Campbell WM (1993) Combined pentalogy of Cantrell and sirenomelia: a case report with speculation about a common etiology. Am J Perinatol 10:327–329

16.

Fox JE, Gloster ES, Mirchandani R (1988) Trisomy 18 with Cantrell pentalogy in a stillborn infant. Am J Med Genet 31:391–394

17.

Gao Z, Duan QJ, Zhang ZW, Ying LY, Ma LL (2009) Images in cardiovascular medicine: pentalogy of Cantrell associated with thoracoabdominal ectopia cordis. Circulation 119:e483–e485

18.

Grethel EJ, Hornberger LK, Farmer DL (2007) Prenatal and postnatal management of a patient with pentalogy of Cantrell and left ventricular aneurysm: a case report and literature review. Fetal Diagn Ther 22:269–273

19.

Gruberg L, Goldstein SA, Pfister AJ, Monsein LH, Evans DM, Leon MB (2000) Images in cardiovascular medicine: Cantrell's syndrome: left ventricular diverticulum in an adult patient. Circulation 101:109–110

20.

Gun I, Kurdoglu M, Mungen E, Muhcu M, Babacan A, Atay V (2010) Prenatal diagnosis of vertebral deformities associated with pentalogy of Cantrell: the role of three-dimensional sonography? J Clin Ultrasound 38:446–449

21.

Halbertsma FJ, van Oort A, van der Staak F (2002) Cardiac diverticulum and omphalocele: Cantrell's pentalogy or syndrome. Cardiol Young 12:71–74

22.

Hernandez-Gonzalez M, Jimenez-Arteaga S, Ortega F, Solorio S, Martinez-Flores E, David-Gomez F, Sanchez-Soberanis A, Ortegon-Cerdena J, Lopez-Gallegos D, Arguero-Sanchez R, Alva C (2006) Pentalogy of Cantrell: a case report. Arch Cardiol Mex 76:202–207

23.

Jafarian AH, Omidi AA, Fazel A, Sadeghian H, Joushan B (2011) Pentalogy of Cantrell: a case report. J Res Med Sci 16:105–109

24.

Katranci AO, Gork AS, Rizalar R, Gunaydin M, Qriturk E, Bernay F, Gurses N (1998) Pentalogy of Cantrell. Indian J Pediatr 65:149–153

25.

Korver AM, Haas F, Freund MW, Strengers JL (2008) Pentalogy of Cantrell: successful early correction. Pediatr Cardiol 29:146–149

26.

Laloyaux P, Veyckemans F, Van Dyck M (1998) Anaesthetic management of a prematurely born infant with Cantrell's pentalogy. Paediatr Anaesth 8:163–166

27.

Leon G, Chedraui P, San Miguel G (2002) Prenatal diagnosis of Cantrell's pentalogy with conventional and three-dimensional sonography. J Matern Fetal Neonatal Med 12:209–211

28.

Marino AL, Levy RJ, Berger JT, Donofrio MT (2011) Pentalogy of Cantrell with a single-ventricle cardiac defect: collaborative management of a complex disease. Pediatr Cardiol 32:498–502

29.

Martin RA, Cunniff C, Erickson L, Jones KL (1992) Pentalogy of Cantrell and ectopia cordis: a familial developmental field complex. Am J Med Genet 42:839–841

30.

McMahon CJ, Taylor MD, Cassady CI, Olutoye OO, Bezold LI (2007) Diagnosis of pentalogy of Cantrell in the fetus using magnetic resonance imaging and ultrasound. Pediatr Cardiol 28:172–175

31.

O'Gorman CS, Tortoriello TA, McMahon CJ (2009) Outcome of children with pentalogy of Cantrell following cardiac surgery. Pediatr Cardiol 30:426–430

32.

Parvari R, Carmi R, Weissenbach J, Pilia G, Mumm S, Weinstein Y (1996) Refined genetic mapping of X-linked thoracoabdominal syndrome. Am J Med Genet 61:401–402

33.

Polat I, Gul A, Aslan H, Cebeci A, Ozseker B, Caglar B, Ceylan Y (2005) Prenatal diagnosis of pentalogy of Cantrell in three cases, two with craniorachischisis. J Clin Ultrasound 33:308–311

34.

Rajewska J, Gawrych E, Wegrzynowski J, Konefal H, Rybkiewicz M (2010) Cantrell's pentalogy: a case report. Ginekol Pol 81:860–864

35.

Rodgers EB, Monteagudo A, Santos R, Greco A, Timor-Tritsch IE (2010) Diagnosis of pentalogy of Cantrell using 2- and 3-dimensional sonography. J Ultrasound Med 29:1825–1828

36.

Sakasai Y, Thang BQ, Kanemoto S, Takahashi-Igari M, Togashi S, Kato H, Hiramatsu Y (2012) Staged repair of pentalogy of Cantrell with ectopia cordis and ventricular septal defect. J Card Surg 27:390–392

37.

Sanchis Solera L, Beltra Pico R, Castro Sanchez M, Serrano Gonzalez A, Sanchez Lopez JM, Hernandez Navarro J, Arteaga Garcia R, Santana Ramirez R, Maldonado Artero J, Uroz Tristan J (1992) Cantrell's pentalogy: complete treatment, step by step. Cir Pediatr 5:101–104

38.

Santiago-Herrera R, Ramirez-Carmona R, Criales-Vera S, Calderon-Colmenero J, Kimura-Hayama E (2011) Ectopia cordis with tetralogy of Fallot in an infant with pentalogy of Cantrell: high-pitch MDCT exam. Pediatr Radiol 41:925–929

39.

Siles C, Boyd PA, Manning N, Tsang T, Chamberlain P (1996) Omphalocele and pericardial effusion: possible sonographic markers for the pentalogy of Cantrell or its variants. Obstet Gynecol 87:840–842

40.

Song A, McLeary MS (2000) MR imaging of pentalogy of Cantrell variant with an intact diaphragm and pericardium. Pediatr Radiol 30:638–639

41.

St Louis JD (2006) Pentalogy of Cantrell associated with hypoplastic left heart syndrome and herniation of the ventricular mass into the abdominal cavity. Interact Cardiovasc Thorac Surg 5:200–201

42.

Staboulidou I, Wustemann M, Schmidt P, Gunter HH, Scharf A (2005) Increased fetal nuchal translucency as a predictor of Cantrell's pentology: case report. Z Geburtshilfe Neonatol 209:231–234

43.

Suehiro K, Okutani R, Ogawa S, Nakada K, Shimaoka H, Ueda M, Shigemoto T (2009) Perioperative management of a neonate with Cantrell syndrome. J Anesth 23:572–575

44.

Thamboo TP, Chan NH (2005) Pentalogy of Cantrell with a double-outlet left ventricle. Pathology 37:87–89

45.

Toyama WM (1972) Combined congenital defects of the anterior abdominal wall, sternum, diaphragm, pericardium, and heart: a case report and review of the syndrome. Pediatrics 50:778–792

46.

Unal S, Cakmak Celik F, Ozaydin E, Kacar A, Gunal N (2009) A newborn with pentalogy of Cantrell and pulmonary hypoplasia. Anatol J Cardiol 9:519–520

47.

Usha MK, Mahimaiha J, Shivanna DN (2012) Incomplete pentalogy of Cantrell: single-stage repair. Heart 98:1183

48.

van Hoorn JH, Moonen RM, Huysentruyt CJ, van Heurn LW, Offermans JP, Mulder AL (2008) Pentalogy of Cantrell: two patients and a review to determine prognostic factors for optimal approach. Eur J Pediatr 167:29–35

49.

Vazquez-Jimenez JF, Muehler EG, Daebritz S, Keutel J, Nishigaki K, Huegel W, Messmer BJ (1998) Cantrell's syndrome: a challenge to the surgeon. Ann Thorac Surg 65:1178–1185

50.

Vulkova A, Kovacheva K, Rosmanova R, Simeonova M (2007) Pentalogy of Cantrell: a case report. Akush Ginekol 46:41–43

51.

Wen L, Jun-lin L, Jia H, Dong Z, Li-guang Z, Shu-hua D, Wei-jin L, Yun-hua G (2011) Cantrell syndrome with complex cardiac malformations: a case report. J Pediatr Surg 46:1455–1458

52.

Wheeler DS, St Louis JD (2007) Pentalogy of Cantrell associated with hypoplastic left heart syndrome. Pediatr Cardiol 28:311–313

53.

Yuan SM, Shinfeld A, Mishaly D (2008) An incomplete pentalogy of Cantrell. Chang Gung Med J 31:309–313
Electronic supplementary material
Below is the link to the electronic supplementary material.
Patient B: Long-axis view of the thorax and abdomen demonstrating the ectopia cordis and omphalocele (AVI 17,193 kb)
Patient B: Cross-section of the thorax demonstrating the apical portion of the heart outside the thorax (AVI 41,682 kb)
Patient B: Zoomed view of the heart demonstrating side-by-side great vessels and the aorta overriding the ventricular septal defect (VSD) (AVI 16,157 kb)
Patient C: Short-axis view of the thorax demonstrating the sternal cleft (AVI 26,238 kb)
Patient D: Long-axis view of the thorax and abdomen demonstrating an abnormal cardiac axis with the apex directed anteriorly and superiorly. A cystic structure in the left hemithorax can be seen (AVI 14,444 kb)
Patient D: Short-axis view of the thorax demonstrating dextroposition of the heart and the cystic structure in the left hemithorax (AVI 21,967 kb)
Patient D: Two-dimensional echocardiogram and color Doppler of the short-axis view of the thorax demonstrating the dextroposition of the heart and the cystic structure in the left hemithorax (AVI 12,571 kb)
Patient B: Long-axis view of the thorax and abdomen demonstrating the ectopia cordis and omphalocele (AVI 17,193 kb)
Patient B: Cross-section of the thorax demonstrating the apical portion of the heart outside the thorax (AVI 41,682 kb)
Patient B: Zoomed view of the heart demonstrating side-by-side great vessels and the aorta overriding the ventricular septal defect (VSD) (AVI 16,157 kb)
Patient C: Short-axis view of the thorax demonstrating the sternal cleft (AVI 26,238 kb)
Patient D: Long-axis view of the thorax and abdomen demonstrating an abnormal cardiac axis with the apex directed anteriorly and superiorly. A cystic structure in the left hemithorax can be seen (AVI 14,444 kb)
Patient D: Short-axis view of the thorax demonstrating dextroposition of the heart and the cystic structure in the left hemithorax (AVI 21,967 kb)
Patient D: Two-dimensional echocardiogram and color Doppler of the short-axis view of the thorax demonstrating the dextroposition of the heart and the cystic structure in the left hemithorax (AVI 12,571 kb)
About this article
Cite this article
Mallula, K.K., Sosnowski, C. & Awad, S. Spectrum of Cantrell's Pentalogy: Case Series From a Single Tertiary Care Center and Review of the Literature. Pediatr Cardiol 34, 1703–1710 (2013) doi:10.1007/s00246-013-0706-4
Received:

Accepted:

Published:

Issue Date:
Keywords
Cantrell's pentalogy

Cantrell's syndrome

Pentalogy of Cantrell