Abstract
Findings show that simulation-based team training (SBTT) is effective at increasing teamwork skills. Postpediatric cardiac surgery cardiac arrest (PPCS-CA) is a high-risk clinical situation with high morbidity and mortality. Whereas adult guidelines managing cardiac arrest after cardiac surgery are available, little exists for pediatric cardiac surgery. The authors developed a post-PPCS-CA algorithm and used SBTT to improve identification and management of PPCS-CA in the pediatric cardiovascular intensive care unit. Their goal was to determine whether participation aids in improving teamwork, confidence, and communication during these events. The authors developed a simulation-based training course using common postcardiac surgical emergency scenarios with specific learning objectives. Simulated scenarios are followed by structured debriefings. Participants were evaluated based on critical performance criteria, key elements in the PPCS-CA algorithm, and Team Strategies and Tools to Enhance Performance and Patient Safety (Team STEPPS) principles. Surveys performed before, immediately after, and 3 months after participation evaluated perception of skill, knowledge, and confidence. The study had 37 participants (23 nurses, 5 cardiology/critical care trainees, 5 respiratory therapists, and 4 noncategorized subjects). Confidence and skill in the roles of team leader, advanced airway management, and cardioversion/defibrillation were increased significantly (p < 0.05) immediately after training and 3 months later. A significant increase (p < 0.05) also was observed in the use of Team STEPPS concepts immediately after training and 3 months later. This study showed SBTT to be effective in improving communication and increasing confidence among members of a multidisciplinary team during crisis scenarios. Thus, SBTT provides an excellent tool for teaching and implementing new processes.
This is a preview of subscription content, log in to check access.
Access options
Buy single article
Instant unlimited access to the full article PDF.
US$ 39.95
Price includes VAT for USA
Subscribe to journal
Immediate online access to all issues from 2019. Subscription will auto renew annually.
US$ 99
This is the net price. Taxes to be calculated in checkout.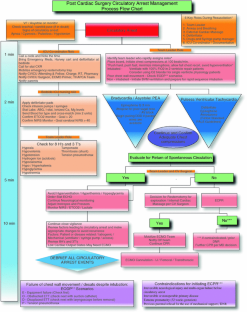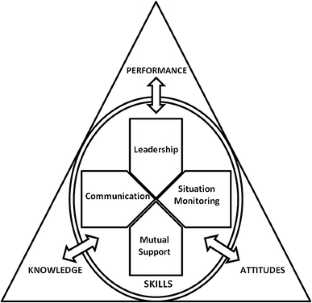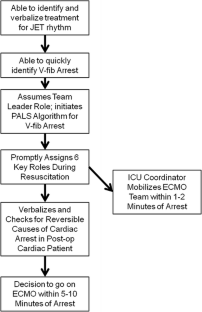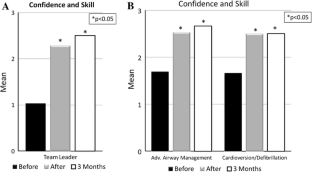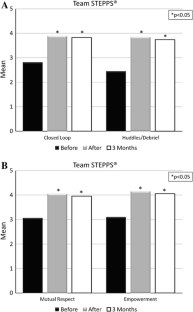 References
1.

Allan CK, Thiagarajan RR, Beke D et al (2010) Simulation-based training delivered directly to the pediatric cardiac intensive care unit engenders preparedness, comfort, and decreased anxiety among multidisciplinary resuscitation teams. J Thorac Cardiovasc Surg 140:646–652

2.

Billings CE, Reynard WD (1984) Human factors in aircraft incidents: results of a 7-year study. Aviat Space Environ Med 55:960–965

3.

Bognar A, Branch P, Johnson JK et al (2008) Errors and the burden of errors: attitudes, perceptions, and the culture of safety in pediatric cardiac surgical teams. Ann Thorac Surg 85:1374–1381

4.

Clancy CM (2007) TeamSTEPPS: optimizing teamwork in the perioperative setting. AORN J 86:18–22

5.

Clancy CM, Tornberg DN (2007) TeamSTEPPS: assuring optimal teamwork in clinical settings. Am J Med Qual 22:214–217

6.

de Mos N, van Litsenburg RR, McCrindle B, Bohn DJ, Parshuram CS (2006) Pediatric intensive care unit cardiac arrest: incidence, survival, and predictive factors. Crit Care Med 34:1209–1215

7.

Dunning J, Fabbri A, Kolh P et al (2009) Guideline for resuscitation in cardiac arrest after cardiac surgery. Eur J Cardiothorac Surg 26:3–28

8.

Guimond ME, Sole ML, Salas E (2009) TeamSTEPPS. Am J Nurs 109:66–68

9.

Herzer KR, Rodriguez-Paz JM, Doyle PA et al (2009) A practical framework for patient care teams to prospectively identify and mitigate clinical hazards. Jt Comm J Qual Patient Saf 35:72–81

10.

Hunt EA, Patel S, Vera K, Shaffner DH, Pronovost PJ (2009) Survey of pediatric resident experiences with resuscitation training and attendance at actual cardiopulmonary arrests. Pediatr Crit Care Med 10:96–105

11.

Hunt EA, Vera K, Diener-West M et al (2009) Delays and errors in cardiopulmonary resuscitation and defibrillation by pediatric residents during simulated cardiopulmonary arrests. Resuscitation 80:819–825

12.

Kemper PF, de Bruijne M, van Dyck C, Wagner C (2011) Effectiveness of classroom-based crew resource management training in the intensive care unit: study design of a controlled trial. BMC Health Serv Res 11:304

13.

Kohn LT (2000) Organizing and managing care in a changing health system. Health Serv Res 35(1 Pt 1):37–52

14.

Mayer CM, Cluff L, Lin WT et al (2011) Evaluating efforts to optimize TeamSTEPPS implementation in surgical and pediatric intensive care units. Jt Comm J Qual Patient Saf 37:365–374

15.

Ortmann L, Prodhan P, Gossett J et al (2011) Outcomes after in-hospital cardiac arrest in children with cardiac disease: a report from Get with the Guidelines–Resuscitation. Circulation 124:2329–2337

16.

Parra DA, Totapally BR, Zahn E et al (2000) Outcome of cardiopulmonary resuscitation in a pediatric cardiac intensive care unit. Crit Care Med 28:3296–3300

17.

Ricci MA, Brumsted JR (2012) Crew resource management: using aviation techniques to improve operating room safety. Aviat Space Environ Med 83:441–444

18.

Rosen MA, Salas E, Wu TS et al (2008) Promoting teamwork: an event-based approach to simulation-based teamwork training for emergency medicine residents. Acad Emerg Med 15:1190–1198

19.

Rudolph JW, Simon R, Dufresne RL, Raemer DB (2006) There's no such thing as "nonjudgmental" debriefing: a theory and method for debriefing with good judgment. Simul Healthc 1:49–55

20.

Rudolph JW, Simon R, Raemer DB, Eppich WJ (2008) Debriefing as formative assessment: closing performance gaps in medical education. Acad Emerg Med 15:1010–1016

21.

Salas E, Diaz-Granados D, Weaver SJ, King H (2008) Does team training work? Principles for health care. Acad Emerg Med 15:1002–1009

22.

Shah S, Powell A, Holloway R, Anand KJS (2011) Development of a time based flow process pathway for rapid extracorporeal membrane oxygenation (ECMO) deployment to aid in-hospital cardiopulmonary arrest (E-CPR). Ped Crit Care Med 12(Suppl):A142

23.

Stead K, Kumar S, Schultz TJ et al (2009) Teams communicating through STEPPS. Med J Aust 190(11 Suppl):S128–S132

24.

Weaver SJ, Salas E, Lyons R et al (2010) Simulation-based team training at the sharp end: a qualitative study of simulation-based team training design, implementation, and evaluation in healthcare. J Emerg Trauma Shock 3:369–377

25.

West P, Sculli G, Fore A et al (2012) Improving patient safety and optimizing nursing teamwork using crew resource management techniques. J Nurs Adm 42:15–20
About this article
Cite this article
Figueroa, M.I., Sepanski, R., Goldberg, S.P. et al. Improving Teamwork, Confidence, and Collaboration Among Members of a Pediatric Cardiovascular Intensive Care Unit Multidisciplinary Team Using Simulation-Based Team Training. Pediatr Cardiol 34, 612–619 (2013) doi:10.1007/s00246-012-0506-2
Received:

Accepted:

Published:

Issue Date:
Keywords
Cardiopulmonary arrest

Pediatric cardiac surgery

Simulation