Abstract
Fetal intracardiac mass with calcification is very rare and not well reported. The authors treated a patient with a cardiac mass presumed to be infective endocarditis in the tricuspid valve and pulmonary valve positions with postcalcification echocardiographic shadow forming pulmonary atresia. Although postnatal consecutive blood cultures for bacterial and fungal pathogens tested negative, serial follow-up echocardiograms and surgical findings suggested infective endocarditis. This report describes a very rare case of presumed fetal infective endocarditis presenting as a calcified mass, which was successfully treated by partial resection without significant morbidity.
This is a preview of subscription content, log in to check access.
Access options
Buy single article
Instant unlimited access to the full article PDF.
US$ 39.95
Price includes VAT for USA
Subscribe to journal
Immediate online access to all issues from 2019. Subscription will auto renew annually.
US$ 99
This is the net price. Taxes to be calculated in checkout.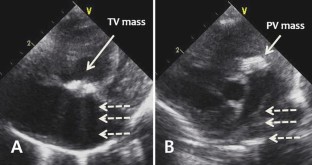 References
1.

Habib G, Hoen B, Tornos P, Thuny F, Prendergast B, Vilacosta I, Moreillon P, de Jesus Antunes M, Thilen U, Lekakis J, Lengyel M, Müller L, Naber CK, Nihoyannopoulos P, Moritz A, Zamorano JL (2009) Guidelines on the prevention, diagnosis, and treatment of infective endocarditis (new version 2009): the task force on the prevention, diagnosis, and treatment of infective endocarditis of the European Society of Cardiology (ESC). Endorsed by the European Society of Clinical Microbiology and Infectious Diseases (ESCMID) and the International Society of Chemotherapy (ISC) for Infection and Cancer. Eur Heart J 30:2369–2413

2.

Hoen B (2006) Epidemiology and antibiotic treatment of infective endocarditis: an update. Heart 92:1694–1700

3.

Holley DG, Martin GR, Brenner JI, Fyfe DA, Huhta JC, Kleinman CS, Ritter SB, Silverman NH (1995) Diagnosis and management of fetal cardiac tumors: a multicenter experience and review of published reports. J Am Coll Cardiol 26:516–520

4.

Lasser A (1983) Calcification of the myocardium. Hum Pathol 14:824–826

5.

Macgregor RR, McKendry R (1944) Fetal endocarditis. Can Med Assoc J 50:433–435

6.

Respondek M, Kaluzynski A, Alwasiak J, Jaszewski P, Wilczynski J (1993) Fetal endocarditis in left atrial isomerism: a case report. Ultrasound Obstet Gynecol 3:45–47

7.

Simchen MJ, Toi A, Silver M, Smith CR, Hornberger LK, Taylor G, Chitayat D (2006) Fetal cardiac calcifications: report of four prenatally diagnosed cases and review of the literature. Ultrasound Obstet Gynecol 27:325–330

8.

Thuny F, Grisoli D, Collart F, Habib G, Raoult D (2012) Management of infective endocarditis: challenges and perspectives. Lancet 379:965–975

9.

Veldtman GR, Blackburn ME, Wharton GA, daCosta P, Gibbs JL (1999) Dystrophic calcification of the fetal myocardium. Heart 81:92–93
Electronic supplementary material
Below is the link to the electronic supplementary material.
Movie clip 1 Postnatal tricuspid valve mass shown by transthoracic echocardiogram. A hyperechoic movable mass with a postcalcification echocardiographic shadow is shown. (AVI 825 kb)
Movie clip 2 Postnatal pulmonic valve mass shown by transthoracic echocardiogram. A hyperechoic mass with a postcalcification echocardiographic shadow and right ventricular outlet tract obstruction is shown. (AVI 932 kb)
About this article
Cite this article
Jin, B.K., Kim, G.B., Kwon, B.S. et al. Cardiac Mass With Calcification Forming Pulmonary Atresia in Utero; A Case of Fetal Endocarditis. Pediatr Cardiol 34, 1908–1910 (2013). https://doi.org/10.1007/s00246-012-0452-z
Received:

Accepted:

Published:

Issue Date:
Keywords
Calcification

Cardiac tumor

Endocarditis

Pulmonary valve

Tricuspid valve