Abstract
Noncompaction of the ventricular myocardium is a rare cardiomyopathy characterized by a pattern of prominent trabecular meshwork and deep intertrabecular recesses. The prevalence of left ventricular noncompaction is 0.01% in adults and 0.14% in pediatric patients. Although the usual site of involvement is the left ventricle, the right ventricle and septum can be affected as well. Previously, right ventricular noncompaction has been described only in a few cases of newborns with congenital heart defects and in adult patients. This report presents a newborn with isolated right ventricular noncompaction. To the authors' knowledge, this is the first newborn patient with isolated right ventricular noncompaction but no congenital heart defect involving only the right ventricle.
This is a preview of subscription content, log in to check access.
Access options
Buy single article
Instant unlimited access to the full article PDF.
US$ 39.95
Price includes VAT for USA
Subscribe to journal
Immediate online access to all issues from 2019. Subscription will auto renew annually.
US$ 99
This is the net price. Taxes to be calculated in checkout.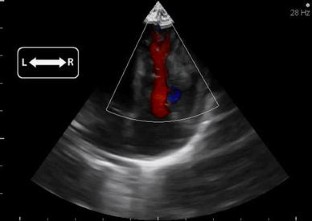 References
1.

Alehan D, Dogan OF (2005) Right ventricular noncompaction in a neonate with complex congenital heart disease. Cardiol Young 15:434–436

2.

Breckenridge RA, Anderson RH, Elliott PM (2007) Isolated left ventricular noncompaction: the case for abnormal myocardial development. Cardiol Young 17:124–129

3.

Burke A, Mont E, Kutys R, Virmani R (2005) Left ventricular noncompaction: a pathological study of 14 cases. Hum Pathol 36:403–411

4.

Chin TK, Perloff JK, Williams RG, Jue K, Mohrmann R (1990) Isolated noncompaction of left ventricular myocardium: a study of eight cases. Circulation 82:507–513

5.

Dogan R, Dogan OF, Oc M, Duman U, Ozkutlu S, Celiker A (2005) Noncompaction of ventricular myocardium in a patient with congenitally corrected transposition of the great arteries treated surgically: case report. Heart Surg Forum 8:110–113

6.

Fazio G, Lunetta M, Grassedonio E, Gullotti A, Ferro G, Bacarella D, Lo Re G, Novo G, Massimo M, Maresi E, Novo S (2010) Noncompaction of the right ventricle. Pediatr Cardiol 31:576–578

7.

Finsterer J, Stöllberger C, Kopsa W (2005) Multidisciplinary diagnostic approach for left ventricular hypertrabeculations/noncompaction. Yonsei Med J 46:309–312

8.

Hruda J, Sobotka-Plojhar MA, Fetter WP (2005) Transient postnatal heart failure caused by noncompaction of the right ventricular myocardium. Pediatr Cardiol 26:452–454

9.

Ichida F, Hamamichi Y, Miyawaki T, Ono Y, Kamiya T, Akagi T, Hamada H, Hirose O, Isobe T, Yamada K, Kurotobi S, Mito H, Miyake T, Murakami Y, Nishi T, Shinohara M, Seguchi M, Tashiro S, Tomimatsu H (1999) Clinical features of isolated noncompaction of the ventricular myocardium: long-term clinical course, hemodynamic properties, and genetic background. J Am Coll Cardiol 34:233–240

10.

Jenni R, Oechslin E, Schneider J, Attenhofer Jost C, Kaufmann PA (2001) Echocardiographic and pathoanatomical characteristics of isolated left ventricular noncompaction: a step towards classification as a distinct cardiomyopathy. Heart 86:666–671

11.

Maron BJ, Towbin JA, Thiene G, Antzelevitch C, Corrado D, Arnett D, Moss AJ, Seidman CE, Young JB (2006) Contemporary definitions and classification of the cardiomyopathies: an American Heart Association Scientific Statement from the Council on Clinical Cardiology, Heart Failure, and Transplantation Committee; Quality of Care and Outcomes Research and Functional Genomics and Translational Biology Interdisciplinary Working Groups; and Council on Epidemiology and Prevention. Circulation 113:1807–1816

12.

Oechslin EN, Attenhofer Jost CH, Rojas JR, Kaufmann PA, Jenni R (2000) Long-term follow-up of 34 adults with isolated left ventricular noncompaction: a distinct cardiomyopthy with poor prognosis. J Am Coll Cardiol 36:493–500

13.

Petersen SE, Selvanayagam JB, Wiesmann F, Robson MD, Francis JM, Anderson RH, Watkins H, Neubauer S (2005) Left ventricular noncompaction: insights from cardiovascular magnetic resonance imaging. J Am Coll Cardiol 46:101–105

14.

Pignatelli RH, McMahon CJ, Dreyer WJ, Denfield SW, Price J, Belmont JW (2003) Clinical characterization of left ventricular noncompaction in children: a relatively common form of cardiomyopathy. Circulation 108:2672–2678

15.

Ritter M, Oechslin E, Sütsch G, Attenhofer C, Schneider J, Jenni R (1997) Isolated noncompaction of the myocardium in adults. Mayo Clin Proc 72:26–31

16.

Sarma R, Chana A, Elkayam U (2010) Left ventricular noncompaction. Prog Cardiovasc Dis 52:264–273

17.

Sato Y, Matsumoto N, Matsuo S, Sakai Y, Kunimasa T, Imai S, Yoda S, Tani S, Kasamaki Y, Takayama T, Kunimoto S, Takahashi M, Saito S (2007) Right ventricular involvement in a patient with isolated noncompaction of the ventricular myocardium. Cardiovasc Revasc Med 8:275–277

18.

Stollberger C, Finsterer J (2004) Left ventricular hypertrabeculation/noncompaction. J Am Soc Echocardiogr 17:91–100

19.

Weiford BC, Subbarao VD, Mulhern KM (2004) Noncompaction of the ventricular myocardium. Circulation 109:2965–2971

20.

Ying ZQ, Xu G, Chen S, Ma J, You XD (2008) Cerebral infarction in an adult patient with right ventricular hypertrabeculation/noncompaction. Int J Cardiol 21;127:150–151

21.

Ying ZQ, Ma J, Chen S, Xu G, Chen MY, You XD (2008) Biventricular pacemaker implantation in a patient with isolated noncompaction of the right ventricular myocardium. Int J Cardiol 131:14–16

22.

Yun H, Zeng MS, Jin H, Yang S (2011) Isolated noncompaction of ventricular myocardium: a magnetic resonance imaging study of 11 patients. Korean J Radiol 12:686–692
Electronic supplementary material
Below is the link to the electronic supplementary material.
Video clip 1 Echocardiographic study showing prominent trabeculae with deep intertrabecular recesses involving mid and apical regions of the right ventricle (RV). (AVI 2130 kb)
Video clip 2 Color-flow Doppler examination confirming the presence of blood flow within the trabeculae. (AVI 1035 kb)
About this article
Cite this article
Sert, A., Aypar, E., Aslan, E. et al. Isolated Right Ventricular Noncompaction in a Newborn. Pediatr Cardiol 34, 1896–1898 (2013). https://doi.org/10.1007/s00246-012-0435-0
Received:

Accepted:

Published:

Issue Date:
Keywords
Cardiomyopathy

Newborn

Noncompaction

Right ventricular noncompaction