Abstract
Chiari's network (CN) is an embryologic remnant of eustachian valve located in the right atrium (RA). Incomplete involution of the fetal sinus venosus valves results in ''redundant'' CN. CN has been found in 1.3–4 % of autopsy studies and is believed to be of little clinical consequence. However, a redundant CN may favor persistence of a patent foramen ovale, formation of an atrial septal aneurysm, atrial thrombus, or paradoxic embolism, or cause intense right-to-left shunting. It may also cause arrythmias or compromise cardiovascular functions. We report an asymptomatic newborn with a prominent CN prolapsing into the right ventricle and discuss the clinical consequences of a CN. Although the patient herein presented is asymptomatic, CN may cause persistent cyanosis in the newborns mimicking congenital heart disease. It can also be confused with other curvilinear, highly mobile pathologic structures in the RA, such as vegetation, flail tricuspid leaflet, ruptured chordae tendinae, thrombus, or tumor. CN is not always a benign structure; therefore, identification and accurate diagnosis by echocardiography is important.
This is a preview of subscription content, log in to check access.
Access options
Buy single article
Instant unlimited access to the full article PDF.
US$ 39.95
Price includes VAT for USA
Subscribe to journal
Immediate online access to all issues from 2019. Subscription will auto renew annually.
US$ 99
This is the net price. Taxes to be calculated in checkout.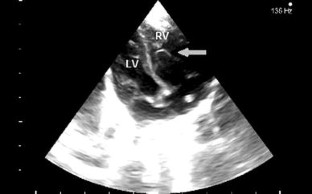 References
1.

Bendadi F, van Tijn DA, Pistorius L, Freund MW (2011) Chiari's network as a cause of fetal and neonatal pathology. Pediatr Cardiol 33:188–191

2.

Bhatnagar KP, Nettleton GS, Campbell FR, Wagner CE, Nuwabara N, Muresian H (2006) Chiari anomalies in the human right atrium. Clin Anat 19:510–516

3.

Bronzetti G, D'Angelo C, Angelini A, Picchio FM, Boriani G (2009) Resolution of atrial thrombosis with heparin in a newborn with atrial flutter. Acta Paediatr 98:1211–1214

4.

Chiari H (1897) Über Netzbildungen im rechten Vorhof des Herzens. Beitr Pathol Anat 22:1–10

5.

Clements J, Sobotka-Plojhar M, Exalto N, van Geijn HP (1982) A connective tissue membrane in the right atrium (Chiari's network) as a cause of fetal cardiac arrhythmia. Am J Obstet Gynecol 142:709–712

6.

Cooke JC, Gelman JS, Harper RW (1999) Chiari network entanglement and herniation into the left atrium by an atrial septal defect occluder device. J Am Soc Echocardiogr 12:601–603

7.

el-Khouri H, Putman D, Rutkowski M (1998) Unusual case of prominent Chiari network trapped in the left atrium. J Am Soc Echocardiogr 11:71–73

8.

Helwig FC (1932) The frequency of anomalous reticula in the right atrium of the human heart ''Chiari network''. Report of eight cases. Am J Pathol 8:73–87

9.

Ko HS, Chen MR, Lin YC (2011) A huge Chiari network presenting with persistent cyanosis in a neonate. Pediatr Cardiol 32:239–240

10.

Parajapat L, Ariyarajah V, Spodick DH (2007) Abnormal atrial depolarization associated with Chiari network? Cardiology 108:214–216

11.

Payne DM, Baskett RJF, Hirsch GM (2003) Infectious endocarditis of a Chiari network. Ann Thorac Surg 76:1303–1305

12.

Pothineni KR, Nanda NC, Burri MV, Singh A, Panwar SR, Gandhari S (2007) Live/real time three-dimensional transthoracic echocardiographic visualization of Chiari network. Echocardiography 24:995–997

13.

Schneider B, Hofmann T, Justen MH, Meinertz T (1995) Chiari's network: normal anatomic variant or risk factor for arterial embolic events. J Am Coll Cardiol 26:203–210

14.

Trento A, Zuberbuhler JR, Anderson RH, Park SC, Siewers RD (1988) Divided right atrium (prominence of the eustachian and thebesian valves). J Thorac Cardiovasc Surg 96:457–463

15.

Werner JA, Cheitlin MD, Gross BW, Speck SM, Ivey TD (1981) Echocardiographic appearance of the Chiari network: differentiation from right heart pathology. Circulation 63:1104–1109
Conflict of interest
None
Electronic supplementary material
Below is the link to the electronic supplementary material.
Video. Transthoracic echocardiography, four-chamber view. Highly mobile, echogenic structure (Chiari's network) moving rapidly across the right atrium and prolapsing into the right ventricle. (WMV 2167 kb)
About this article
Cite this article
Aypar, E., Sert, A. & Odabaş, D. Unusually Prominent Chiari's Network Prolapsing Into the Right Ventricle in an Asymptomatic Newborn. Pediatr Cardiol 34, 1017–1019 (2013) doi:10.1007/s00246-012-0342-4
Received:

Accepted:

Published:

Issue Date:
Keywords
Chiari's network

Echocardiography

Eustachian valve