Abstract
Common arterial trunk is relatively a straightforward diagnosis on echocardiography. We describe a neonate who was referred to our centre as a case of common arterial trunk but on evaluation was found to have pulmonary atresia with ventricular septal defect and aortopulmonary window, for which he underwent repair with Barbero-Marcial technique. These two conditions differ anatomically and embryologically, and careful echocardiographic evaluation will help in diagnosis and appropriate management.
This is a preview of subscription content, log in to check access.
Access options
Buy single article
Instant unlimited access to the full article PDF.
US$ 39.95
Price includes VAT for USA
Subscribe to journal
Immediate online access to all issues from 2019. Subscription will auto renew annually.
US$ 99
This is the net price. Taxes to be calculated in checkout.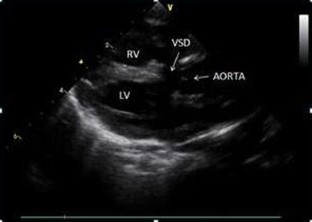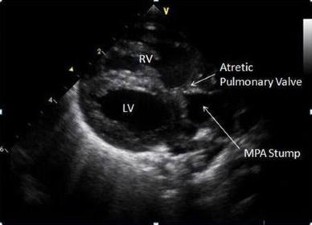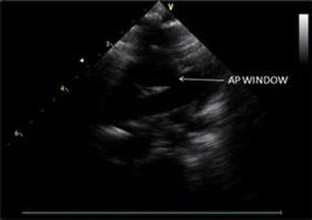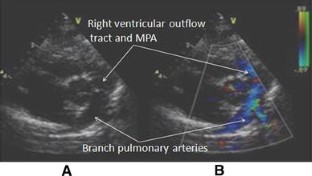 References
1.

Anderson RH, Webb S, Brown NA, Lamers W, Moorman A (2003) Development of the heart: formation of the ventricular outflow tracts, arterial valves, and intrapericardial arterial trunks. Heart 89:1110–1118

2.

Anderson RH, Brown N, Webb S, Henderson D (2008) Lessons learnt with regard to aortopulmonary window. Cardiol Young 18:451–457

3.

Barbero-Marcial M, Riso A, Atik E, Jatene A (1990) A technique of correction of truncus arteriosus types 1 and 2 without extracardiac conduits. J Thorac Cardiovasc Surg 99:364–369

4.

Cabalka AK, Edwards WD, Dearani JA (2008) Truncus arteriosus. In: Allen HD, Driscoll DJ, Shaddy RE, Feltes TF (eds) Moss and Adam's heart disease in infants, children and adolescents including the fetus and young adult, 7th edn. Lippincott William & Wilkins, Philadelphia, pp 911–922

5.

Kirby ML, Gale RF, Stewart DE (1983) Neural crest cells contribute to normal aortopulmonary septation. Science 220:1059–1061

6.

Kitagawa T, Katoh I, Chikugo F, Hori T, Fukumura Y, Mori K et al (1995) Technique for constructing the pulmonary trunk for tetralogy of Fallot with pulmonary atresia. Ann Thorac Surg 59:1245–1248

7.

Kuehn A, Oberhoffer R, Vogt M, Lange R, Hess J (2004) Aortopulmonary window with ventricular septal defect and pulmonary atresia: Prenatal diagnosis and successful early surgical correction. Ultrasound Obstet Gynecol 24:793–796

8.

Shah S, Sukhramwala R, Maheshwari S (2009) Aortic atresia with aortopulmonary window simulating common arterial trunk. Cardiol Young 19:304–306

9.

Shore DF, Ho SY, Anderson RH, de Leval M, Lincoln C (1983) Aortopulmonary septal defect coexisting with ventricular septal defect and pulmonary atresia. Ann Thorac Surg 35(2):132–137
Electronic supplementary material
Below is the link to the electronic supplementary material.
Movie clip 1. Parasternal long-axis view on 2D echocardiogram shows a large subaortic VSD and overriding of aorta. Valvar pulmonary atresia is seen on sweeping anteriorly. (AVI 1607 kb)
Movie clip 2. Parasternal short-axis view on 2D echocardiogram shows a large proximal AP window and confluent good-sized branch pulmonary arteries. (AVI 898 kb)
About this article
Cite this article
Shah, S., Kavya, Saraf, R. et al. Unusual Differential Diagnosis of Common Arterial Trunk. Pediatr Cardiol 33, 1180–1182 (2012) doi:10.1007/s00246-012-0240-9
Received:

Accepted:

Published:

Issue Date:
Keywords
Aortopulmonary window

Pulmonary atresia

Common arterial trunk