Abstract
Conventional catheter ablation of cardiac arrhythmias is associated with the potential adverse effects of low-dose ionizing radiation on both patients and laboratory personnel. Due to the greater radiation sensitivity and the longer life expectancy of children, reduction of radiation exposure for them is of particular importance. A novel technique for zero-fluoroscopy catheter ablation is described using real-time tissue-tip contact force measurements for a 10-year-old boy who had Wolff–Parkinson–White syndrome with a left-sided accessory pathway.
This is a preview of subscription content, log in to check access.
Access options
Buy single article
Instant unlimited access to the full article PDF.
US$ 39.95
Price includes VAT for USA
Subscribe to journal
Immediate online access to all issues from 2019. Subscription will auto renew annually.
US$ 99
This is the net price. Taxes to be calculated in checkout.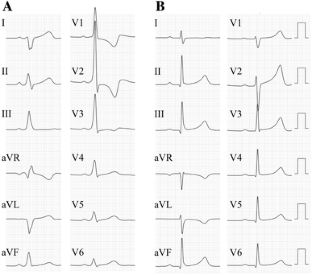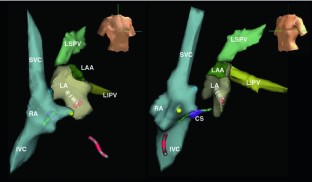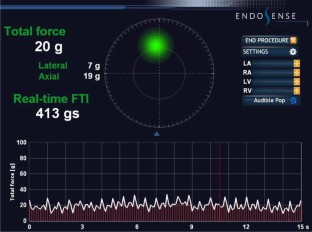 References
1.

Calkins H, Niklason L, Sousa J, el-Atassi R, Langberg J, Morady F (1991) Radiation exposure during radiofrequency catheter ablation of accessory atrioventricular connections. Circulation 84:2376–2382

2.

Chiang CE, Chen SA, Teo WS, Tsai DS, Wu TJ, Cheng CC et al (1995) An accurate stepwise electrocardiographic algorithm for localization of accessory pathways in patients with Wolff–Parkinson–White syndrome from a comprehensive analysis of delta waves and R/S ratio during sinus rhythm. Am J Cardiol 76:40–46

3.

Clark J, Bockoven JR, Lane J, Patel CR, Smith G (2008) Use of three-dimensional catheter guidance and transesophageal echocardiography to eliminate fluoroscopy in catheter ablation of left-sided accessory pathways. Pacing Clin Electrophysiol 31:283–289

4.

Gerber TC, Carr JJ, Arai AE, Dixon RL, Ferrari VA, Gomes AS et al (2009) Ionizing radiation in cardiac imaging: a science advisory from the American Heart association committee on cardiac imaging of the council on clinical cardiology and committee on cardiovascular imaging and intervention of the council on cardiovascular radiology and intervention. Circulation 119:1056–1065

5.

Kerst G, Weig H-J, Weretka S, Seizer P, Gawaz M, Hofbeck M et al (2011) Contact force–controlled zero-fluoroscopy catheter ablation of right-sided and left-atrial arrhythmias (abstract). Cardiol Young 21:S60 (abstract)

6.

National Research Council (U.S.); Committee on the Biological Effects of Ionizing Radiations (1990) Health effects of exposure to low levels of ionizing radiation: BEIR V. National Academy Press, Washington, DC

7.

Perna F, Heist EK, Danik SB, Barrett CD, Ruskin JN, Mansour M (2011) Assessment of catheter-tip contact force resulting in cardiac perforation in swine atria using force-sensing technology. Circ Arrhythm Electrophysiol 4:218–224

8.

Reddy VY, Neuzil P, Kautzner J, Petru J, Skoda J, Yulzari A et al (2011) Low Catheter-tissue contact force results in late PV reconnection: initial results from EFFICAS I (abstract). Heart Rhythm 8:11–12 (abstract)

9.

Shah D, Schmidt B, Arentz T, Kuck KH, Neuzil P, Latcu G et al (2009) Catheter contact force during human right and left atrial mapping in humans (abstract). Heart Rhythm 6:PO04–PO25

10.

Vano E, Ubeda C, Leyton F, Miranda P, Gonzalez L (2009) Staff radiation doses in interventional cardiology: correlation with patient exposure. Pediatr Cardiol 30:409–413

11.

Wittkampf FH, Wever EF, Derksen R, Wilde AA, Ramanna H, Hauer RN et al (1999) LocaLisa: new technique for real-time 3-dimensional localization of regular intracardiac electrodes. Circulation 99:1312–1317

12.

Yamane T, Jais P, Shah DC, Hocini M, Peng JT, Deisenhofer I et al (2000) Efficacy and safety of an irrigated-tip catheter for the ablation of accessory pathways resistant to conventional radiofrequency ablation. Circulation 102:2565–2568

13.

Yokoyama K, Nakagawa H, Shah DC, Lambert H, Leo G, Aeby N et al (2008) Novel contact-force sensor incorporated in irrigated radiofrequency ablation catheter predicts lesion size and incidence of steam pop and thrombus. Circ Arrhythm Electrophysiol 1:354–362
Disclosures
Gunter Kerst, Ulli Parade, Hans-Jörg Weig, and Jürgen Schreieck received congress travel grants from Biotronik. The other authors report no potential conflicts. Gunter Kerst participates in the Interventional EP Curriculum, which is financially supported by St. Jude Medical.
Electronic supplementary material
Below is the link to the electronic supplementary material.
Movie 1: Rotational three-dimensional image of cardiac structures and vessels created before catheter ablation of the accessory pathway. Guided by real-time measurements of catheter-tip electrode–tissue contact force, the individual structures were carefully swept by the ablation catheter and visualized by the electroanatomic mapping system. Cardiac structures, vessels, catheters, and their respective colors correspond to those of Fig. 2 (MPG 13876 kb)
About this article
Cite this article
Kerst, G., Parade, U., Weig, H. et al. A Novel Technique for Zero-Fluoroscopy Catheter Ablation Used to Manage Wolff–Parkinson–White Syndrome With a Left-Sided Accessory Pathway. Pediatr Cardiol 33, 820–823 (2012). https://doi.org/10.1007/s00246-012-0207-x
Received:

Accepted:

Published:

Issue Date:
Keywords
Catheter ablation

Radiation risk

Wolff–Parkinson–White syndrome