This is a preview of subscription content, log in to check access.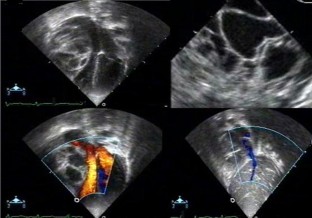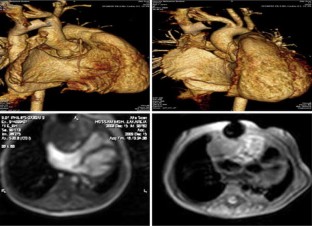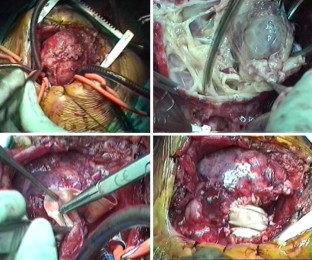 References
1.

Allen B, Renu V (1995) Tumors of the heart and great vessels: atlas of tumor pathology. 3rd series. Fascicle 16. Armed Forces Institute of Pathology, Washington

2.

Charruau L, Parrens M, Jougon J, Montaudon M, Blacheàre H, Latrabe V, Laurent F (2000) Mediastinal lymphangioma in adults: CT and MR imaging features. Eur Radiol 10:1310–1314

3.

Glasson MJ, Tayler SF (1991) Cervical, cervicomediastinal, and intrathoracic lymphangioma. Prog Pediatr Surg 27:62–83

4.

Icard P, Le Rochais JP, Galateau F, Jehan A, Martel B, Brun J, Evrard D (1998) Mediastinal cystic hygroma: report of three cases and review of the literature. Ann Chir 52:629–634

5.

Kaji T, Takamatsu H, Noguchi H, Tahara H, Matsuda H, Nomura Y, Machigashira S, Watanabe S, Yoshioka T (2002) Cardiac lymphangioma: case report and review of the literature. J Pediatr Surg 37:E32

6.

Kim SJ, Shin ES, Kim SW, Shin JK, Cheong JP, Kim YM, Lee SG (2007) A case of cardiac lymphangioma presenting as a cystic mass in the right atrium. Yonsei Med J 48:1043–1047
Electronic supplementary material
Below is the link to the electronic supplementary material.
Video 2: Transesophageal echocardiography showing multicystic tumor with multiple poorly defined septa adjacent to the right side of the heart and compressing the right atrium and right ventricle (WMV 172 kb)
Video 3: contract-enhanced computed tomography showing evidence of the compression of the right side of the heart (WMV 414 kb)
Video 4: Operative clip showing the tumor mass adjacent to the right side of the heart before its excision (WMV 404 kb)
Video 5: Operative clip showing the cystic nature of the tumor mass (WMV 691 kb)
About this article
Cite this article
Almarsafawy, H., Matter, M., Elgamal, M. et al. Cardiac Lymphangioma in an Infant. Pediatr Cardiol 32, 1253–1255 (2011). https://doi.org/10.1007/s00246-011-0061-2
Received:

Accepted:

Published:

Issue Date:
Keywords
Cardiopulmonary Bypass

Right Ventricle

Right Atrium

Cardiac Tumor

Lymphangioma