This is a preview of subscription content, log in to check access.
Access options
Buy single article
Instant unlimited access to the full article PDF.
US$ 39.95
Price includes VAT for USA
Subscribe to journal
Immediate online access to all issues from 2019. Subscription will auto renew annually.
US$ 99
This is the net price. Taxes to be calculated in checkout.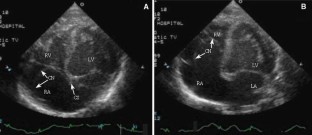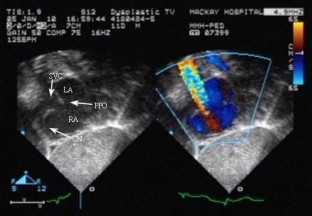 References
1.

Benbow EW, Love EM, Love HG, MacCallum PK (1987) Massive right atrial thrombus associated with a Chiari network and a Hickman catheter. Am J Clin Pathol 88:243–248

2.

Clements J, Sobotka-Plojhar M, Exalto N, van Geijn HP (1982) A connective tissue membrane in the right atrium (Chiari network) as a cause of fetal cardiac arrhythmia. Am J Obstet Gynecol 142(6 Pt 1):709–712

3.

El-Khouri H, Putman D, Rutkowski M (1998) Unusual case of prominent Chiari network trapped in the left atrium. J Am Soc Echocardiogr 11:71–73

4.

Lanzarini L, Lucca E (2002) Persistence of the right valve of the sinus venosus resulting in an unusually prominent Chiari network remnant mimicking cor triatriatum dexter. Pediatr Cardiol 23:103–105

5.

Werner JA, Cheitlin MD, Gross BW, Speck SM, Ivey TD (1981) Echocardiographic appearance of the Chiari network: differentiation from right heart pathology. Circulation 63:1104–1109
Electronic supplementary material
Below is the link to the electronic supplementary material.
Movie clips 1 and 2 Apical four-chamber view of transthoracic echocardiography (two dimensions and color). A very redundant, thin, freely mobile transverse membrane inside the right atrial cavity that seems to divide the right atrium into the two chambers during the right ventricle systolic phase and the right ventricle diastolic phase, the Chiari network is entrapped in the right ventricle, and the picture may mimic Ebstein's anomaly. The blood flow goes around the Chiari network in the diastolic phase without obstruction. (AVI 658 kb)
Movie clips 3 and 4 Subcostal short-axis view of transthoracic echocardiography (two dimensions and color). The Chiari network is attached to the superior of the right atrium (RA) near the orifice of the superior vena cava. The blood flow from superior vena cava (SVC) and the inferior vena cava (IVC) trapped by the Chiari network (CN) was guided to the patent foramen ovale (PFO) in the color Doppler. (AVI 783 kb)
About this article
Cite this article
Ko, H., Chen, M. & Lin, Y. A Huge Chiari Network Presenting With Persistent Cyanosis in a Neonate. Pediatr Cardiol 32, 239–240 (2011) doi:10.1007/s00246-010-9857-8
Received:

Accepted:

Published:

Issue Date:
Keywords
Patent Ductus Arteriosus

Sinus Venosus

Initial Physical Examination

Transcutaneous Oxygen Tension

Transcutaneous Oxygen Saturation