Abstract
A 51-year-old previously asymptomatic man presented with complete heart block (CHB). During pacemaker implantation, fluoroscopy showed a peculiar pattern of cardiac calcification. Coronary angiography, performed to determine the origin of calcification, demonstrated an anomalous origin of the left coronary artery from the pulmonary artery (ALCAPA). A left ventriculogram showed normal ventricular contraction. Echocardiography demonstrated normal systolic function without any regional wall motion abnormality. The endocardium of the mid and basal portions of the anteroseptal, anterior and anterolateral walls as well as both of the papillary muscles were calcified. Specifically noted was a calcific bar extending across the base of the interventricular septum (IVS) on both the echocardiogram and the left ventricle angiogram. The development of CHB in the absence of transmural myocardial infarction is intriguing. It is likely that endocardial fibroelastosis during infancy led to endocardial fibrosis and scarring subsequent calcium deposition. Extension of this calcification into the conduction system may have led to CHB. This is the first report of an adult patient with ALCAPA presenting with CHB.
This is a preview of subscription content, log in to check access.
Access options
Buy single article
Instant unlimited access to the full article PDF.
US$ 39.95
Price includes VAT for USA
Subscribe to journal
Immediate online access to all issues from 2019. Subscription will auto renew annually.
US$ 99
This is the net price. Taxes to be calculated in checkout.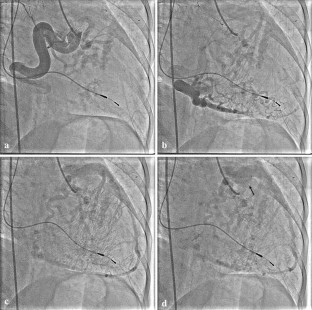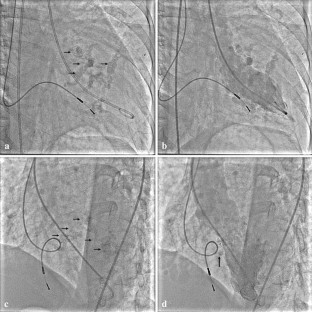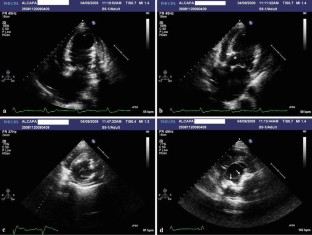 References
1.

Fierens C, Budts W, Denef B, Van De Werf F (2000) A 72-year-old woman with ALCAPA. Heart 83:e2

2.

Keith JD (1959) The anomalous origin of the left coronary artery from the pulmonary artery. Br Heart J 21:149–161

3.

Wesselhoeft H, Fawcett JS, Johnson AL (1968) Anomalous origin of the left coronary artery from the pulmonary trunk: its clinical spectrum, pathology, and pathophysiology, based on a review of 140 cases with seven further cases. Circulation 38:403–425
Electronic supplementary material
Below is the link to the electronic supplementary material.
Video 3 Transthoracic echocardiography four-chamber view showing normal cardiac contraction and calcification of the mid and basal endocardium (AVI 1624 kb)
Video 4 Transthoracic echocardiography, parasternal short-axis view at the papillary muscle level, showing calcification of both the papillary muscles and no regional wall abnormality (AVI 2521 kb)
Video 5 Transthoracic echocardiography, five-chamber view, showing a calcific bar across the base of the interventricular septum (AVI 1970 kb)
About this article
Cite this article
Math, R.S., Parakh, N., Sarin, S.S. et al. Anomalous Origin of the Left Coronary Artery from the Pulmonary Artery (ALCAPA) Presenting as a Complete Heart Block. Pediatr Cardiol 31, 526–529 (2010). https://doi.org/10.1007/s00246-009-9566-3
Received:

Accepted:

Published:

Issue Date:
Keywords
Complete heart block

Coronary anomaly

Pacemaker