Abstract
We report on a 4-year-old child who developed rupture of the ventricular septum after a blunt chest injury. The symptoms appeared more than 12 h later with progressive deterioration in his hemodynamic status. The diagnosis was made by echocardiography and the large defect in the muscular part of the ventricular septum was successfully closed at surgery.
This is a preview of subscription content, log in to check access.
Access options
Buy single article
Instant unlimited access to the full article PDF.
US$ 39.95
Price includes VAT for USA
Subscribe to journal
Immediate online access to all issues from 2019. Subscription will auto renew annually.
US$ 99
This is the net price. Taxes to be calculated in checkout.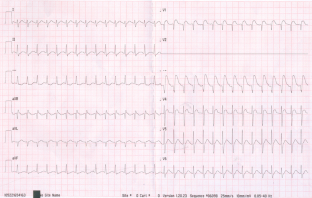 References
1.

Bright EF, Beck CS (1935) Nonpenetrating wounds of the heart. Am Heart J 10:293–321

2.

De Mello RP, Santana MV, Silva MA, Esteves C, Pedra C, Thom A, Chaccur P, Miaira MA, Andrade PB, Rodrigues AB (2006) Ventricular septal rupture following blunt chest trauma. Arq Bras Cardiol 87:e243–e246

3.

Evora PR, Ribeiro PJ, Brasil JC, Amaral FT, Reis CL, Secches AL, Marin-Neto JA (1985) Late surgical repair of ventricular septal defect due to non penetrating chest trauma: review and report of two contrasting cases. J Trauma 25:1007–1009

4.

Ilia R, Goldfarb B, Wanderman KL, Gueron M (1992) Spontaneous closure of a traumatic ventricular septal defect after blunt trauma documented by serial echocardiography. J Am Soc Echocardiogr 5:203–205

5.

Rollins MD, Koehler RP, Stevens MH, Walsh KJ, Doty DB, Price RS, Allen TL (2005) Traumatic ventricular septal defect: case report and review of the English literature since 1970. J Trauma 58:175–180
Electronic supplementary material
Below is the link to the electronic supplementary material.
Two-dimensional echocardiography—apical four-chamber view (AVI 1141 kb)
Two-dimensional echocardiography—apical four-chamber view with colorDoppler (AVI 641 kb)
Two-dimensional echocardiography—parasternal long-axis view (AVI 1192 kb)
Two-dimensional echocardiography—parasternal long-axis view with color Doppler (AVI 556 kb)
About this article
Cite this article
Saxena, A., Ramasamy, S., Devagourou, V. et al. Ventricular Septal Rupture in a 4-Year-Old Child Following Blunt Chest Injury. Pediatr Cardiol 30, 1188–1189 (2009). https://doi.org/10.1007/s00246-009-9529-8
Received:

Accepted:

Published:

Issue Date:
Keywords
Interventricular septum

Chest trauma

Echocardiography

Cardiac surgery