Abstract
Bundle branch block (BBB) is impossible to diagnose in a fetus with conventional fetal echocardiography. Isolated left BBB is rare in the neonatal period. Asymmetric left ventricular remodeling in isolated left BBB is secondary to chronic dyschronous activation and relaxation, resulting in thinning of the interventricular septum (IVS). This report describes a case of possible ventricular septal defect diagnosed at 34 weeks of gestation due to significant dropout in the outflow portion of the IVS seen in multiple views secondary to undiagnosed isolated left BBB in a fetus, with postnatal follow-up evaluation.
This is a preview of subscription content, log in to check access.
Access options
Buy single article
Instant unlimited access to the full article PDF.
US$ 39.95
Price includes VAT for USA
Subscribe to journal
Immediate online access to all issues from 2019. Subscription will auto renew annually.
US$ 99
This is the net price. Taxes to be calculated in checkout.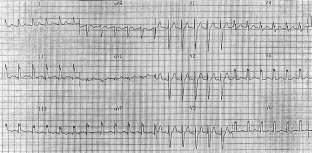 References
1.

Birk E, Silverman NH (2005) Intracardiac shunt malformations. In: Yagel S, Norman S, Ulrich G (eds) Fetal cardiology. Taylor and Francis, London, pp 205–209

2.

De Wilde H, Benata A (2007) Cardiac rhabdomyoma with long-term conduction abnormality: progression from pre-excitation to bundle branch block and finally complete heart block. Med Sci Monit 13:21–23

3.

Delhass T, Arts T, Prinzen FW, Reneman RS (1994) Regional fiber stress-fiber strain area as estimate of regional oxygen demand in the canine heart. J Physiol 477.3:481–496

4.

Elshershari H, Okutan V, Celiker A (2001) Isolated noncompaction of ventricular myocardium. Cardiol Young 11:472–475

5.

Fahey GJ, Pinski SL, Miller DP, Walsh MJ et al (1996) Natural history of isolated bundle branch block. Am J Cardiol 77:1185–1190

6.

Hardarson T, Arnason A, Eliasson GJ, Palsson K et al (1987) Left bundle branch block: prevalence, incidence, follow-up, and outcome. Eur Heart J 8:1075–1079

7.

Herscher ES, Berman W Jr, Friedman Z, Whitman V (1979) LBBB due to hyperkalemia in premature infant. J Pediatr 94:654–656

8.

Ozkutlu S, Ayabakan C, Celiker A, Elshershari H (2002) Noncompaction of ventricular myocardium: a study of twelve patients. J Am Soc Echocardiogr 15:1523–1528

9.

Prinzen FW, Augustijn CH, Arts T, Allessie MA, Reneman RS (1990) Redistribution of myocardial fiber strain and blood flow by asynchronous activation. Am J Physiol 259:300–308

10.

Prinzen FW, Cheriex EC, Delhass T, Wellens HJ et al (1995) Asymmetric thickness of left ventricular wall resulting from asynchronous electric activation: a study in dogs with ventricular pacing and in patients with left bundle branch block. Am Heart J 130:1045–1053

11.

Takamura T, Dohi K, Onishi K, Kurita T et al (2008) Improvement of left ventricular mechanical dyssynchrony associated with restoration of left ventricular function in patient with fulminant myocarditis and complete left bundle branch block. Int J Cardiol 127:8–11

12.

Uzun O, Gibbs JL (1999) Progressive disease of the atrioventricular conduction axis in an infant of an anti-Ro-positive mother. Cardiol Young 9:192–193

13.

Upshaw CB Jr (1993) Seeing through the maze of complete left bundle branch block. J Med Assoc Ga 59:3–599

14.

Xiao HB, Faiek AH, Gibson DG (1994) Reevaluation of normal splitting of the second heart sound in patients with classical left bundle branch block. Int J Cardiol 45:163–169
Electronic supplementary material
Below is the link to the electronic supplementary material.
a, b Fetal echocardiography showing angled left ventricular outflow tract views with significant dropout in outflow portion of IVS without evident shunt on color Doppler. (AVI 12831 kb)
Supplementary material 2 (AVI 27034 kb)
a, b Postnatal echocardiography showing rocking regional motion abnormality of left ventricle in parasternal short axis view and thin outflow portion of IVS with paradoxical motion in four chamber view (AVI 25635 kb)
Supplementary material 4 (AVI 25956 kb)
a, b Fetal echocardiography showing angled left ventricular outflow tract views with significant dropout in outflow portion of IVS without evident shunt on color Doppler. (AVI 12831 kb)
a, b Postnatal echocardiography showing rocking regional motion abnormality of left ventricle in parasternal short axis view and thin outflow portion of IVS with paradoxical motion in four chamber view (AVI 25635 kb)
About this article
Cite this article
Sharma, J., Inglis, S., Predanic, M. et al. Isolated Left Bundle Branch Block Mimicking Outflow Ventricular Septal Defect in a Fetus. Pediatr Cardiol 30, 1026–1029 (2009). https://doi.org/10.1007/s00246-009-9484-4
Received:

Revised:

Accepted:

Published:

Issue Date:
Keywords
Bundle branch block

Fetal echocardiography

Myocarditis

Ventricular septal defect