Abstract
The newborn can experience two types of differential cyanosis (DC). The common type of DC occurs when oxygen saturation in the right hand is greater than in the foot. The second type of DC, reversed differential cyanosis (RDC), occurs when oxygen saturation is lower in the right hand than in the foot. This phenomenon is observed in transposition of the great arteries (TGA) with patent ductus arteriosis (PDA) and elevated pulmonary vascular resistance or in TGA with PDA and preductal aortic interruption or coarctation. This report describes a case of RDC not previously described involving an infant with supracardiac total anomalous pulmonary venous connection (TAPVC). In supracardiac TAPVC, RDC results from streaming of highly saturated superior vena cava (SVC) blood into the right ventricle, out the main pulmonary artery, through a PDA, and to the descending aorta, with streaming of more desaturated blood from the inferior vena cava (IVC) into the left atrium across the atrial septal defect (ASD)/foramen ovale. Therefore, as part of a neonatal examination to rule out congenital heart disease (CHD), simultaneous pre- and postductal oxygen saturations should be documented. The presence of RDC should initiate immediate full cardiac evaluation for CHD. Supracardiac TAPVC should be included in the differential diagnosis if RDC is observed.
This is a preview of subscription content, log in to check access.
Access options
Buy single article
Instant unlimited access to the full article PDF.
US$ 39.95
Price includes VAT for USA
Subscribe to journal
Immediate online access to all issues from 2019. Subscription will auto renew annually.
US$ 99
This is the net price. Taxes to be calculated in checkout.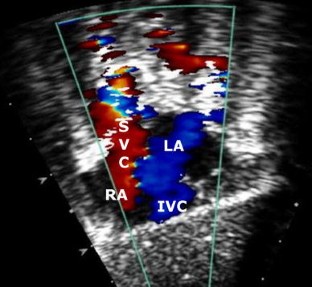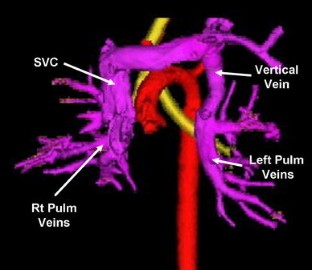 References
1.

Allen HD, Driscoll DJ, Shaddy RE, Feltes TF (2007) Moss and Adams' heart disease in infants, children, and adolescents: including the fetus and young adult, 6th edn. Lippincott Williams and Wilkins, Baltimore, MD, pp 1045–1046

2.

De-Wahl Granelli A, Mellander M, Sunnegardh J et al (2005) Screening for duct-dependent congenital heart disease with pulse oximetry: a critical evaluation of strategies to maximize sensitivity. Acta Paediatr 94:1590–1596

3.

Keagy KS, Schall SA (1982) Selective cyanosis of right arm: isolation of right subclavian artery from aorta with bilateral ductus arteriosus and pulmonary hypertension. Ped Cardiol 3:301–303

4.

Keane JR, Lock JE, Fyler DC (2006) Nadas' Pediatric Cardiology, 2nd edn. Saunders Publications, Boston, MA, pp 140–141

5.

Koppel RI, Druschel CM, Carter T et al (2003) Effectiveness of pulse oximetry screening for congenital heart disease in asymptomatic newborns. Pediatrics 111:451–455

6.

Methieson JR, Silver SF, Culham JAG (1988) Isolation of the right subclavian artery. Am J Radiol 151:781–782

7.

Nath PH, Castaneda-Zuniga W, Zollikofer C, Delany DJ et al (1981) Isolation of a subclavian artery. Am J Radiol 137:683–688

8.

Reich JD, Miller S, Brogdon B et al (2003) The use of pulse oximetry to detect congenital heart disease. J Pediatr 142:268–272

9.

Richmond S, Reay G, Abu Harb M (2002) Routine pulse oximetry in the asymptomatic newborn. Arch Dis Child Fetal Neonatal Ed 87:83–88

10.

Sasidharan P (2004) An approach to diagnosis and management of cyanosis and tachypnea in term infants. Pediatr Clin North Am 51:999–1021
Electronic Supplementary Material
MOESM1 [Subcostal sagittal echocardiographic sweep at the bicaval level demonstrating superior vena caval flow (red) toward the right atrium and directed to the left of the screen toward the tricuspid valve and right ventricle. The inferior vena cava is shown at the lower right of the screen. Color mapping demonstrates flow (blue) from the inferior vena cava directed toward the right atrium posterior and to the left of the flow from the superior vena cava (red). The blue-colored Doppler flow is observed to cross the atrial septal defect superiorly and rightward toward the left atrium] (MOV 2101 kb)
MOESM2 [Suprasternal frontal echocardiographic view presented in a split-screen format. The right of the screen shows color Doppler flow (red) arising from the left pulmonary veins and directed superiorly through an ascending vertical vein that connects with the left innominate vein. The latter drains into the superior vena cava at the right side (not shown)] (MOV 1574 kb)
MOESM3 [Right parasternal long-axis view with the transducer positioned at the right chest demonstrating flow from the right pulmonary veins (red Doppler flow signal) toward the superior vena cava. This part of the superior vena cava is at the junction with the right atrium (left lower part of the screen) such that flow (red) also is observed directed into the right atrium. The tricuspid valve is to the left of the right atrium. Part of the ascending aorta is seen above the superior vena cava] (MOV 1395 kb)
About this article
Cite this article
Yap, S.H., Anania, N., Alboliras, E.T. et al. Reversed Differential Cyanosis in the Newborn: A Clinical Finding in the Supracardiac Total Anomalous Pulmonary Venous Connection. Pediatr Cardiol 30, 359–362 (2009). https://doi.org/10.1007/s00246-008-9314-0
Received:

Revised:

Accepted:

Published:

Issue Date:
Keywords
Reversed differential cyanosis

Total anomalous pulmonary venous connection