Abstract
The classical Hamburger and Hamilton (HH) paper demonstrates the normal stages of development of the chick embryo that have been extensively used as the basis of understanding normal and abnormal development of the chick embryo heart. Careful examination of the series of images published in this seminal paper indicates that the cardiac images of stage 16 embryo shown in this article may reflect an abnormally developed heart. In this article, the argument is presented that the embryo depicted in the HH paper is not normal, but instead inflicted with a conotruncal heart defect.
This is a preview of subscription content, log in to check access.
Access options
Buy single article
Instant unlimited access to the full article PDF.
US$ 39.95
Price includes VAT for USA
Subscribe to journal
Immediate online access to all issues from 2019. Subscription will auto renew annually.
US$ 99
This is the net price. Taxes to be calculated in checkout.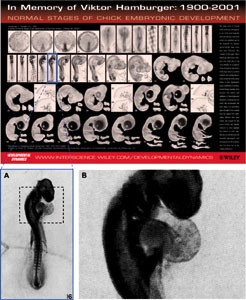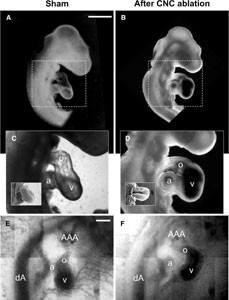 References
1.

Hamburger V, Hamilton HL (1951) A series of normal stages in the development of the chick embryo. J Morphol 88:49–92

3.

Jaffee OC (1978) Hemodynamics and cardiogenesis: the effects of physiologic factors on cardiac development. Birth Defects Original Article Ser 14:393–404

4.

Männer J (2000) Cardiac looping in the chick embryo: a morphological review with special reference to terminological and biomechanical aspects of the looping process. Anat Rec 259:248–262

5.

Männer J (2001) On the value of morphogenetic classifications of hearts with double outlet right ventricle. Cardiol Young 11:689–691

6.

Männer J, Seidl W, Steding G (1995) The role of extracardiac factors in normal and abnormal development of the chick embryo heart: cranial flexure and ventral thoracic wall. Anat Embryol 191:61–72

7.

Martinsen BJ (2005) Reference guide to the stages of chick heart embryology. Dev Dyn 233:1217–1237

8.

Patten BM (1922) The formation of the cardiac loop in the chick. Am J Anat 30:373–397

9.

Sanes JR (1992) On the republication of the Hamburger–Hamilton stage series. Dev Dyn 195:229–230

10.

Waldo KL, Hutson MR, Stadt HA, et al. (2005) Cardiac neural crest is necessary for normal addition of the myocardium to the arterial pole from the secondary heart field. Dev Biol 281:66–77

11.

Waldo KL, Hutson MR, Ward CC, et al. (2005) Secondary heart field contributes myocardium and smooth muscle to the arterial pole of the developing heart. Dev Biol 281:78–90

12.

Ward C, Stadt H, Hutson M, Kirby ML (2005) Ablation of the secondary heart field leads to tetralogy of Fallot and pulmonary atresia. Dev Biol 284:72–83

13.

Yelbuz TM, Waldo KL, Kumiski DH, et al. (2002) Shortened outflow tract leads to altered cardiac looping after neural crest ablation. Circulation 106:504–510

14.

Yelbuz TM, Waldo KL, Zhang X, et al. (2003) Myocardial volume and organization are changed by failure of addition of secondary heart field myocardium to the cardiac outflow tract. Dev Dyn 228:152–160
Acknowledgments
We thank Margaret L. Kirby and Karen Waldo, both of Duke University, for valuable discussions and for providing macroscopic images of neural crest ablated embryos.
About this article
Cite this article
Misske, J., Männer, J. & Yelbuz, T.M. Does the Stage 16 Embryo in Hamburger–Hamilton's "Series of Normal Stages in the Development of the Chick Embryo" Have a Potential "Conotruncal" Heart Defect?. Pediatr Cardiol 28, 263–266 (2007) doi:10.1007/s00246-006-0109-x
Received:

Accepted:

Published:

Issue Date:
Keywords
Heart development

Cardiac looping

Conotruncal heart defects