Abstract
The agricultural expansion over the past decades, along with the associated increase in the use of pesticides, represents a high risk for many wild species. Caiman latirostris is a South American caiman with many features that make it highly vulnerable to pesticide exposure. Considering previous finding on the genotoxicity of the glyphosate-based formulation Roundup® in this species, the aim of this study was to evaluate the possible stage-dependent effect of this compound on C. latirostris embryos through the Comet assay (CA), micronuclei (MN), and nuclear abnormalities (NA) tests. Caiman eggs were exposed to three effective concentrations of Roundup® (750, 1250, 1750 µg/egg) in three different stages of the incubation period (total duration 70 ± 3 days at 31 ± 2 °C) of approximately 23 days each. A statistically significant difference in DNA damage determined by the CA was found between groups exposed to different concentrations of RU (p < 0.05) and the negative control, but no difference was observed among the three stages of exposure within any treatment (p > 0.05). There was no differences in the MN or NA frequencies between the different groups and the negative control (p > 0.05), nor among the different stages within each treatment. The results obtained in this study indicate that RU produce DNA damage on C. latirostris embryos independently of the developmental stage where the exposure occurs, implying an important risk for the species during all its period of development, when pesticide application is at maximum rate.
This is a preview of subscription content, log in to check access.
Access options
Buy single article
Instant access to the full article PDF.
US$ 39.95
Price includes VAT for USA
Subscribe to journal
Immediate online access to all issues from 2019. Subscription will auto renew annually.
US$ 199
This is the net price. Taxes to be calculated in checkout.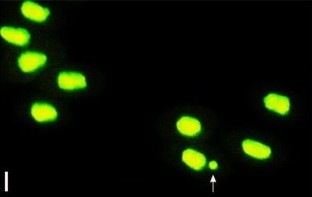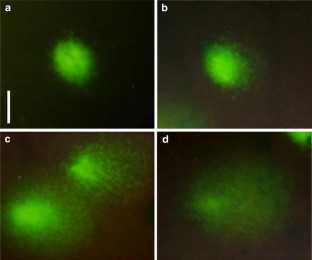 References
Aizen MA, Garibaldi LA, Dondo M (2009) Expansión de la soja y diversidad de la agricultura Argentina. Ecol Austral 19:45–54

Aparicio VC, Gerónimo E De, Marino D et al (2013) Environmental fate of glyphosate and aminomethylphosphonic acid in surface waters and soil of agricultural basins. Chemosphere 1–9.

Aronzon CM, Sandoval MT, Herkovits J, Pérez-Coll CS (2009) Effect of 1-butyl-3-methylimidazolium tetrafluoroborate on the wheat (Triticum aestivum L.) seedlings. Environ Toxicol 24:296–303

Beldomenico PM, Rey F, Prado WS et al (2007) In ovum exposure to pesticides increases the egg weight loss and decreases hatchlings weight of Caiman latirostris (Crocodylia: Alligatoridae). Ecotoxicol Environ Saf 68:246–251

Bentivegna CS, Piatkowski T (1998) Effects of tributyltin on medaka (Oryzias latipes) embryos at different stages of development. Aquat Toxicol 44(1):117–128

Bolognesi C, Bonatti S, Degan P, Gallerani E, Peluso M, Rabboni R et al (1997) Genotoxic activity of glyphosate and its technical formulation Roundup. J Agr Food Chem 45(5):1957–1962

Carrasco KR, Tilbury KL, Myers MS (1990) Assessment of the piscine micronucleus test as an in situ biological indicator of chemical contaminant effects. Can J Fish Aquat Sci 47:2123–2136

Cattaneo R, Clasen B, Loro VL, de Menezes CC, Pretto A, Baldisserotto B, Santi A, de Avila LA (2011) Toxicological responses of Cyprinus carpio exposed to a commercial formulation containing glyphosate. Bull Environ Contam Toxicol 87:597–602

Cavalcante DGSM, Martinez CBR, Sofia SH (2010) Genotoxic effects of Roundup on the fish Prochilodus lineatus. Mutat Res Genet Toxicol Environ Mutagen 695:41–46

Chłopecka M, Mendel M, Dziekan N, Karlik W (2014) Glyphosate affects the spontaneous motoric activity of intestine at very low doses—in vitro study. Pest Biochem Physiol 113:25–30

Ciani R (2014) Derivados de la Industrialización de Soja: HARINA, ACEITE. Dirección de Mercados Agrícolas. Dirección Nacional de Información y Mercados. Subsecretaría de Agricultura. Ministerio de Agricultura, Ganadería y Pesca

Costa MJ, Monteiro DA, Oliveira-Neto AL, Rantin FT, Kalinin AL (2008) Oxidative stress biomarkers and heart function in bullfrog tadpoles exposed to Roundup. Ecotoxicology 17:153–163

Dill GM, Sammons DR, Feng PCC et al (2010) Glyphosate: discovery, development, applications, and properties. In: Nandula VK (ed) Glyphosate resistance in crops and weeds: history, development, and management. Wiley, New York, pp 1–34

Glusczak L, Miron Ddos S, Moraes BS, Simões RR, Schetinger MR, Morsch VM, Loro VL (2007) Acute effects of glyphosate herbicide on metabolic and enzymatic parameters of silver catfish (Rhamdia quelen). Comp Biochem Physiol C Toxicol Pharmacol 146(4):519–524

Hamlin HJ, Guillette LJ (2011) Embryos as targets of endocrine disrupting contaminants in wildlife. Birth Defects Res Part C Embryo Today Rev 93:19–33

Hook SE, Lee RF (2004) Genotoxicant induced DNA damage and repair in early and late developmental stages of the grass shrimp Paleomonetes pugio embryo as measured by the comet assay. Aquat Toxicol 66:1–14

Howe CM, Berrill M, Pauli BD et al (2004) Toxicity of glyphosate-based pesticides to four North American frog species. Environ Toxicol Chem 23:1928

Larriera A, Imhof A, Siroski P (2008) Estado actual de los programas de conservación y manejo del género Caiman en Argentina. In: Castroviejo J, Ayarzaguena J, Velasco A (eds) Contribución al conocimiento del Genero Caiman de Suramerica, Public. Asoc. Amigos de Doña Ana 18, Sevilla, pp 139–179.

Latorre MA, López González EC, Larriera A et al (2012) Effects of in vivo exposure to Roundup® on immune system of Caiman latirostris. J Immunotoxicol 10:349–354

López González EC, Latorre MA, Larriera A et al (2013) Induction of micronuclei in broad snouted caiman (Caiman latirostris) hatchlings exposed in vivo to Roundup® (glyphosate) concentrations used in agriculture. Pestic Biochem Physiol 105:131–134

Mensah PK, Muller WJ, Palmer CG (2011) Acute toxicity of Roundup® herbicide to three life stages of the freshwater shrimp Caridina nilotica (Decapoda: Atyidae). Phys Chem Earth 36:905–909

Mercille S, Massie B (1994) Induction of apoptosis in nutrient-deprived cultures of hybridoma and myeloma cells. Biotechnol Bioeng 44:1140–1154

Milnes MR, Allen D, Bryan TA et al (2004) Developmental effects of embryonic exposure to toxaphene in the American alligator (Alligator mississippiensis). Comp Biochem Physiol C Toxicol Pharmacol 138:81–87

Milnes MR, Bryan TA, Medina JG et al (2005) Developmental alterations as a result of in ovo exposure to the pesticide metabolite p, p'-DDE in Alligator mississippiensis. Gen Comp Endocrinol 144:257–263

Mudry M, Carballo A (2006) Genética Toxicológica. Seminarios 1:5

Olson G, Hessler J, Faith R (1977) Techniques for the blood collection and intravascular infusion of reptiles. Lab Anim Sci 25:783–786

Ortiz-Santaliestra MA, Egea-Serrano A (2013) Análisis del impacto de la contaminación qupimica sobre la herpetofauna: nuevos desafíos y aplicaciones prácticas. Bol Asoc Herpetol Esp 24:34

Osman AGM, Imam AM, Verreth J et al (2007) Monitoring of DNA breakage in embryonic stages of the African catfish Clarias gariepinus (Burchell, 1822) after exposure to lead nitrate using alkaline comet assay. Environ Toxicol 296–303

Paruelo JM, Oesterheld M, Guerschman JP et al (2004) Patrones espaciales y temporales de la expansión de Soja en Argentina. Relación con factores socio-económicos y ambientales, Buenos Aires

Pazos F (2008) Mucho más que glifosato Soja Transgénica y su paquete asociado de agrotóxicos. Rap-al, Uruguay.

Peruzzo PJ, Porta AA, Ronco AE (2008) Levels of glyphosate in surface waters, sediments and soils associated with direct sowing soybean cultivation in north pampasic region of Argentina. Environ Pollut 156:61–66

Poletta GL, Larriera A, Kleinsorge E, Mudry MD (2008) Caiman latirostris (broad-snouted caiman) as a sentinel organism for genotoxic monitoring: Basal values determination of micronucleus and comet assay. Mutat Res Genet Toxicol Environ Mutagen 650:202–209

Poletta G, Larriera A, Kleinsorg E, Mudry MD (2009) Genotoxicity of the herbicide formulation Roundup® (glyphosate) in broad-snouted caiman (Caiman latirostris) evidenced by the Comet assay and the Micronucleus test. Mutat Res 672:95–102

Poletta GL, Kleinsorge E, Paonessa A et al (2011) Genetic, enzymatic and developmental alterations observed in Caiman latirostris exposed in ovo to pesticide formulations and mixtures in an experiment simulating environmental exposure. Ecotoxicol Environ Saf 74:852–859

Poletta GL, Siroski PA, Kleinsorge EC, Mudry MD (2013) DNA Damage in wild populations of Caiman latirostris environmentally exposed to pesticides: evidence of oxidative stress. 11th International Conference on Environmental Mutagens/XI Congress of SBMCTA/IX Congress of ALAMCTA Foz do Iguassu, Brazil. ISBN 978-85-67287-00-3 pag 191.

Relyea RA (2005) The lethal impact of rounup on aquatic and terrestrial amphibians. Ecol Appl 15:1118–1124

Ronco AE, Marino DJG, Abelando M, Almada P, Apartin CD (2016) Water quality of the main tributaries of the Paraná Basin: glyphosate and AMPA in surface water and bottom sediments. Environ Monit Assess 188:458

Russell RW, Frank AP, Gobas PC, Haffner DG (1999) Maternal transfer and in ovo exposure of organochlorines in oviparous organisms. Environ Sci Technol 33:416–420

Schaumburg LG, Siroski PA, Poletta GL, Mudry MD (2016) Genotoxicity induced by Roundup® (Glyphosate) in tegu lizard (Salvator merianae) embryos. Pestic Biochem Physiol 130:71–78

Sparling DW, Matson C, Bickham J, Doelling-Brown P (2006) Toxicity of glyphosate as Glypros and LI700 to Read-eared slider (Trachemys scripta elegans) embryos and early hatchlings. Environ Toxicol Chem 25:2768–2774

WHO International Agency for Research on Cancer (2015) IARC Monographs Volume 112: evaluation of five organophosphate insecticides and herbicides IARC Monographs Volume 112: evaluation of five organophosphate insecticides and herbicides. IARC Monogr 112:1–2

Williams GM, Kroes R, Munro IC (2000) Safety evaluation and risk assessment of the herbicide Roundup and its active ingredient, glyphosate, for humans. Regul Toxicol Pharmacol 31:117–165
Acknowledgments
The authors thank the collaboration of other members of Proyecto Yacaré in the experimental assay. This work was supported by the Agencia Nacional de Promoción Científica y Tecnológica (PICT -2011-1349 to GLP), Universidad Nacional del Litoral (CAI+D 2011-50120110100189 to GLP) and Proyecto Yacaré and Yacarés Santafesinos (Gob. Sta. Fe/MUPCN).
Ethics declarations
Conflict of interest
Authors declare that they have no conflict of interest.
About this article
Cite this article
Burella, P.M., Simoniello, M.F. & Poletta, G.L. Evaluation of Stage-Dependent Genotoxic Effect of Roundup® (Glyphosate) on Caiman latirostris Embryos. Arch Environ Contam Toxicol 72, 50–57 (2017). https://doi.org/10.1007/s00244-016-0311-7
Received:

Accepted:

Published:

Issue Date:
Keywords
Glyphosate

Endosulfan

Comet Assay

Acridine Orange

Roundup