Abstract
Overlap syndrome is a very rare condition defined by the coexistence of two connective tissue diseases in the same patient. We describe our experience with the surgical treatment of extensor digitorum communis involvement in the context of this infrequent disorder. A 42-year-old female with scleroderma-polymyositis overlap syndrome presented to our department with a suspected right-hand flexor tenosynovitis. Physical examination, imaging, and electromyographic studies demonstrated, however, an enlargement of the extensor digitorum communis tendons with an extension deficit of the fingers. Conservative management was unsuccessful, so we performed surgery to shorten the extensor tendons of the second, third, and fourth fingers of the right hand. The patient recovered hand mobility and her finger extension improved. She continues to maintain 160° extension of the metacarpophalangeal joints and is able to make a complete fist with her hand 18 months after surgery.
Level of evidence: Level V, therapeutic study.
This is a preview of subscription content, log in to check access.
Access options
Buy single article
Instant unlimited access to the full article PDF.
US$ 39.95
Price includes VAT for USA
Subscribe to journal
Immediate online access to all issues from 2019. Subscription will auto renew annually.
US$ 99
This is the net price. Taxes to be calculated in checkout.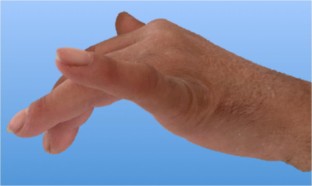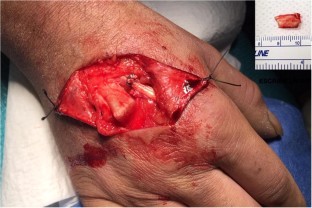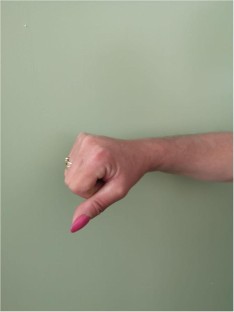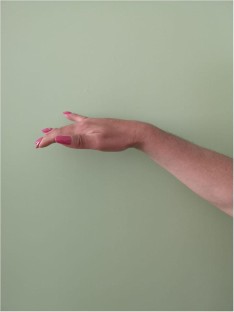 References
1.

Varjú C, Péntek M, Lóránd V, Nagy G, Minier T, Czirják L (2017) Musculoskeletal involvement in systemic sclerosis: an unexplored aspect of the disease. J Scleroderma Relat Disord 2(1):19–32 Available from: https://doi.org/10.5301/jsrd.5000228

2.

Nuño-Nuño L, Joven BE, Carreira PE, Maldonado-Romero V, Larena-Grijalba C, Llorente Cubas I, Tomero E, Barbadillo-Mateos MC, García de la Peña Lefebvre P, Ruiz-Gutiérrez L, López-Robledillo JC, Moruno-Cruz H, Pérez A, Cobo-Ibáñez T, Almodóvar R, Lojo L, García de Yébenes MJ, López-Longo FJ (2019) Overlap myositis, a distinct entity beyond primary inflammatory myositis: a retrospective analysis of a large cohort from the REMICAM registry. Int J Rheum Dis 1–9. Available from: https://doi.org/10.1111/1756-185X.13559

3.

Meyer A, Meyer N, Schaeffer M, Gottenberg J-E, Geny B, Sibilia J (2015) Incidence and prevalence of inflammatory myopathies: a systematic review. Rheumatology. 54(1):50–63 Available from: https://doi.org/10.1093/rheumatology/keu289

4.

Selva-O'Callaghan A, Pinal-Fernandez I, Trallero-Araguás E, Milisenda JC, Grau-Junyent JM, Mammen AL (2018) Classification and management of adult inflammatory myopathies. Lancet Neurol 17(9):816–828 Available from: https://linkinghub.elsevier.com/retrieve/pii/S1474442218302540

5.

Huang Z, Gao B, Chen H, Yang M, Chen X, Yan R, Lu X, Shi KN, Chan Q, Wang GC (2017) An efficacy analysis of whole-body magnetic resonance imaging in the diagnosis and follow-up of polymyositis and dermatomyositis. PLoS One 12(7):e0181069 Available from: http://www.ncbi.nlm.nih.gov/pubmed/28715432

6.

Nakamura S, Nakagawa J (2005) Recurrent extensor tendon rupture in adult-onset dermatomyositis: a case report. Clin Rheumatol 24(4):409–410 Available from: http://link.springer.com/10.1007/s10067-004-1050-0

7.

Bilavsky E, Horesh Z, Amir J, Bar-On E, Harel L (2007) Treatment of Achilles tendon calcinosis in juvenile dermatomyositis with external ilizarov fixator. Clin Exp Rheumatol 25(5):763–765 Available from: http://www.ncbi.nlm.nih.gov/pubmed/18078630

8.

Lundberg IE, Tjärnlund A, Bottai M, Werth VP, Pilkington C, de Visser M, Alfredsson L, Amato AA, Barohn RJ, Liang MH, Singh JA, Aggarwal R, Arnardottir S, Chinoy H, Cooper RG, Dankó K, Dimachkie MM, Feldman BM, Garcia-de la Torre I, Gordon P, Hayashi T, Katz JD, Kohsaka H, Lachenbruch PA, Lang BA, Li Y, Oddis CV, Olesinska M, Reed AM, Rutkowska-Sak L, Sanner H, Selva-O'Callaghan A, Song YW, Vencovsky J, Ytterberg SR, Miller FW, Rider LG, the International Myositis Classification Criteria Project Consortium, the Euromyositis Register, and the Juvenile Dermatomyositis Cohort Biomarker Study and Repository (UK and Ireland) (2017) European League Against Rheumatism/American College of Rheumatology classification criteria for adult and juvenile idiopathic inflammatory myopathies and their major subgroups. Arthritis Rheum 69(12):2271–2282 Available from:

9.

Tomasová Studynková J, Charvát F, Jarosová K, Vencovsky J (2007) The role of MRI in the assessment of polymyositis and dermatomyositis. Rheumatology (Oxford) 46(7):1174–1179 Available from: https://doi.org/10.1093/rheumatology/kem088

10.

Bohan A, Peter JB (1975) Polymyositis and dermatomyositis (second of two parts). N Engl J Med 292:403. Available from: https://doi.org/10.1056/NEJM197502132920706
Ethics declarations
Conflict of interest
O. Cañadas-Moreno, O. Cases-Perera, T. Núñez-Villaveirán, and C. Diaz-Molina declare that they have no conflict of interest.
Additional information
Publisher's note
Springer Nature remains neutral with regard to jurisdictional claims in published maps and institutional affiliations.
Electronic supplementary material
About this article
Cite this article
Cañadas-Moreno, O., Cases-Perera, O., Núñez-Villaveirán, T. et al. Management of extensor digitorum communis enlargement in a patient with scleroderma-polymyositis overlap syndrome. Eur J Plast Surg (2019) doi:10.1007/s00238-019-01555-5
Received:

Accepted:

Published:
Keywords
Syndrome overlap

Extensor tendons