Abstract
Monitoring buried flaps within the head and neck presents a unique challenge to the microsurgeon. We conducted an independent review of the literature using Medline, PubMed and Q Read performed up to February 2017. This showed that head and neck free flaps have contemporary success rates of between 92 and 98%, which is similar to rates reported for all types of flaps (90–98%). Studies looking specifically at buried free flaps were scarce, with success rates (90–98%) precisely mirroring those of studies looking at all flaps. In studies in which both buried and non-buried flaps were stratified, buried flaps did have lower rates of success (93.5 vs. 98.2% and 93 vs. 98%). While overall success rates may have been similar, lower rates of salvage were clearly shown for buried flaps. Salvage rates ranged from 0 to 75%. The highest rate was achieved using implantable Doppler, which has been shown to increase salvage rates by up to 21%. However, this technique is associated with significant rates of false positives, which have been shown to be between 8 and 40.4% Another monitoring technique in use for buried flaps was externalised monitoring segments, which has been associated with higher rates of pharyngeal fistula in head and neck reconstruction. In this article, we present a variation of the Acland's empty-and-refill test which may be used to monitor buried flaps that have a venous anastomosis in an end-to-end fashion to the external jugular vein.
Level of Evidence: Level IV, diagnostic study.
This is a preview of subscription content, log in to check access.
Access options
Buy single article
Instant unlimited access to the full article PDF.
US$ 39.95
Price includes VAT for USA
Subscribe to journal
Immediate online access to all issues from 2019. Subscription will auto renew annually.
US$ 99
This is the net price. Taxes to be calculated in checkout.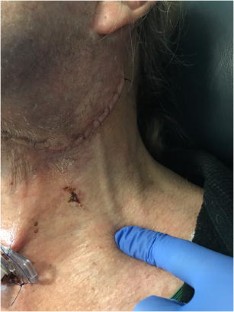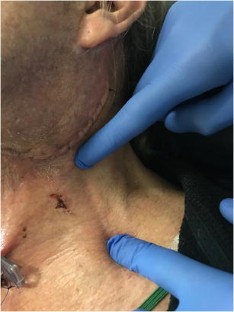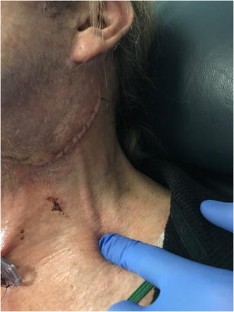 References
1.

Gerressen M, Pastaschek CI, Riediger D et al (2013) Microsurgical free flap reconstructions of head and neck region in 406 cases: a 13-year experience. J Oral Maxillofac Surg 71(3):628–635

2.

Wong CH, Wei FC (2010) Microsurgical free flap in head and neck reconstruction. Head Neck 32(9):1236–1245

3.

Podrecca S, Salvatori P, Saraceno MS et al (2006) Review of 346 patients with free-flap reconstruction following head and neck surgery for neoplasm. J Plast Reconstr Aesthet Surg 59(2):122–129

4.

O'Brien CJ, Lee KK, Stern HS, et al (1998) Evaluation of 250 free-flap reconstructions after resection of tumours of the head and neck. Aust NZ J Surg 68:698–701

5.

Hidalgo DDJ, Cordeiro P, Hu Q-YA (1988) Review of 716 consecutive free flaps for oncologic surgical defects- refinement in donor-site selection and technique. Plast Reconstr Surg 102(3):722–732

6.

Chen KT, Mardini S, Chuang DC et al (2007) Timing of presentation of the first signs of vascular compromise dictates the salvage outcome of free flap transfers. Plast Reconstr Surg 120(1):187–195

7.

Gill PS, Hunt JP, Guerra AB et al (2004) A 10-year retrospective review of 758 DIEP flaps for breast reconstruction. Plast Reconstr Surg 113(4):1153–1160

8.

Singh BCP, Santamaria E, Shaha A, Pfister D, Shah J (1999) Factors associated with complications in microvascular reconstruction of head and neck defects. Plast Reconstr Surg 103(2):403–411

9.

Eckardt A, Fokas K (2003) Microsurgical reconstruction in the head and neck region: an 18-year experience with 500 consecutive cases. J Cranio-Maxillofac Surg 31(4):197–201

10.

Paydar KZ, Hansen SL, Chang DS, Hoffman WY, Leon P (2010) Implantable venous Doppler monitoring in head and neck free flap reconstruction increases the salvage rate. Plast Reconstr Surg 125(4):1129–1134

11.

Yang X, Li S, Wu K et al (2016) Surgical exploration of 71 free flaps in crisis following head and neck reconstruction. Int J Oral Maxillofac Surg 45(2):153–157

12.

Novakovic D, Patel RS, Goldstein DP, Gullane PJ (2009) Salvage of failed free flaps used in head and neck reconstruction. Head Neck Oncol 1:33

13.

Reiter M, Harreus U, Kisser U, Betz CS, Baumeister P (2017) Buried free flaps in head and neck reconstruction: higher risk of free flap failure? Eur Arch Otorhinolaryngol 274(1):427–430

14.

Yang Q, Ren ZH, Chickooree D et al (2014) The effect of early detection of anterolateral thigh free flap crisis on the salvage success rate, based on 10 years of experience and 1072 flaps. Int J Oral Maxillofac Surg 43(9):1059–1063

15.

Chae MP, Rozen WM, Whitaker IS et al (2015) Current evidence for postoperative monitoring of microvascular free flaps: a systematic review. Ann Plast Surg 74(5):621–632

16.

Whitaker IS, Karoo ROS, Oliver DW, Ganchi PA, Gulati V, Malata CM (2005) Current techniques in the post-operative monitoring of microvascular free-tissue transfers. Eur J Plast Surg 27(7):315–321

17.

Bellamy JL, Mundinger GS, Flores JM et al (2015) Do adjunctive flap-monitoring technologies impact clinical decision making? An analysis of microsurgeon preferences and behavior by body region. Plast Reconstr Surg 135(3):883–892

18.

Whitaker IS, Rozen WM, Chubb D et al (2010) Postoperative monitoring of free flaps in autologous breast reconstruction: a multicenter comparison of 398 flaps using clinical monitoring, microdialysis, and the implantable Doppler probe. J Reconstr Microsurg 26(6):409–416

19.

Han ZF, Guo LL, Liu LB et al (2016) A comparison of the Cook-Swartz Doppler with conventional clinical methods for free flap monitoring: a systematic review and a meta-analysis. Int J Surg 32:109–115

20.

Disa JJCP, Hidalgo D (1999) Efficacy of conventional monitoring techniques in free tissue transfer- an 11-year experience in 750 consecutive cases. Plast Reconstr Surg 104(1):97–101

21.

Lindau RH, Detwiller K, Wax MK (2013) Buried free flaps in head and neck surgery: outcome analysis. Head Neck. 35(10):1468–1470

22.

Ferguson RE Jr, Yu P (2009) Techniques of monitoring buried fasciocutaneous free flaps. Plast Reconstr Surg 123(2):525–532

23.

Kim SC, Kim EK (2013) Externalized monitoring of totally buried free flap in hypopharyngeal reconstruction. J Craniofac Surg 24(2):575–578

24.

Yu P, Robb GL (2005) Pharyngoesophageal reconstruction with the anterolateral thigh flap: a clinical and functional outcomes study. Plast Reconstr Surg 116(7):1845–1855

25.

Poder TG, Fortier PH (2013) Implantable Doppler in monitoring free flaps: a cost-effectiveness analysis based on a systematic review of the literature. Eur Ann Otorhinolaryngol Head Neck Dis 130(2):79–85

26.

Hosein RCA, Wang H (2016) Postoperative monitoring of free flap reconstruction- a comparison of external Doppler ultrasonography and the implantable Doppler probe. Plast Surg (Oakv) 24(1):11–19

27.

Smit JM, Werker PM, Liss AG et al (2010) Introduction of the implantable Doppler system did not lead to an increased salvage rate of compromised flaps: a multivariate analysis. Plast Reconstr Surg 125(6):1710–1717

28.

Chang EI, Ibrahim A, Zhang H et al (2016) Deciphering the sensitivity and specificity of the implantable Doppler probe in free flap monitoring. Plast Reconstr Surg 137(3):971–976

29.

Schmulder A, Gur E, Zaretski A (2011) Eight-year experience of the Cook-Swartz Doppler in free-flap operations: microsurgical and reexploration results with regard to a wide spectrum of surgeries. Microsurgery 31(1):1–6

30.

Creech B, Miller S (1975) Evaluation of circulation of skin flaps. Little Brown, Boston

31.

Ghosh S, Mandal L, Roy S, Bandyopadhyay M (2012) Two rare anatomical variations of the external jugular vein. Int J Morphol 30(3):821–824

32.

Balachandra N, Padmalatha K, Prakash BR, Ramesh BR (2012) Variation of the veins of the head and neck – external jugular vein and facial vein. Int J Anat Var 5:99–101

33.

McMinn RMH (1994) Last's anatomy. 9th ed: Elsevier

34.

Gray H (2017) Anatomy of the Human Body. 1918; www.bartleby.com/107/. Accessed 15/02/2017

35.

Deslaugiers B, Vaysse P, Combes JM, et al (1994) Contribution to the study of the tributaries and the termination of the external jugular vein. Surg Radiol Anat 16:173–177

36.

Acland RD (1980) Technical prerequisites and training in micro-surgery; Technique of Small Vessel Anastomosis. CV Mosby Company
Ethics declarations
Conflict of interest
Damien Grinsell, Joseph J. Overland declare that they have no conflict of interest.
Patient consent
Patients provided written consent for the use of their images.
Ethical approval
Ethical approval was not required for this type of retrospective study.
Informed consent
Informed consent was obtained from all individual participants included in the study.
Funding
There was no funding required for this article.
Electronic supplementary material
About this article
Cite this article
Grinsell, D., Overland, J.J. A novel technique for clinical examination of buried head and neck free flaps. Eur J Plast Surg 41, 239–242 (2018). https://doi.org/10.1007/s00238-017-1369-9
Received:

Accepted:

Published:

Issue Date:
Keywords
Microsurgery

Head and neck

Free flap

Buried free flap

Clinical monitoring