Abstract
Sebaceous adenomas, histologically facial angiofibromas, are closely associated with the tuberous sclerosis complex. The dermatologic disorder constitutes one of the main characteristics for that disease. The lesions commonly involve the central part of the face, including the cheeks, perioral region and nose with predominance in the nasolabial folds, causing a major cosmetic disfigurement. Aesthetic surgery of the face comprises different forms of ablative treatments using mechanical dermabrasion, shave excision, radiofrequency ablation, cryosurgery, laser therapy, and electrocoagulation. The use of Versajet™ Hydrosurgery System has not been previously described in the treatment of adenoma sebaceum so far. In this case report, we present the successful application of this hydrosurgical system in a patient with tuberous sclerosis and multiple facial angiofibromas indicating it as a feasible, effective, reliable, and economical treatment option.
Level of Evidence: Level V, therapeutic study.
This is a preview of subscription content, log in to check access.
Access options
Buy single article
Instant unlimited access to the full article PDF.
US$ 39.95
Price includes VAT for USA
Subscribe to journal
Immediate online access to all issues from 2019. Subscription will auto renew annually.
US$ 99
This is the net price. Taxes to be calculated in checkout.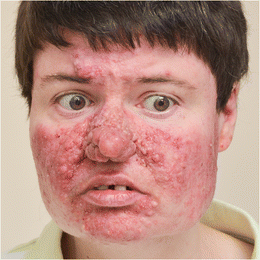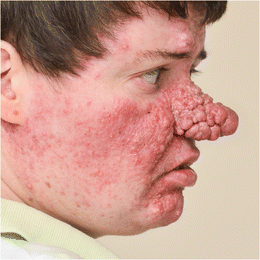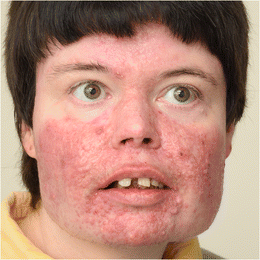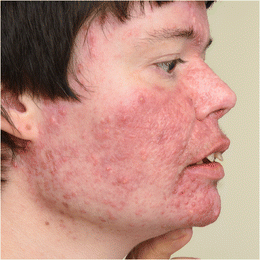 References
1.

Salido-Vallejo R, Garnacho-Saucedo G, Moreno-Giménez JC (2014) Current options for the treatment of facial angiofibromas. Actas Dermosifiligr 105(6):558–568

2.

El-Musa KA, Shehadi RS, Shehadi S (2005) Extensive facial adenoma sebaceum: successful treatment with mechanical dermabrasion: case report. Br J Plast Surg 58(8):1143–1147

3.

Fischer K, Blain B, Zhang F et al (2001) Treatment of facial angiofibromas of tuberous sclerosis by shave excision and dermabrasion in a dark-skinned patient. Ann Plast Surg 46(3):332–335

4.

Swaroop M, Nischal K, Rajesh Gowda C et al (2008) Radiofrequency ablation of adenoma sebaceum. J Cutan Aesthet Surg 1(2):89–91

5.

Gomes AA, Gomes YV, Lima FB et al (2011) Multiple facial angiofibromas treated with high-frequency equipment. An Bras Dermatol 86(4 Suppl 1):186–189

6.

Friedrich RE, Hagel C (2014) Rhinophyma in tuberous sclerosis complex: case report with brief review of literature. GMS Interdiscip Plast Reconstr Surg DGPW 3:Doc12

7.

Vasani RJ (2015) Facial angiofibromas of tuberous sclerosis treated with topical sirolimus in an Indian patient. Indian J Dermatol 60(2):165–169

8.

Fogel AL, Hill S, Teng JM (2015) Advances in the therapeutic use of mammalian target of rapamycin (mTOR) inhibitors in dermatology. J Am Acad Dermatol 72(5):879–889

9.

Wheless JW (2015) Use of the mTOR inhibitor everolimus in a patient with multiple manifestations of tuberous sclerosis complex including epilepsy. Epilepsy Behav Case Rep 4:63–66

10.

Pynn EV, Collins J, Hunasehally PR et al (2015) Successful topical rapamycin treatment for facial angiofibromata in two children. Pediatr Dermatol 32(3):e120–e123

11.

Taghizadeh R, Mackay SP, Gilbert PM (2008) Treatment of rhinophyma with the Versajet Hydrosurgery system. J Plast Reconstr Aesthet Surg 61(3):330–333

12.

Granick MS, Posnett J, Jacoby M et al (2006) Efficacy and cost-effectiveness of a high-powered parallel waterjet for wound debridement. Wound Repair Regen 14(4):394–397

13.

Wong WL, Wong She R, Mathy JA (2015) Rhinophyma treatment using Versajet hydrosurgery. ANZ J Surg. doi:10.1111/ans.13189

14.

Dunne JA, Saleh DB, Rawlins JM (2013) Management of rhinophyma with Versajet™ and ReCell®. Br J Oral Maxillofac Surg 51(8):e282–e284

15.

Stoel AM, Vranckx JJ, Morren MA et al (2014) Hydrosurgery as a new non-excisional treatment method for giant congenital melanocytic nevi. Eur J Plast Surg 37(4):233–240

16.

Finch TM, Hindson C, Cotterill JA (1998) Successful treatment of adenoma sebaceum with the potassium titanyl phosphate laser. Clin Exp Dermatol 23(5):201–203

17.

Belmar P, Boixeda P, Baniandrés O et al (2005) Long-term follow up of angiofibromas treated with CO2 laser in 23 patients with tuberous sclerosis. Actas Dermosifiliogr 96(8):498–503

18.

Kaufman AJ, Grekin RC, Geisse JK et al (1995) Treatment of adenoma sebaceum with the copper vapor laser. J Am Acad Dermatol 33(5 Pt 1):770–774

19.

Bae-Harboe YS, Geronemus RG (2013) Targeted topical and combination laser surgery for the treatment of angiofibromas. Lasers Surg Med 45(9):555–557

20.

Biondo G, Greco S, Mavilia L et al (2014) Treatment of nodular facial angiofibromas in tuberous sclerosis, using ultrapulse carbon dioxide laser. Clin Exp Dermatol 39(6):738–740

21.

Papadavid E, Markey A, Bellaney G et al (2002) Carbon dioxide and pulsed dye laser treatment of angiofibromas in 29 patients with tuberous sclerosis. Br J Dermatol 147(2):337–342

22.

Fioramonti P, De Santo L, Ruggieri M et al (2014) Co2/Erbium:YAG/dye laser combination: an effective and successful treatment for angiofibromas in tuberous sclerosis. Aesthetic Plast Surg 38(1):192–198

23.

Krakowski AC, Nguyen TA (2015) Inhibition of angiofibromas in a tuberous sclerosis patient using topical timolol 0.5% gel. Pediatrics 136(3):e709–e713
Ethics declarations
Conflict of interest
Martin Grohman, Stefan Benedikt, Abigail Forbes, and Ivo Justich declare that they have no conflict of interest.
Funding
No funding was received for this work.
Ethical approval
For this type of study, formal consent is not required as this case report was performed retrospectively.
Patient consent
Written informed consent was obtained from the patient's legal guardians for performing this operation. Identifying details in the pictures were anonymized as far as possible. Additional written informed consent was obtained for publication of identifying information in pictures and videos being taken during treatment.
Electronic supplementary material
About this article
Cite this article
Grohmann, M., Benedikt, S., Forbes, A. et al. Ablation of facial adenoma sebaceum using the Versajet™ Hydrosurgery System. Eur J Plast Surg 41, 93–96 (2018). https://doi.org/10.1007/s00238-017-1347-2
Received:

Accepted:

Published:

Issue Date:
Keywords
Sebaceous adenoma

Angiofibroma

Versajet

Tuberous sclerosis