Abstract
Background
Lower pole deformities constitute the most complex problem encountered during and after breast augmentation. If the procedure is not accurately planned, the choice of techniques to correct lower pole deformity intraoperatively can be limited, leading to the possibility of additional scarring or the necessity of a second surgery.
Methods
Volume deficiencies of the lower pole after implant placement, such as flatness and double bubble, are indications for the proposed technique. A glandular flap is created by bisecting the lower pole of the gland and is transposed inwards and downwards to fill the deficient area. It is not necessary to fix the flap in place.
Results
Between January 2011 and December 2014, 30 patients underwent breast augmentation or augmentation-mastopexy combined with a transposed glandular flap. A desired lower pole was achieved in all the cases. No major complications were observed.
Conclusions
The transposed glandular flap herein described was proven to be useful to correct volume deficiencies of the lower pole after implant placement in cases of primary and secondary cases of breast augmentation.
Level of Evidence: Level IV, therapeutic study
This is a preview of subscription content, log in to check access.
Access options
Buy single article
Instant unlimited access to the full article PDF.
US$ 39.95
Price includes VAT for USA
Subscribe to journal
Immediate online access to all issues from 2019. Subscription will auto renew annually.
US$ 99
This is the net price. Taxes to be calculated in checkout.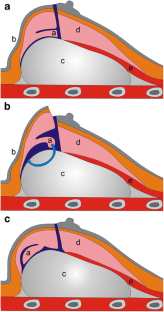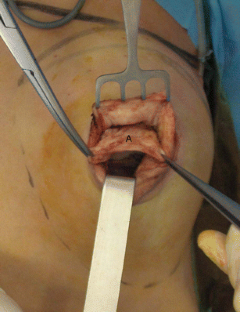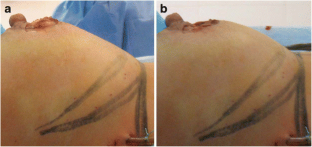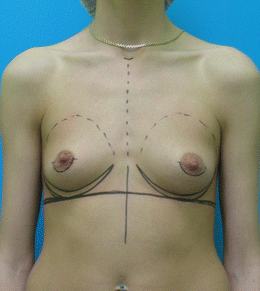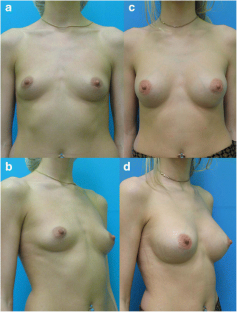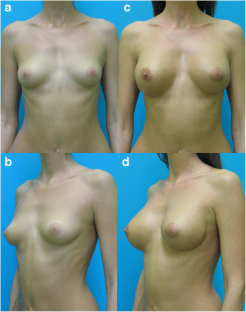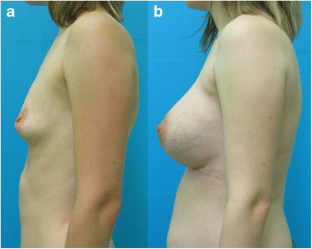 References
1.

van Straalen WR, Hage JJ, Bloemena E (1995) The inframmamary ligament: myth or reality? Ann Plast Surg 35(2):237–241

2.

Boutros S, Kattash M, Wienfeld A, Yuksel E, Baer S, Shenaq S (1998) The intradermal anatomy of the inframammary fold. Plast Reconstr Surg 102(4):1030–1033

3.

Hammond D (2009) Atlas of aesthetic breast surgery. Elsevier, China

4.

Massiha H (2000) Augmentation in ptotic and densely glandular breasts: prevention, treatment and classification of double-bubble deformity. Ann Plast Surg 44:143–146

5.

Spear S, Bulan E, Venturi M (2004) Breast augmentation. Plast Reconstr Surg 114:73e–81e

6.

Hidalgo DA (2000) Breast augmentation: choosing the optimal incision, implant, and pocket plane. Plast Reconstr Surg 105:2202–2216

7.

Fisher J, Handel N (2014) Problems in breast surgery: a repair manual. CRC Press, FL 1:227--252

8.

Medard de Chardon V, Balaguer T, Chignon-Sicard B et al (2010) Double breast contour in primary aesthetic breast augmentation, incidence, prevention and treatment. Ann Plast Surg 64:390–396

9.

de la Fuente A, del Yerro M (1992) Periareolar mastopexy with mammary implants. Aesthet Plast Surg 16:337–341

10.

Rees TD, Aston SJ (1976) The tuberous breast. Clin Plast Surg 3:339–347

11.

Grolleau J-L, Lanfrey E, Lavigne B, Chavoin J-P, Costagliola M (1999) Breast base anomalies: treatment strategy for tuberous breasts, minor deformities, and asymmetry. Plast Reconstr Surg 104:2040–2048

12.

Scheepers JH, Quaba AA (1992) Tissue expansion in the treatment of tubular breast deformity. Br J Plast Surg 45:529–532

13.

Tebbetts JB (2001) Dual plane breast augmentation: optimizing implant–soft-tissue relationships in a wide range of breast types. Plast Reconstr Surg 107:1255–1272

14.

Meara JG, Kolker A, Bartlett G, Theile R, Mutimer K, Holmes AD (2000) Tuberous breast deformity: principles and practice. Ann Plast Surg 45:607–611

15.

Mailard GF (1986) A Z mammaplasty with minimal scaring. Plast Reconstr Surg 77:66–76

16.

Dinner MI, Dowden RV (1987) The tubular/tuberous breast syndrome. Ann Plast Surg 19:414–420

17.

Muti E (2010) Tuberous breast. Acta Medica Edizioni — Adottati, Fidenza, Parma

18.

Puckett CL, Concannon MJ (1990) Augmenting the narrow-based breast: the unfurling technique to prevent the double-bubble deformity. Aesthetic Plast Surg 14:15–19

19.

Mandrekas AD, Zambacos GJ, Anastasopoulos A et al (2003) Aesthetic reconstruction of the tuberous breast deformity. Plast Reconstr Surg 112:1099–1108

20.

Ribeiro L, Canzi W, Buss A, Accorsi A Jr (1998) Tuberous breast: a new approach. Plast Reconstr Surg 101:42–50

21.

Kolker AR, Collins MS (2015) Tuberous breast deformity: classification and treatment strategy for improving consistency in aesthetic correction. Plast Reconstr Surg 135:73–86

22.

Coleman SR, Saboeiro AP (2007) Fat grafting to the breast revisited: safety and efficacy. Plast Reconstr Surg 119:775–785, 786-7

23.

Bresnick SD (2016) Management of a common breast augmentation complication: treatment of the double-bubble deformity with fat grafting. Ann Plast Surg 76(1):18–22

24.

Handel N (2013) The double-bubble deformity: cause, prevention, and treatment. Plast Reconstr Surg 132(6):1434–1443

25.

Muntan CD, Sundine MJ, Rink RD, Acland RD (2000) Inframammary fold: a histologic reappraisal. Plast Reconstr Surg 105:549–556, 557

26.

Barnett A (1990) Transaxillary subpectoral augmentation in the ptotic breast: augmentation by disruption of the extended pectoral fascia and parenchymal sweep. Plast Reconstr Surg 86:76–83

27.

Shiffman MA (2005) Mammograms in cosmetic breast surgery. Indian J Plast Surg 38:100–104

28.

Miglioretti DL, Rutter CM, Geller BM et al (2004) Effects of breast augmentation on the accuracy of mammography and cancer characteristics. JAMA 291(4):442–450

29.

Lavigne E, Holowaty EJ, Pan SY et al (2013) Breast cancer detection and survival among women with cosmetic breast implants: systematic review and meta-analysis of observational studies. BMJ 346:f2399

30.

Brown L, Ferlo Todd J, Do Lou HM (2004) Breast implant adverse events during mammography: reports to the Food and Drug Administration. J Women's Health 13(4):371–378

31.

Kim H, Kang BJ, Kim SH, Kim HS, Cha ES (2015) What we should know in mammography after reduction mammoplasty and mastopexy? Breast Cancer 22(4):391–398
Ethics declarations
Conflict of interest
Dmitry Batiukov and Vladimir Podgaiski declare that they have no conflict of interest.
Patient consent
Informed consent was obtained from all individual participants included in the study.
Ethical approval
For this type of study, formal consent is not required.
Funding
None
Electronic supplementary material
About this article
Cite this article
Batiukov, D., Podgaiski, V. Breast augmentation combined with a transposed glandular flap for prevention and correction of lower pole deformities. Eur J Plast Surg 41, 21–26 (2018) doi:10.1007/s00238-017-1312-0
Received:

Accepted:

Published:

Issue Date:
Keywords
Breast augmentation

Double bubble

Inframammary crease

Lower pole deformity

Tuberous breast

Glandular flap

Revisional augmentation