Abstract
Pyoderma gangrenosum (PG) is a destructive, necrotizing cutaneous process where surgical debridement can produce 'pathergy' phenomenon. Actually, an accepted strategy is to control the disease medically and follow-up with delayed surgical intervention with a split-thickness skin grafting after prolonged courses of immunosuppressive therapy. We report two cases of pretibial PG, one of them a complicated case of a 23 year-old woman with ulcerative colitis and a huge PG which was successfully treated with a synergistic approach utilizing a sequential protocol with systemic treatment, surgical debridement, antimicrobial silver dressing (Acticoat®), vacuum-assisted closure (VAC) therapy and a double layer of synthetic dermal substitute (Integra®) with a skin graft. A systematic review of the literature displays no previous cases utilizing this combined approach. Rare case reports have described VAC therapy use in the management of PG, and only one has described Integra® use. In both cases, rebuilding of the scaffolding were achieved, there was no evidence of recurrence of PG, the cosmetic results were overall satisfactory without limitation of movement for extension and flexion of the foot.
Level of Evidence: Level V, therapeutic study.
This is a preview of subscription content, log in to check access.
Access options
Buy single article
Instant unlimited access to the full article PDF.
US$ 39.95
Price includes VAT for USA
Subscribe to journal
Immediate online access to all issues from 2019. Subscription will auto renew annually.
US$ 99
This is the net price. Taxes to be calculated in checkout.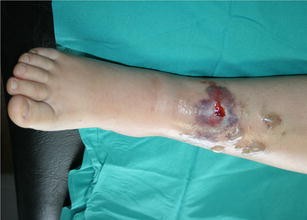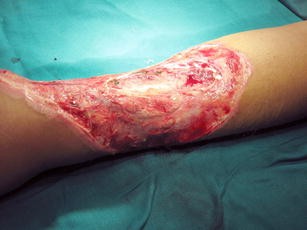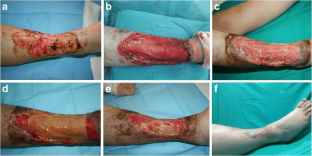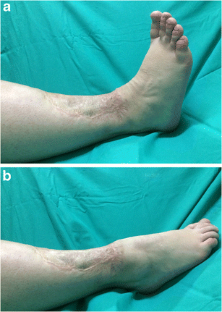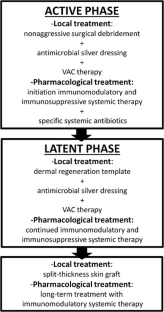 References
1.

http://www.ilstraining.com/imwd/procedure/imwd_m2_00.html. Accessed 27 Mar 2015

2.

Miller J, Yentzer BA, Clark A, Jorizzo JL, Feldman SR (2010) Pyoderma gangrenosum: a review and update on new therapies. J Am Acad Dermatol 62:646–654

3.

Niezgoda JA, Cabigas EB, Allen HK et al (2006) Managing pyoderma gangrenosum: a synergistic approach combining surgical debridement, vacuum-assisted closure, and hyperbaric oxygen therapy. Plast Reconstr Surg 117:24–28

4.

Argenta LC, Morykwas MJ (1997) Vacuum-assisted closure: a new method for wound control and treatment: clinical experience. Ann Plast Surg 38:563–577

5.

Mandal A, Addison P, Stewart K, Neligan P (2006) Vacuum-assisted closure therapy in pyoderma gangrenosum. Eur J Plast Surg 28:529–531

6.

Ghersi MM, Ricotti C, Nousari CH, Newman MI (2007) Negative pressure dressing in the management of pyoderma gangrenosum ulcer. Arch Dermatol 143:1249–1251

7.

Hill DS, O'Neill JK, Toms A, Watts AM (2011) Pyoderma gangrenosum: a report of a rare complication after knee arthroplasty requiring muscle flap cover supplemented by negative pressure therapy and hyperbaric oxygen. J Plast Reconstr Aesthet Surg 64:1528–1532

8.

Geller SM, Longton JA (2005) Ulceration of pyoderma gangrenosum treated with negative pressure wound therapy. J Am Podiatr Med Assoc 95:171–174

9.

Fraccalvieri M, Fierro MT, Salomone M et al (2014) Gauze-based negative pressure wound therapy: a valid method to manage pyoderma gangrenosum. Int Wound J 11:164–168

10.

Neiderer K, Martin B, Hoffman S, Jolley D, Dancho J (2012) A mechanically powered negative pressure device used in conjunction with a bioengineered cell-based product for the treatment of pyoderma gangrenosum: a case report. Ostomy Wound Manag 58:44–48

11.

Van Poucke S, Jorens PG, Peeters R et al (2004) Pyoderma gangrenosum: a challenging complication of bilateral mastopexy. Int Wound J 1:207–213
Conflict of interest
Ashley Novo-Torres, Francisco Javier Céspedes-Guirao, Nozay Guzmán Restituyo, and Elena Lorda-Barraguer declare that they have no conflict of interest.
Funding
None
Patient consent
Patients provided written consent prior their inclusion in the study and use of their images.
Ethical standards
For this retrospective study a formal consent from a local ethics committee is not required.
Electronic supplementary material
Below is the link to the electronic supplementary material.
Video of flexion and extension with foot propped up on the floor and elevated (Patient 1) (MPG 3224 kb)
Video of flexion and extension with foot propped up on the floor and elevated (Patient 1) (MPG 3224 kb)
About this article
Cite this article
Novo-Torres, A., Céspedes-Guirao, F.J., Guzmán Restituyo, N. et al. Management of pyoderma gangrenosum with combination of systemic treatment, vacuum-assisted closure and synthetic dermal substitute. Eur J Plast Surg 39, 297–302 (2016) doi:10.1007/s00238-015-1147-5
Received:

Accepted:

Published:

Issue Date:
Keywords
Pyoderma gangrenosum

Vacuum-assisted closure

VAC

Graft

Silver dressing

Dermal substitute

Protocol