Abstract
Total nasal reconstruction is a challenging task involving multiple surgical stages. It requires transfer of local and distant tissues to replace three structural layers of the nose: the lining, skeleton, and skin. Besides the paucity of local tissues, creation of the nose is demanding due to functional and aesthetic considerations, limited operative field, and poor visualization inside the created construct. The ability to inspect the newly created nasal cavity is vital in determining the condition of the airways. We present a case of complex total nasal reconstruction, where nasal endoscopy improved control of the reconstructive process and management of exposed hardware.
Level of Evidence: Level V, diagnostic study.
This is a preview of subscription content, log in to check access.
Access options
Buy single article
Instant unlimited access to the full article PDF.
US$ 39.95
Price includes VAT for USA
Subscribe to journal
Immediate online access to all issues from 2019. Subscription will auto renew annually.
US$ 99
This is the net price. Taxes to be calculated in checkout.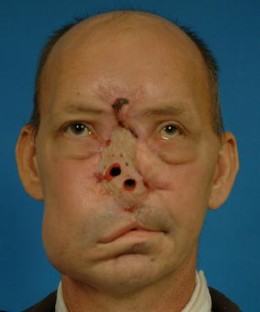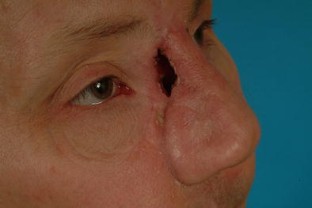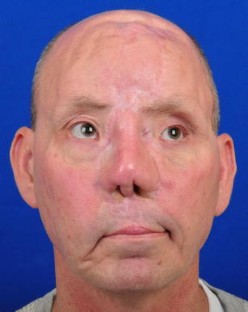 References
1.

Winslow CP, Cook TA, Burke A, Wax MK (2003) Total nasal reconstruction: utility of the free radial forearm fascial flap. Arch Facial Plast Surg 5(2):159–163

2.

Menick FJ, Salibian A (2011) Microvascular repair of heminasal, subtotal, and total nasal defects with a folded radial forearm flap and a full-thickness forehead flap. Plast Reconstr Surg 127(2):637–651

3.

Walton RL, Burget GC, Beahm EK (2005) Microsurgical reconstruction of the nasal lining. Plast Reconstr Surg 115(7):1813–1829

4.

Menick FJ (2010) Nasal reconstruction. Plast Reconstr Surg 125(4):138e–150e

5.

Converse JM (1942) Sections of otology and laryngology: combined meeting held at Oxford: laryngological session: a new forehead flap for nasal reconstruction. Proc R Soc Med 35(12):811

6.

Pownell PH, Minoli JJ, Rohrich RJ (1997) Diagnostic nasal endoscopy. Plast Reconstr Surg 99(5):1451–1458

7.

Mazzola RF, Felisati G (2005) Rhinoplasty and endoscopic surgery for functional and inflammatory nasal/sinus disorders. Plast Reconstr Surg 115(3):705–710

8.

Behrbohm H, May J (2013) Endoscopic guided rhinoplasty. Facial Plast Surg 29(02):133–139

9.

Mitz V (1994) Endoscopic control during rhinoplasty. Aesthetic Plast Surg 18(2):153–156

10.

Slack R, Bates G (1998) Functional endoscopic sinus surgery. Am Fam Physician 58:707–720

11.

Cumberworth VL, Sudderick RM, Mackay IS (1994) Major complications of functional endoscopic sinus surgery. Clin Otolaryngol Allied Sci 19(3):248–253

12.

May M, Levine HL, Mester SJ, Schaitkin B (1994) Complications of endoscopic sinus surgery: analysis of 2108 patients—incidence and prevention. Laryngoscope 104(9):1080–1083
Ethical Standards
This retrospective study does not require a formal consent from a local ethics committee.
Conflict of interest
Murad J. Karadsheh, Zaahir A. Turfe, and Ewa Komorowska-Timek declare that they have no conflict of interest.
Patient consent
Informed consent was obtained from the individual participant in this case report. Patient provided written consent for the use of his images.
Electronic supplementary material
Below is the link to the electronic supplementary material.
Endoscopy of the reconstructed nose. Note the presence of exposed hardware. (MPG 13824 kb)
Endoscopy of the reconstructed nose. Note the presence of exposed hardware. (MPG 13824 kb)
About this article
Cite this article
Karadsheh, M.J., Turfe, Z.A. & Komorowska-Timek, E. Nasal endoscopy in total nasal reconstruction. Eur J Plast Surg 39, 65–68 (2016). https://doi.org/10.1007/s00238-015-1121-2
Received:

Accepted:

Published:

Issue Date:
Keywords
Nasal endoscopy

Nose reconstruction

Free flap